It is generally understood that disabled-friendly facilities are meant to grant handicapped individuals added convenience and accessibility in public spaces. Whether it be disabled-friendly parking spaces, tactile paving on sidewalks or a wheelchair ramp, common sense would indicate that able-bodied individuals should not exploit or hamper the function of these facilities so that those who truly need them can make use of them when the time comes. 
Inconsiderate driver parks his car on wheelchair ramp
However, that rhetoric appears to have eluded a local driver who was recently caught indiscriminately parking his car on a wheelchair ramp. In a clip uploaded by netizen @intanharith on TikTok, she explains how she had been at a local LRT station with her father, who is reliant upon a wheelchair for mobility, as well as her child who was in a baby stroller.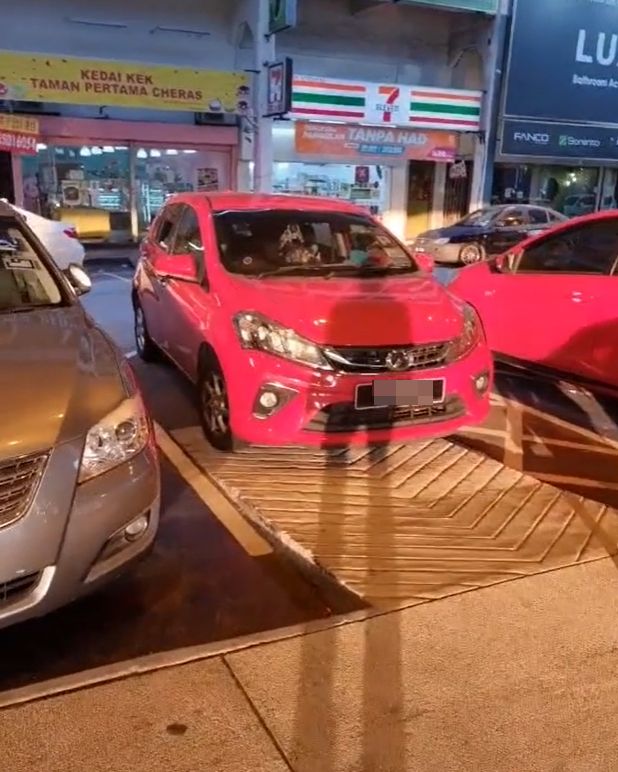 As they were about to leave however, she was shocked to discover that the wheelchair ramp leading down from the curb had been blocked off by a bright-red Perodua Myvi. Driving all the way up along the ramp, the car was then left parked, leaving no room for wheelchair users to safely disembark from the sidewalk.
Panning her camera, Intan indicates that the ramp had also been clearly marked by RapidKL management with a signboard, which designated the ramp and the adjacent parking spot next to it as part of its disabled-friendly facilities. 
"It's right what people say about the brain being the most expensive organ in the body, as it is the least used." she wrote in her caption. 
Driver eventually moved his car, but did not apologise
She would later go on to add that she waited in the sweltering heat in hopes that the driver would return to move his car away, but eventually resorted to wheeling her father further down along the road so that he may safely disembark onto the ground. 
As she was helping her father push his wheelchair down onto the road, she said the driver of the Myvi finally showed up to move his car out of the way. However, he did not appear at all apologetic, despite inconveniencing others. 
Her video, which has since gone viral over local social media, has led to many netizens deriding the driver for his lack of consideration.
"Call local law enforcement to tow the car away. Let him feel it. If he was waiting in the car, that could still be forgiven. But he just left it parked right there. This is the problem."
"Do something in return. Send this video to JPJ. Let them extend the probationary license of the owner."
"If the driver has a probationary license, may the Department of Road Transportation withdraw the probationary license granted to the owner of the car."

Others have shared similar experiences when trying to make use of handicapped-friendly facilities. 
"My husband who uses a wheelchair has experienced this before. I took a video, and another customer told the owner of the car. They moved it eventually, but never bothered to apologise."
Tap here to give us a 'Like' on Facebook and stay up-to-date on the latest news!
Also read: M'sian bullies harass & shoot fireworks at disabled individual, get arrested by the police