Although potholes are common on Malaysian roads, these tiny cracks actually pose a threat to all road users after many accidents allegedly occurred due to these uneven surfaces. As many as 223 accidents caused by poor road conditions in Selangor were recorded between 2018 and 2020. According to the Selangor Traffic Enforcement and Investigation Department chief Superintendent Azman Shari'at, there were as many as 223 accidents caused by poor road conditions, and 148 cases resulted in death.
Therefore, Malaysians urged the government to resolve this issue, with their voices increasingly resounding in light of the impending election on November 19th. One political candidate however, left many netizens amused when he took matters into his hands by filling up a pothole himself.
Sticks and stones may break bones, but they can also fill a pothole
Taking to his official Facebook page, Perikatan Nasional – Bukit Gelugor P051 candidate, P Thinagaranabhan shared how he 'successfully' fixed a pothole in his constituency. The photos uploaded show how he noticed a deep hole on a road, and began to fill it up with a circular rock and stones he found nearby.
To top it off, he placed an unwanted tyre on top of the pothole to warn drivers and motorcyclists. After repairing the depression found on the road, the PN candidate posed to the camera with a thumbs up. He even implored others to do the same by making a small effort for our society.
"Today we found a pothole in the road and to prevent accidents for everyone, we filled what was there on the road. The power of role models! Every ordinary person can change the world! Let's change Malaysia together!" he wrote.
He then ended his post by asking netizens to vote for him in at the ballot box come polling day.
Netizens entertained by his attempt
However, his efforts appear to have led to an outpouring of amusement and derision online, garnering as many as 2.1k shares as of writing. Many have taken to sardonically poking fun at the stop-gap 'solution' in repairing the pothole.
One even went so far as to ask if Thinagaranabhan is available for his nephew's upcoming birthday party because he was in need of a 'clown'.

Another said that his action is worthy of a Peace award.
One creative netizen even edited the PN candidate fixing all the other potholes with the same method.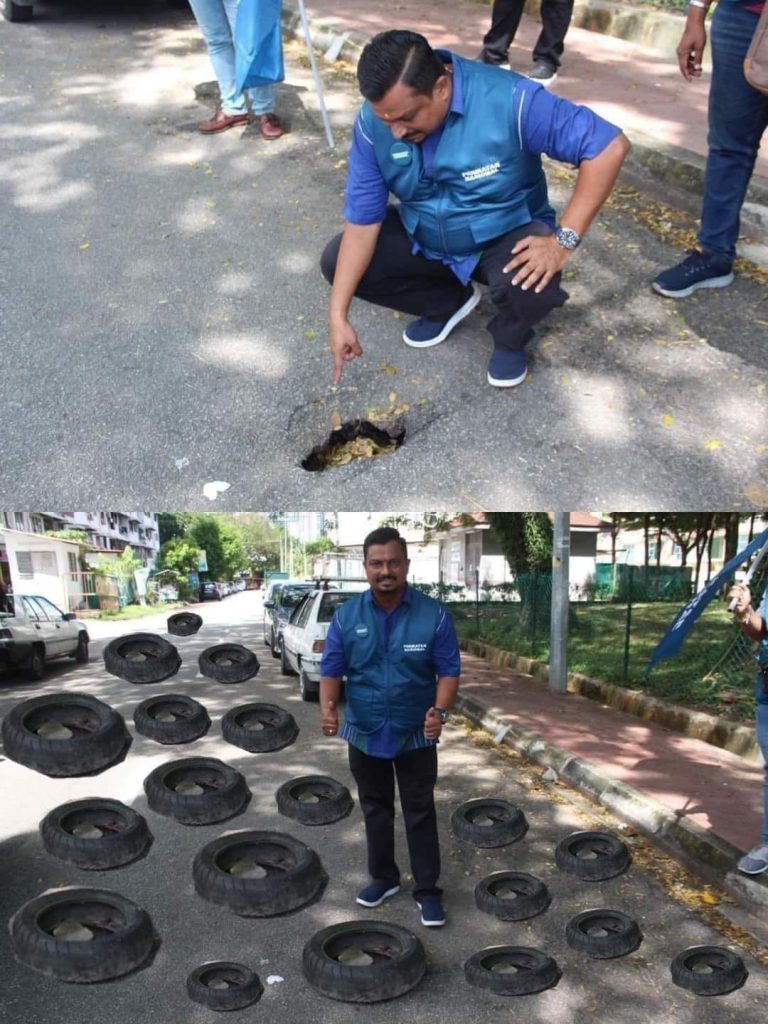 Concerns were also raised as to whether the tyre would pose as a potential road hazard to users on bicycles and motorbikes.

Tap here to give us a 'Like' on Facebook and stay up-to-date on the latest news!
Also read: Sandakan residents fix up road strewn with potholes themselves after getting tired of waiting for solution from govt