There goes an Italian saying, 'chi lavora mangia, chi non lavora, mangia, beve e dorme'. For those of us who don't speak the language, that can best be translated into 'he who works, eats. He who doesn't work, eats, drinks and sleeps'. Which is to say that while the monotony of the 9-to-5 pays the bills, the real joy in life comes from relishing the zest of living in leisure when we can afford to, whether it be through food, drink, or shared experiences.
In that vein, the debut of Marini's on 57's latest Founder's Menu, introduced as part of their decennial celebrations, is perhaps the most tangible expression of all those facets combined. Created as a tour de force retrospective of the restaurant's most notable dishes, this will serve as the ideal introduction for those fresh to the Marini Group's brand of gastronomic innovation and flair, while leading seasoned Marini's gourmands on a sentimental stroll through 10 years of the restaurant's most enduring dishes.
Marini's on 57 rings off ten years of food & drink with their Founder's Menu
Granted with a preview of the spread in person, we moseyed our way up the lofty heights of Cavaliere Modesto Marini's Dionysian palace amid the clouds to sample his very best. And under the soft patter of a tropical shower that lit-up dusky skies with bejewel raindrops, the table was served with a sfizi of Fegato Grazo to set the stage, consisting of a decadently creamy foie gras, served atop crisp brioche and topped with pistachio and fig jam.
While the fatty richness of pan-seared foie gras is to be expected, both the pistachio and fig jam lends a pleasantly surprising juxtaposition of woody notes and floral sweetness.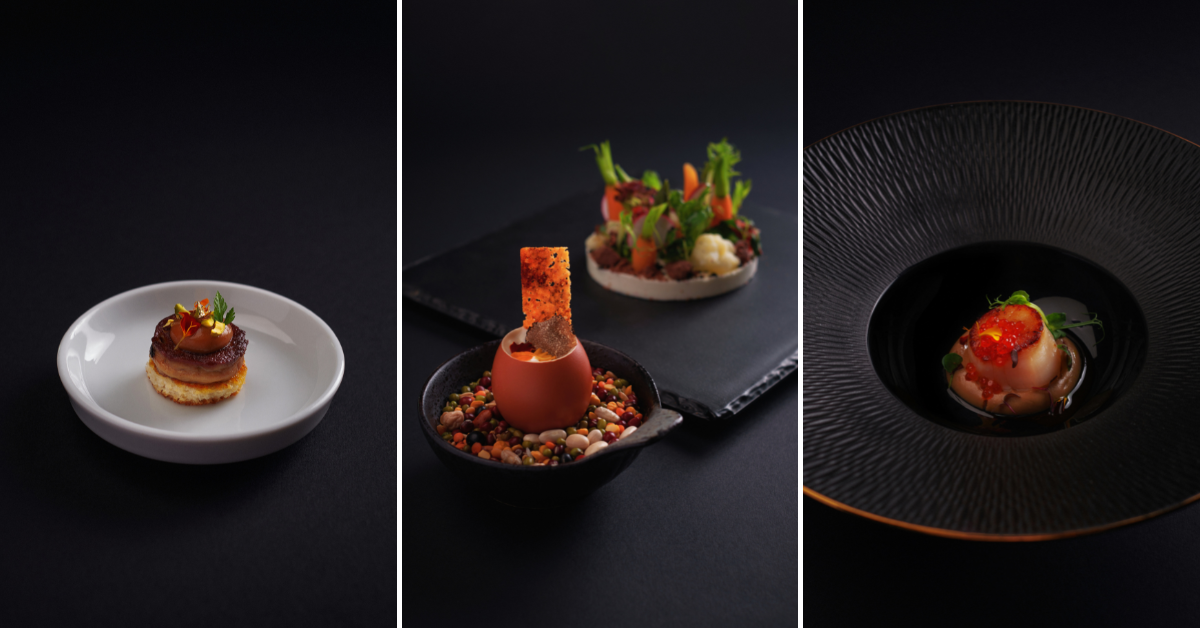 This is then followed by a starter of Uova E Insalata Di Feta, Marini's high brow interpretation on a familiar breakfast staple: scrambled eggs. Served most curiously in a hollowed-out egg shell, the contents yield fluffy eggs cossetted in a tangy Parimigiano foam, topped with shaved black truffles.
This two-part dish is accompanied with a circle of feta cream topped with assortment of mixed seasonal vegetables, meant to evoke a grazing platter once enjoyed by the Marini family in the Italian countryside.
Take it from us, you're going to want to enjoy the eggs relatively quickly as they are served before the foam looses much of its heft. As for the feta, have it at a leisurely pace, skimming over with the complementary bread basket.
Italian culinary finesse at its apex
Moving on, you'll enjoy the ripe umami sweetness of scallops flown-in off the coasts of Hokkaido, placed squarely on a dollop of Porcini mushroom sauce and garnished with glossy pearls of fish eggs. This will then segue into a portion of cured Wagyu beef with Shimeji mushrooms, paired with velveteen Ricotta cream and a sprightly cherry tomato confit. True to the Marini Group's peerless repertoire with beef from Marble 8, the dry-aged Wagyu slivers yield easily on the palate with generous marbling.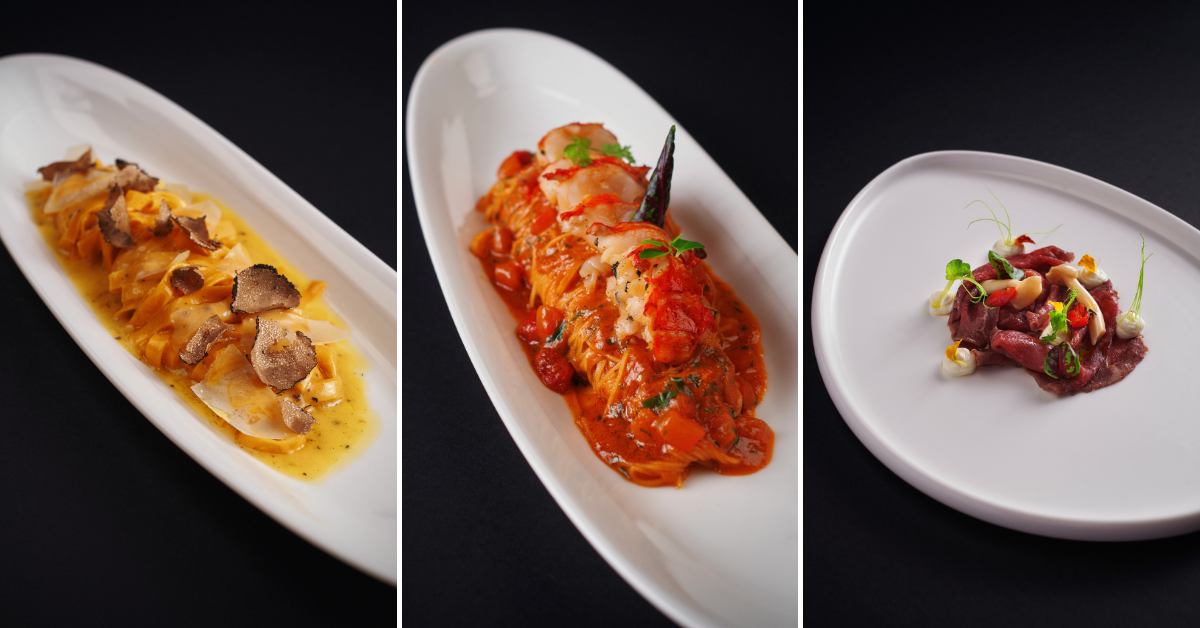 As for soup, soak up a twig of Focaccia Parmigiano Crouton in Zuppa di Cavolfiore, a cream-based cauliflower and kale soup before picking between your choice of Tagliatelle Al Tarfuto or Cappellini All'Astice pastas. The former features house-made Tagliatelle strips using 32 golden yolks plated with butter sage, Parmesan cream, and Black Truffle shavings, while the latter offers Angel Hair pasta richly doused in a tomato sauce garnished with basil and paired with lobster flesh.
You have it on good authority that this isn't so much a matter of picking between the best between the two, as opposed to deciding if you lean with a proclivity for earthy redolence or cheery tartness. They're delicious all the same, regardless of where you wind up in this Choose Your Own Adventure.
A distinctive crescendo of flavours defines the Marini's touch
Finally, the piece de resistance of the 10-chapter menu is escorted onto the table by way of two mains; the first being a gently seared square of cod fish complemented by a vivid drizzle of saffron sauce speckled with caviar gems, preceding a sinfully supple Japanese Wagyu Sirloin Marble 5 artfully plated with a dollop of truffle Hollandaise and a modest croquette.
Your gastronomic sojourn will then be rounded off by a pre-dessert scoop of yoghurt gelato garnished with the bright tang of lime granita settled on a mirliton almond sponge base soaked in citrus zest, before being topped with a disc of stained sugar. Lastly, delight in Marini's novel take on Italian tiramisu infused with truffles, tucked under a sphere of artisanal chocolate.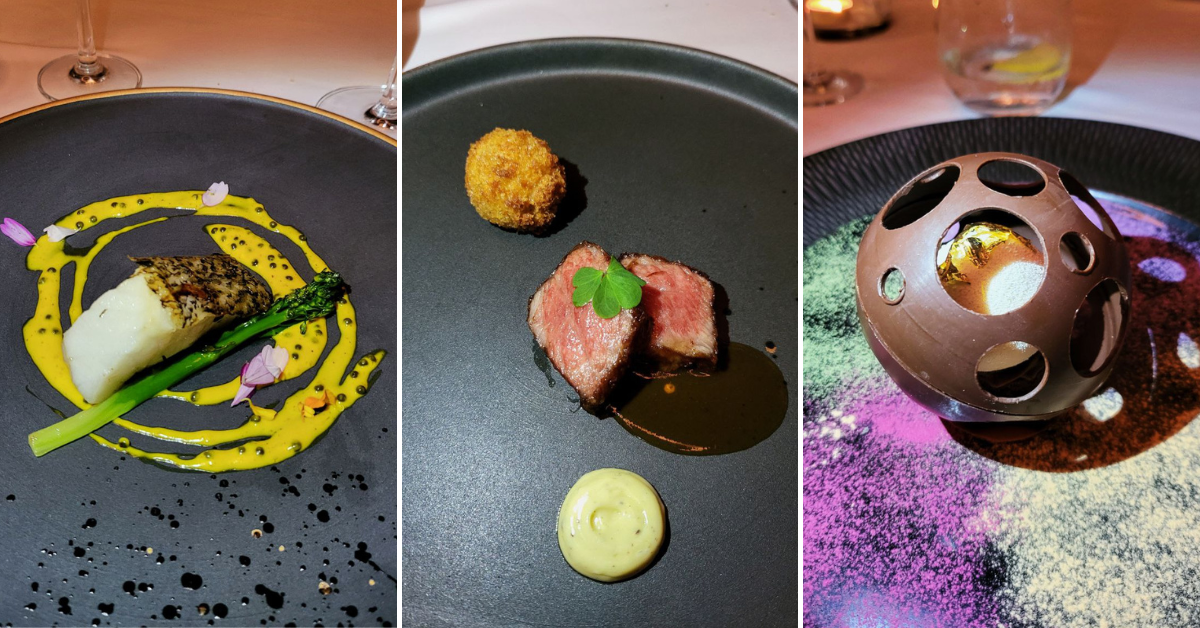 As the evening draws to a close and amid the din of conversation over bottles of L'Espiegle Champagne Brut and Villa Fidelia vintages (available as ala carte additions), it is clear that Cavaliere Modesto Marini's vision for contemporary Italian fare remains unadulterated in the highest order. Distilling the best of what Marini's on 57 represents, this epic retelling of the restaurant's culinary finezza is brilliant nod to provenance that should not be missed.
The Founder's Menu will be available from October 1st until the end of 2022, with prices set at RM1,010 per person.
For reservations, contact +603 2386 6030 or email reservations@marinisgroup.com. For more information on Marini's on 57, visit the restaurant's official site here. For information on The Marini's Group, visit their official site here.
Tap here to give us a 'Like' on Facebook and stay up-to-date on the latest news!
Also read: Penfolds expands its portfolio with a French palate in collaboration with storied winemaking house Dourthe