On 6th January 2022, it was revealed by Malaysian Health Minister YB Khairy Jamaluddin that all travel for the purposes of completing the umrah religious pilgrimage will be temporarily suspended by the government, in light of the spike in Omicron cases here in Malaysia.
Of the 233 imported cases that were recorded, as many as 157 of the cases were brought in from Saudi Arabia. Concerns have also mounted over how 17 of these imported cases who tested positive for the Omicron variant managed to leave the country for international travel while being completely unvaccinated.
Antivax religious preacher claims to have brought unvaccinated pilgrims for umrah travels 
Well as it turns out, a local religious preacher may have revealed how some of these unvaccinated travelers managed to slip under the watch of authorities after making a bombshell claim over social media. According to local Malay daily Utusan Malaysia, the preacher had took to his own Instagram to admit that he had brought a number of unvaccinated pilgrims to complete their umrah pilgrimage in the Holy City of Mecca, despite current international travel restrictions requiring travelers to be fully-vaccinated prior to departure.
The preacher, who is a fierce anti-vaccination proponent and has not been vaccinated himself, claims that the vaccines will eventually be phased out, and that many travelers who were making their pilgrimage were similarly unvaccinated.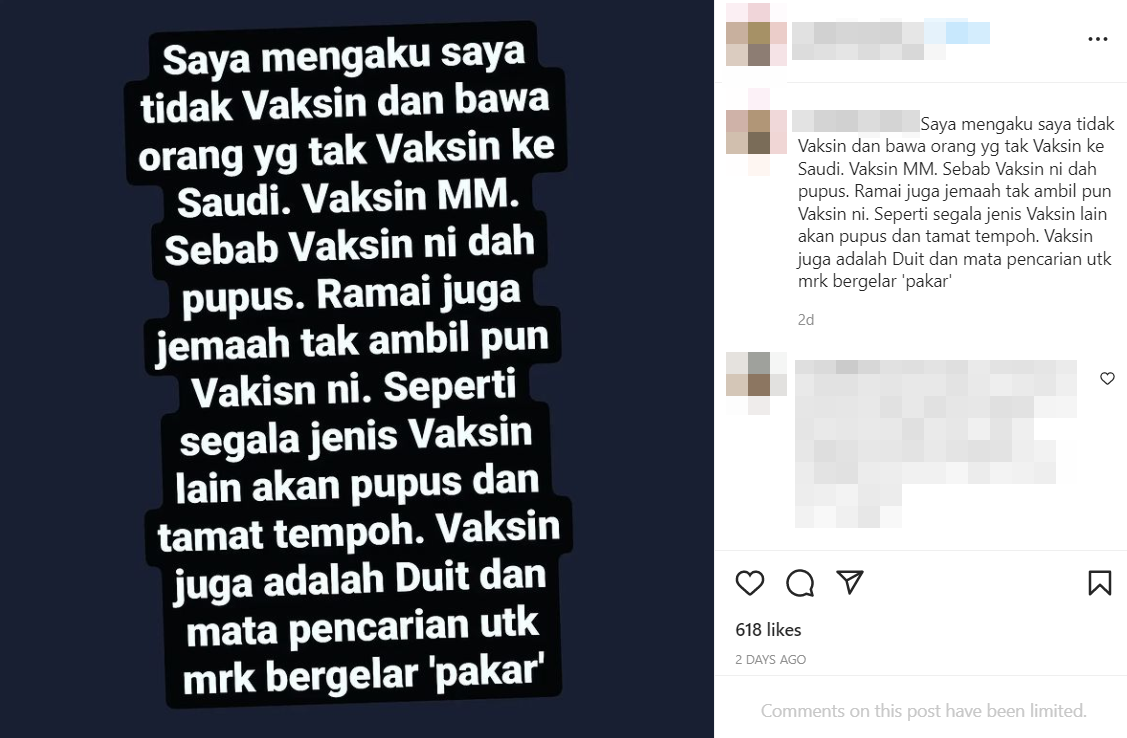 "I admit that I am unvaccinated and have brought other unvaccinated individuals to Saudi. The MM Vaccine. Just like all other vaccines that have been invented, these will eventually be phased out and expire. Also, vaccines are the currency and source of income used by those so called 'experts'." he said.
In a follow-up to this post, he states that he had been referring to the Meningococcal meningitis Vaccines used to prevent bacterial meningitis, which is still a prerequisite for pilgrims traveling into Saudi Arabia according to the guidelines issued by the Saudi Arabian Embassy to North America. In a separate post, he alleges that the Saudi government no longer restricts travelers who are not vaccinated from bacterial meningitis or COVID-19.
"Malaysians have been fooled by tyrannical leaders. In reality, you can just fly out of the country even if you aren't vaccinated from meningococcal meningitis or COVID-19. The Saudi government allows Malaysians to travel into Saudi Arabia and complete their umrah pilgrimage.

But our tyrannical leaders have barred Malaysians from completing their umrah. When are our leaders going to eradicate the issue of bribery and take care of the welfare of Malaysians? I pray at the Ka'bah that our leaders will repent and allow our countrymen to complete their umrah."
Claims that the COVID-19 vaccines contain HIV/AIDS
This is in addition to other vaccine conspiracies that the religious preacher has gone on to share over his social media, including one that claims the COVID-19 vaccines can leave individuals infected with HIV/AIDs.
"There is HIV/AIDS in the vaccines? It's true. Hurry and go get a HIV test after your vaccination. May Allah SWT save you all. Don't worship the vaccine, do not treat the World Health Organisation as a religion."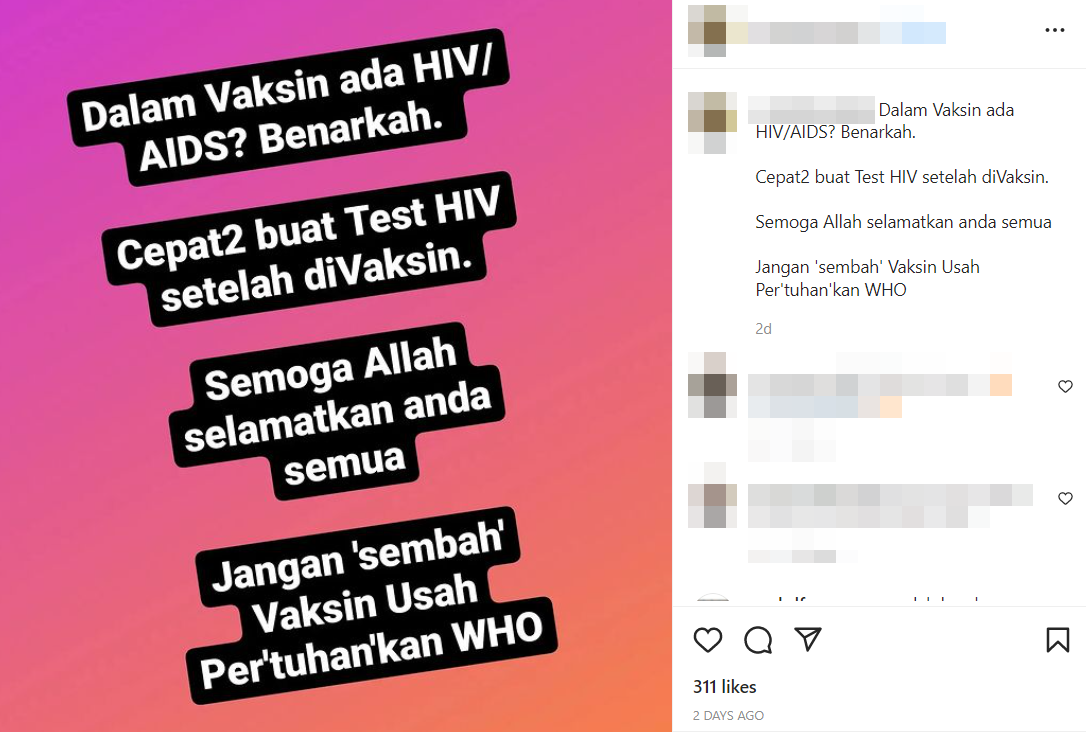 He has also hit out against other religious leaders who 'worship' the vaccine, reminding them that the World Health Organisation has just mandated the need for booster doses.
"To religious leaders who worship the vaccine. Don't forget, the third dose has just been mandated by the teachings of the World Health Organisation. If you don't take it, your vaccination status will be incomplete. Free, right? Don't forget, they'll soon require you to take a fourth, fifth, and last dose before you die. Hihi. #don'tworshipvacccines"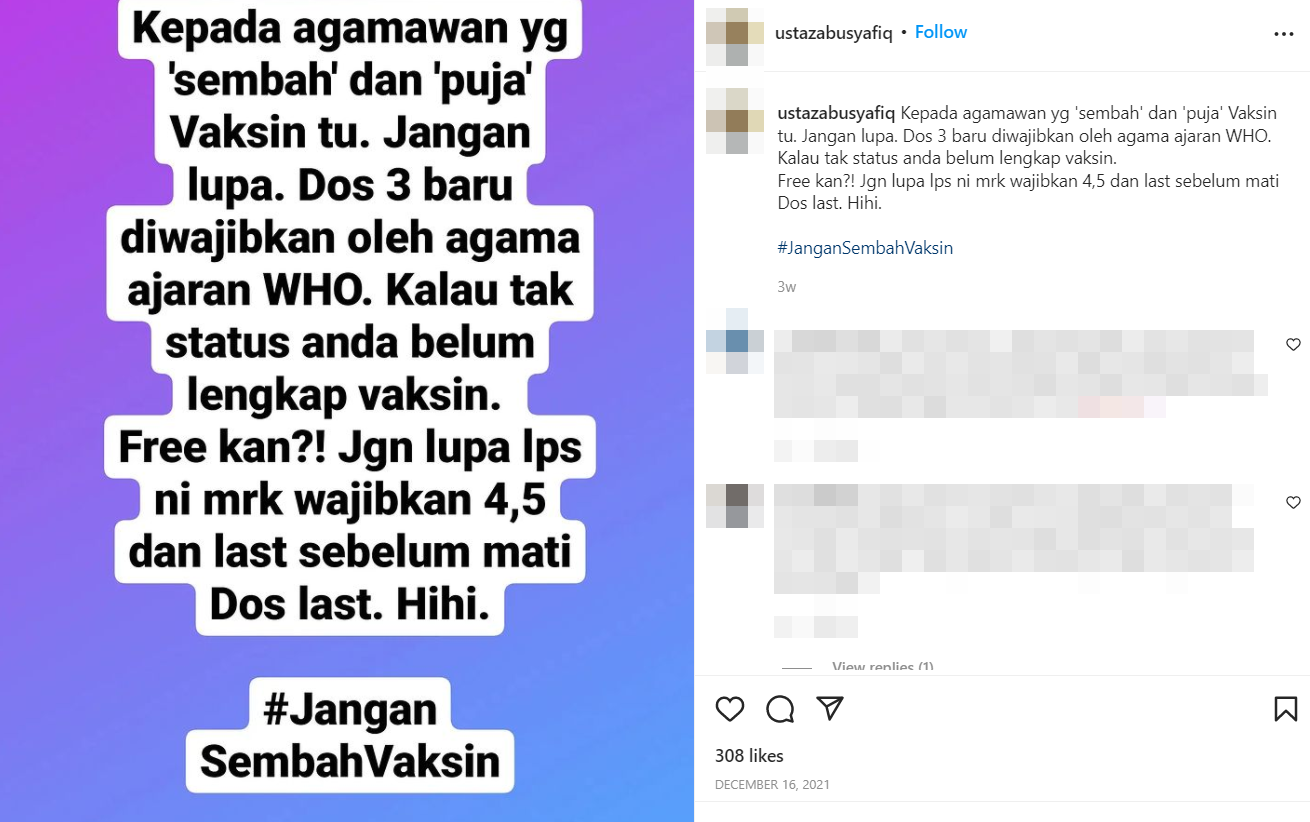 According to his latest Instagram updates, the preacher appears to still be in Saudi Arabia after posting a video of the Ka'bah 11 hours earlier. Netizens have urged the Ministry of Health to look into his claims after his posts have gone viral across social media. It is unclear as of writing if his statement can be verified.
For more stories like this, follow us on Facebook! 
Also read: Khairy: Malaysia has recorded 245 Omicron cases, 12 which are locally transmitted