TRIGGER WARNING: The following content may be disturbing for some viewers. Viewer discretion is advised.
Just last night, shocking footage of a burning Perodua Axia compact car had been found circulating across the Malaysian social media space. From the series of videos that had been shared among netizens, the vehicle appeared to be completely engulfed in a brazen blaze as it lay parked by a road shoulder, However, what made the incident all the more horrific was the state that the driver of the car had been left in.
Driver of burning Perodua Axia stumbles out from his car, covered in flames
From the series of clips filmed by witnesses of the incident, one stuck out in particular that appears to have been recorded from inside a car that was parked a little further away from the burning Perodua Axia. Like a scene lifted from a movie, the lone figure of what appeared to be a man who had been behind the wheel of the burning car could be seen hobbling away from the wreck with his arms reaching outwards and flames still licking over his midsection and back.
The witness, sounding panicked, reversed his vehicle as the figure of the still-burning driver advanced towards them before the clip ended. According to Kosmo!, the blaze had taken place along Jalan Syed Omar in Kampung Syed Omar, Kangar, Perlis.
Driver sustained burns to 96% of his body and was rushed to hospital
Upon their arrival, Perlis fire authorities report that 90% of the vehicle had already been completely consumed by the flames, leaving only a smoldering steel shell in its wake. What's more, it was learned that the lone victim of the blaze, a 29-year-old man who was also the driver of the vehicle, had sustained severe burns that covered over 96% of his body as he staggered towards a motorist's car.
The motorist proceeded to alight from his own vehicle to assist the victim by putting out the flames on his body and calming him down, before contacting emergency services .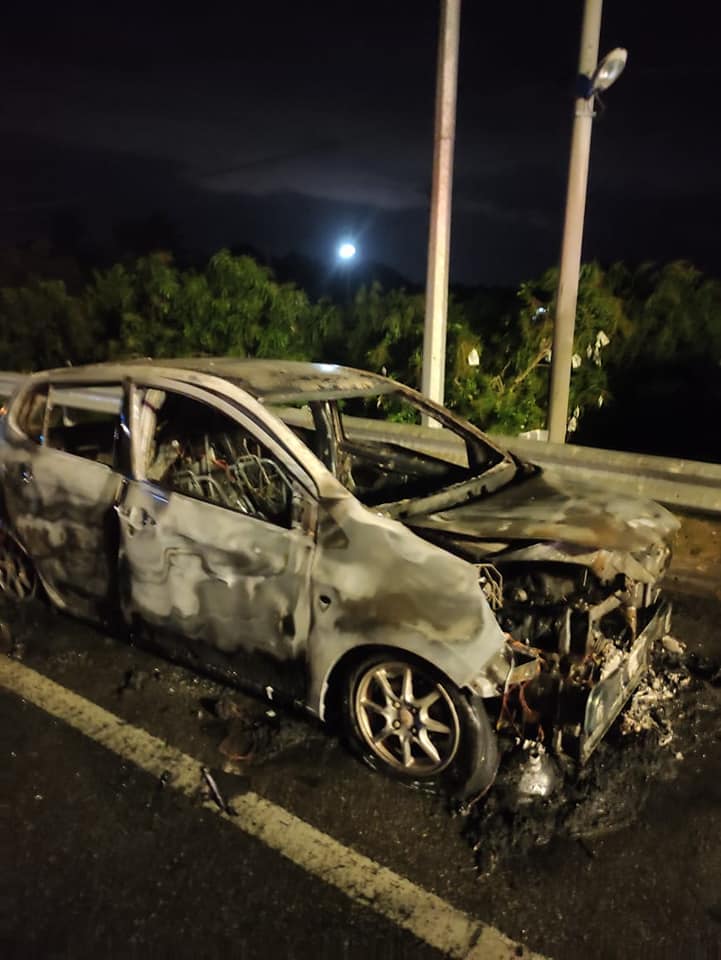 Local fire authorities had managed to temper the blaze and extinguish it completely by 9.44pm, with the victim being rushed to hospital for his wounds. At present, the cause of the fire is still being investigated, while the victim has been hospitalised at Hospital Tuanku Fauziah and is now in critical condition. According to the family of the victim, it is understood that he is a psychiatric patient and had been receiving outpatient psychiatric treatment from Hospital Tuanku Fauziah previously.
His family had also claimed that the victim had previously attempted to take his own life after learning that his ex-girlfriend had started seeing somebody else, before being saved from suicide.
For more news like this, follow us on Facebook by tapping here!
Also read: M'sian shares how hit-and-run BMW fled after causing 3 accidents in 1 hour, driver allegedly identified by netizen