When taking to the road in any vehicle, it is important to always remember that all drivers are responsible for their own actions, and should bear the consequences of them in the event of causing an accident. And while that may sound like common sense, not all drivers are willing to bear the repercussions after a crash, and may even try to make a run for it.
Black BMW involved in 3 separate hit-and-run accidents in under 1 hour
Just recently, the driver of a black BMW 5 Series was found to have been involved in a hit-and-run accident with a Grab food delivery rider near The Mines Shopping Centre in Seri Kembangan. A clip of the accident was uploaded to the video sharing platform TikTok, with user @zoragontktk, also known as Mr Muqri Abdul Jabar, who explained that the unfortunate victim in question was in fact his brother.
According to Mr Muqri, who also took to his own Facebook to share about the incident in hopes of finding the identity of the driver, he came to learn that the very same BMW had also been involved in two other separate accidents, all of which happened within the same hour. Similarly, the two prior accidents had also involved motorcyclists, and the driver of the car had sped off from the scene, leaving the riders on the freeway.
The incidents were said to have taken place on 13th February 2022, last Saturday.
A netizen claims to know the driver, claims to have handed the case over to the police for investigation
However as it turns out, through the power of community on social media, a netizen who claims to know the driver of the BMW in question has since explained their side of the story. According to them, the black BMW seen in the video belonged to their father-in-law, who was out of the state at the time of the incident. They added that the car had been on loan at the time to a friend of his, known as Raju.
After the series of videos had gone viral over social media, the netizen had attempted to go out in search of Raju but claimed that they were not able to find him, and that they could not reach him by phone either.
tified the driver of the BMW. Source: TikTok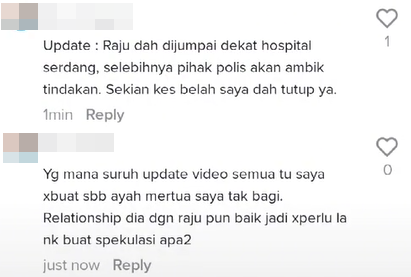 In a later update, the netizen explains that Raju has been found hospitalised in Hospital Serdang. However, they have made no mention as to the condition of Raju or the BMW that was involved in the spur of hit-and-run accidents. They add that the case has been handed over to the local police for further investigation.
For more news like this, follow us on Facebook! 
Also read: Man in silver Proton intimidates driver, dangles handcuffs from car window after failing to cut into their lane