Malaysians can be some of the most hospitable and generous people that you will ever come across. In need of a hand? All you need to do is turn to your fellow countryman for help, and they will do what they can in their power to help out. In some cases, they'll even go above and beyond to do so, And when it came down to the case of the now viral 'Abang Viva', this was definitely proven to be true.
With a boat strapped to his Perodua Viva, man drives from Melaka to Shah Alam to save flood victims
For those unfamiliar, 'Abang Viva' is none other than Azwan Omar, a Melaka man who had driven all the way from Melaka to Shah Alam with a boat strapped to the roof of his Perodua Viva, hence his nickname name. According to Twitter netizen @kulupkudin, Mr Omar, who is based in Melaka, wasted no time at all requesting for emergency leave from his employer in order to mobilise his own rescue effort.
Abang Azwan ni datang dari Melaka bawak bot dia turun bagi bantuan dekat Shah Alam pagi tadi lepastu dia turun backup Puchong, and sekarang dia nak ke Sri Muda pulak untuk bantu mangsa disana.#unsunghero #rakyatjagarakyat pic.twitter.com/S2G54WA6CH

— Cheng 🏴 (@KulupKudin) December 19, 2021
Strapping his own boat to the roof of his Perodua Viva, he proceeded to make the journey all the way from his home state of Melaka into disaster-stricken Selangor, before going out into open floodwaters to help rescue those who have been left stranded on the roofs of their homes. Initially beginning his rescue operation in Shah Alam, he proceeded to move into the Puchong area, before traveling to Sri Muda to do the same.
Update: Abang Azwan ada transfer ke acc aku diamanahkan untuk salurkan bantuan. Aku beli barang keperluan. Masih ada baki pic.twitter.com/f0nfn0lpHa

— Cheng 🏴 (@KulupKudin) December 21, 2021
Heartbroken by flood victims who have lost so much
In speaking with Free Malaysia Today, Mr Omar, who works as a machinery operator, shares that he had only brought with him a total of RM50 for his entire trip; RM20 for fuel used on his boat, while the remaining RM30 would be used to purchase food during his trip, which mainly consisted only of bread and water. But that hasn't deterred him, as Mr Omar said that flood victims have suffered so much worse in comparison.
"Last Sunday, I rescued an elderly couple. The husband was paralysed and they have two dogs with them. They told me that there have simply been no boats that passed by around their area.

Aid did not reach them, as it is possible that they didn't know how to use a smartphone or have any forms of social media. It could also be because their voices weren't loud enough to be heard calling for emergency services. So all they could do was survive on tap water," he recalls.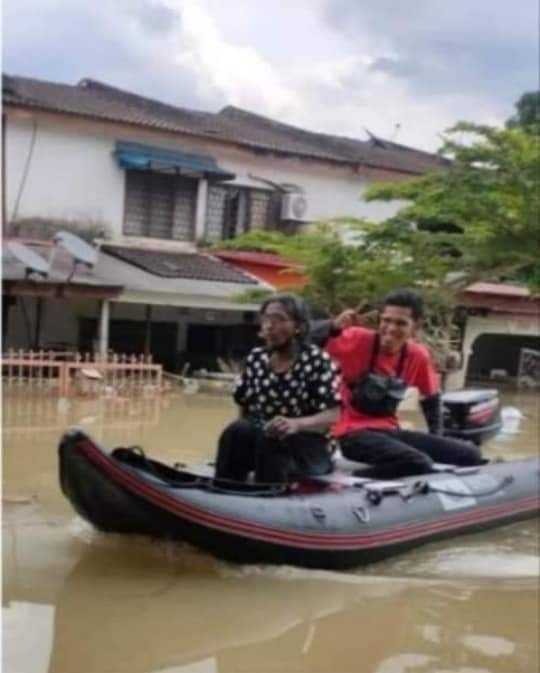 Throughout his time assisting in the flood relief efforts, Mr Omar mentions how saddened he is to see the lives of so many being upturned by the ongoing flood situation. Despite his newfound fame, he continues to remain humble and has thus far channeled any and all funds that he has received back into other charities and non-profit groups.
Follow us on Facebook for more stories like this! 
Also read: Sharing food together, these stranded M'sians helped each other survive on a highway for 18 hours due to floods