As we all know by now, multiple states in West Malaysia have been affected by the flash floods brought upon by truly unprecedented weather conditions. From being left stranded on highways as floodwaters began rising to losing their homes overnight, many have had to confront the harrowing circumstances surrounding the duration and wake of this natural disaster.
Netizen recounts how M'sians came together to help each other survive trapped on a highway for 18 hours
Among them include professional makeup artist Ms Niroshini Manickumar, who had been en-route to her client's residence in the Sime Darby Elmina township on 18th December 2021. Initially in high spirits, she expressed how excited she was to complete the last of her makeup bookings for the year accompanied by her best friend. But while driving towards Elmina, she suddenly encountered a traffic jam right before the Guthrie toll plaza, heading towards Bukit Jelutong.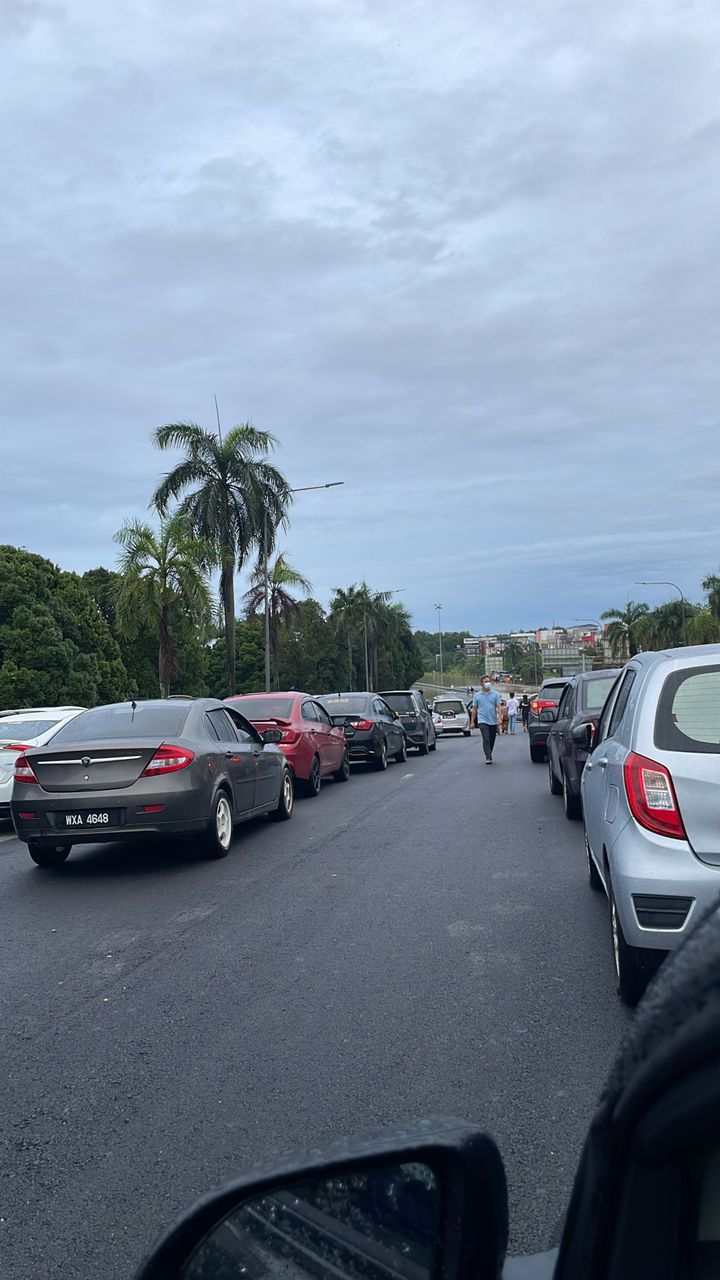 From 1.00pm onwards, traffic was left completely stalled outside, to a point where there was no movement upwards of an hour. Frustrated and puzzled, many motorists who were on the road eventually left their cars in hope of figuring out what was causing the massive traffic jam. To their horror, a number of lorry drivers reported that the toll plaza was completely flooded. Floodwaters had reached a point where even lorries couldn't pass through!
"Initially, I thought this jam is gonna last for another one more hour man! After everyone turned off their cars, I knew I was going to be there for a very long time," she told Wau Post.
But what Ms Niroshini didn't come to expect was to be trapped on the highway with other fellow motorists for up to 18 hours. Between their own vehicles and the roadway, there was simply nowhere else that anybody could go. But thankfully, that was when the #kitajagakita spirit kicked in, with an uncle who had been transporting home-made breads deciding to set-up shop along the highway in order to provide motorists some food.
In a serendipitous coincidence, a catering truck was also trapped along the same stretch of highway, and the driver decided to start handing out the food that he had to other stranded motorists, preventing it from going to waste.
"I saw one auntie and his son carrying food containers, and I asked here where she bought the food and she told us that someone is distributing it."

"I took two of them, one for me and another for my friend. Rice, chicken, vegetables and sambal. Best meal ever, as we were super hungry. Thanks to the stranded catering service van." she adds.
Had no choice but to sleep through the night in their own cars
With the day waning and nightfall creeping over the skies, motorists could do nothing else but sleep through the entire ordeal, as Ms Niroshini did.
"It was quiet and dark. All you could hear was the sound of the wind and rain." she recounts.
And throughout the entire time, all she could think about was her pet cat that had been left unattended at home.
"My cat was in my mind the whole time. To be honest, she was the only thing. She's a kitten and I was scared she might climb out for food if I am stranded that long."
But eventually, floodwaters did manage to subside to some degree and by 7.30am the next day, some intrepid motorists driving larger SUVs decided to take their chances and forded across the floodwaters around the toll plaza. That's a whole 18 hours later! Deciding to do the same, Ms Niroshini said she pulled a 'King of The Road' move with her MyVi and drove over the floodwaters before rushing to the nearest petrol station to make use of the restrooms.
Despite her experience being stranded on a highway for 18 hours due to the flood, she mentions that this was nothing compared to those who have truly lost so much more during the disaster and hopes that the situation will improve soon.
Follow us on Facebook for more stories like this! 
Also read: 'Why did the govt only come when floods have receded?' Mak cik confronts govt minister over delayed rescue efforts