Congratulations are in order as a local Malaysian has made the nation proud by bagging a prestigious international accolade in education! Meet 38-year-old Ms V. Komathy, a chemistry teacher hailing from Ipoh's SMK Ave Maria Convent, who has become the latest recipient of the Global Teacher Award 2021 organised by India-based AKS Education.
Ipoh chemistry teacher wins Global Teacher Award 2021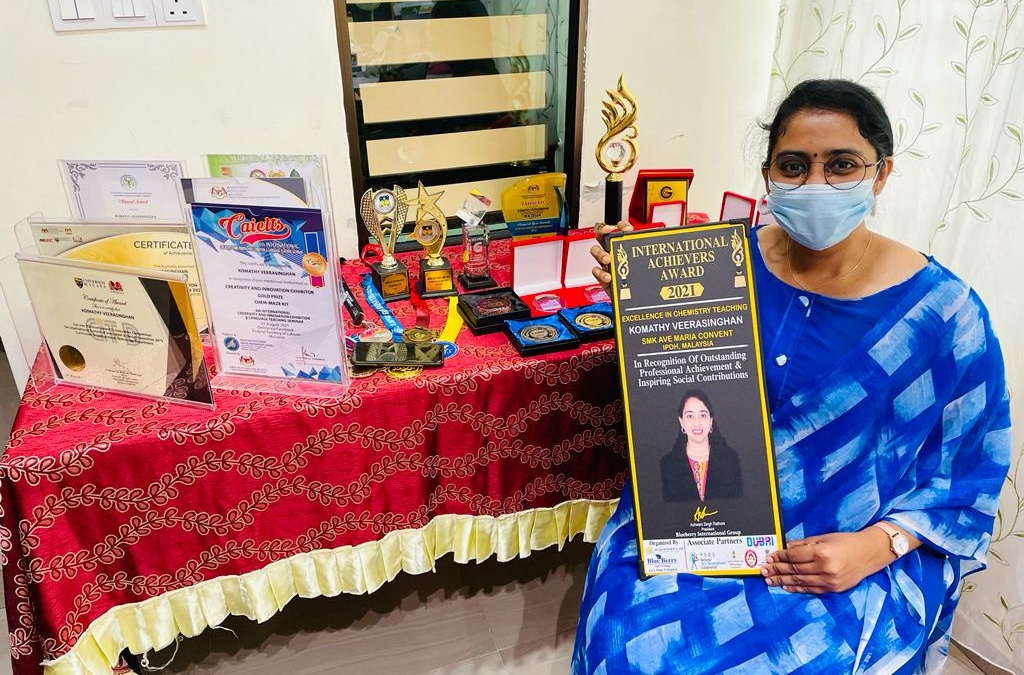 An annual event held to recognise the efforts and achievements of educators from around the globe, this year's Global Teacher Award 2021 attracted over 26,000 entries across the globe. According to Ms Komathy in speaking with The Star, there were over 321 candidates who hailed from Malaysia alone.
Shortlisted as one of six Malaysians in the finals, Ms Komathy edged out her competition to become one of eight Malaysian winners of the competition (24th October 2021). The 38-year-old educator mother of three expressed her shock and surprise at having been announced as the winner of the award via email on 29th September 2021.
A celebrated academic, Ms Komathy, who had served over 14-years in education, is also a master's degree holder in the field of chemistry education, awarded from Universiti Pendidikan Sultan Idris (UPSI). She is also currently pursuing her doctorate in the very same field with the university, reports NST.
An experienced veteran in her field
But that's not all! Ms Komathy is also known to be an innovator in her field and has produced a number of different teaching products including the Chem-Ester Kit: Chem-Ester Kit 2.0 and Biomass Activated Carbon (BAC) for Toxic Dyes Removal: Towards a Sustainable Environment kit. Both have been developed to help ignite student interest in the field of chemistry, which Ms Komathy notes as often being a less-popular subject in school environments.
"Chemistry is a less popular subject because it is full of formulas and involves a lot of calculations, so we need to educate in an entertaining way so as to grab students' interest in this subject and avoid them giving up easily," she said.
When asked about her inspiration to pursue a professional career in education, Ms Komathy has said that it is in striving towards meeting her student's needs that continues to motivate her to achieve excellence. Click here to watch the announcement ceremony.
For more stories like this, follow us on Wau Post!
Also read: Dedicated M'sian father drives son from KL to Taiping for his first date