We Malaysians have a very inexplicably close bond with the Perodua Myvi. Released in 2005 from local car manufacturer Perodua, this small little hatchback that could went out to cement itself in Malaysian history as one of the most commonly sighted staples on Malaysian streets.
The Myvi strikes again
But it isn't just the fact that it sold like hotcakes that has us Malaysians in awe, but the fact that the Myvi can do just about anything. From fording streams to even towing broken-down lorries, apparently. Yes, a tiny little subcompact car can in fact, tow a broken down commercial lorry.
On 24th October 2021, TikTok user @affendiderus shared with his audience how he stumbled upon a most peculiar, if not impressive, sight while approaching a highway toll booth. Across on the opposite lanes, he spotted a silver, first-generation Myvi performing a rather unthinkable feat.
Tethered to its bumper from behind, the silver Myvi was towing what appears to be a broken-down lorry as they moved up along the highway!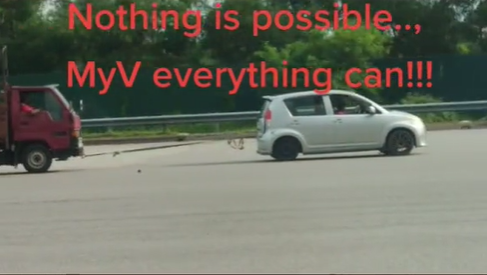 Now it bears to note that the first-generation Myvis came with a 1-litre engine in its most basic guise, and tops out with only a 1.3-litre engine in its most-expensive trim level. But despite its modest performance, it's readily apparent now that should you ever need to help a friend to tow his broken down car (or lorry), you may be pleasantly surprised by what a Myvi is capable of!
The video, which has since gone viral across the social media space, has garnered 126,600 reactions from netizens, many of whom agreed that when it comes to the highway, only the Perodua Myvi reigns supreme.
The people's car for Malaysians everywhere
Esentially a rebadged Daihatsu Sirion, the Perodua Myvi has since gone on to achieve almost legendary status among Malaysians for its propensity to wind up in the most bizarre situations. But that's also thanks to the fact that the spacious, economical and practical sub-compact car has sold over 1.1 million units since it was first launched, making it effectively one of the most ubiquitous cars on our roads.
Can you recall any memories you've shared with the Perodua Myvi?
For more stories like this, follow us on Facebook!
Also read: Dedicated M'sian father drives son from KL to Taiping for his first date