Another day, another endemic reunion to celebrate. For most Malaysians trying to make an honest living in Singapore, the pandemic meant a two-year separation from their loved ones. With the recent announcement of the Malaysia–Singapore Vaccinated Travel Lane (VTL), vaccinated Malaysians across the border can finally make plans to reunite with their family and friends back home! Kai Yee and her siblings went the extra mile to plan a surprise visit back to Johor Bahru, and we are shedding a tear or two.
Kai Yee and siblings working in S'pore pay parents a surprise visit at hotel in JB dressed as hotel staff
On 7th December, Choong Kai Yee took to her Facebook to share a video of how she and her siblings became the masterminds behind a meticulously planned surprise for their parents whom they have not met for the past two years due to the pandemic. The bomb of a surprise was the brainchild of Kai Yee and her siblings when her elder sister told them about a delicious buffet at Holiday Inn Johor Bahru.
Kai Yee then suggested that they could dress up as waiters and waitresses at the said hotel buffet to surprise their parents. The video begins with Kai Yee, her sister, and her brother dropping by at their elder sister's shop for a make-up sesh. They then made their way to the staff-only area of the hotel to grab the costumes needed for their role play.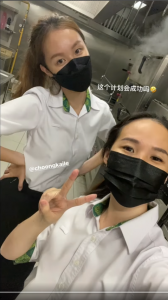 It's showtime! Kai Yee and her siblings got into character upon the arrival of their beloved parents. Kai Yee's elder brother starts serving his father at the food station. He even spoke to his Mandarin-speaking father in English just to put him off! Sharp on his senses, Kai Yee's father said "This is ah boy!". Their sister, who was behind the camera snickered cheekily.
Father's suspicions grew as soon as he saw the second server whom he insisted was Le Le
As soon as the second sibling made her appearance as a waitress, Kai Yee's father immediately sensed that something was off and insisted that "Eh, this girl looks like Le Le, she's so tall!". His elder daughter who was behind the camera jokingly said "Why don't you take off her mask and see?".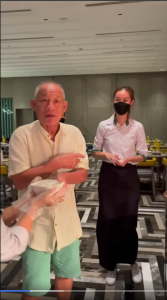 As the trio proceeded to serve their mother at the diner's table, Kai Yee's elder sister intentionally strike up a conversation about sambal. Her mother had the same nonchalant reaction as their dad, "She looks like Le Le! Voice also same!". As the three servers took off their masks and revealed their faces, their parents got the shock of their lives. As soon as they realized that their children whom they have not seen for close to two years were before their very eyes, they embraced each other with tight hugs and cuddles.
The mega plan that involved the hotel management at Holiday Inn Johor Bahru
The plan to surprise their parents first came about when Kei Yee's eldest sister to her about a buffet at Holiday Inn in JB. At that time, the government had announced the launch of the VTL. However, Kai Yee had told her parents that they will only be back in Malaysia next Chinese New Year. Her elder sister then liaised with the hotel's management so that they can smuggle themselves in as members of the staff.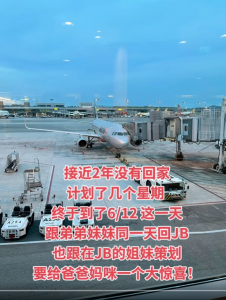 On 6th December, they arrived at Johor Bahru from Singapore in the afternoon and were hiding out at their big sister's shop while pampering themselves with manicure and hair removal sessions until they drove to the hotel in the evening. The rest, as they say, is history. Kai Yee wrote that many people were intrigued by the sibling's plan and this video was the only way to remember the tear-jerking moment that will forever have a place in her heart.
You can watch the full video here!
For more stories like this, follow us on Facebook! 
Also read: M'sian frontliner working in SG finally returns home after 2 years, cries in emotional video