Given the current economic slowdown and rising cost of living, many of us Malaysians are beginning to feel the pinch in our finances. From the prices of kopitiam coffee to vegetables in supermarkets, nothing is spared. Which is why many have resorted to different ways to help keep abreast of their day-to-day expenses, whether it be taking up gig economy jobs such as working as a food rider, or taking up freelance projects over the weekends.
Food rider steals from another deliveryman
But in spite of all that, there will still be those who resort to petty crime instead, despite the challenges that all Malaysians are having to deal with collectively in the wake of a pandemic-afflicted economy. Such is the case of one food delivery rider, who unbeknownst to him, was actually caught red-handed on closed-circuit television video (CCTV) stealing from another deliveryman in broad daylight.
In a clip shared by TikTok user @richardpoho, a parcel deliveryman could be seen parking his motorcycle along a street before alighting from his vehicle. Preparing to make a number of deliveries, he proceeds to remove some parcels from his backpack before heading off to send them out to their intended recipients as another food rider arrives to park a little further ahead.
But in the parcel deliveryman's absence, the food rider appears to have moved his motorcycle ever closer, before stopping right alongside the other man's. And in a completely unexpected move, the food rider proceeds to nervously check around his surroundings before sneaking a hand into the parcel deliveryman's backpack to steal an item from it!
Placing the stolen item into his own motorcycle's basket, he then waits on for another moment before leaving the scene of the crime!
"Everyone is just working to survive," netizens angered by theft
Predictably, the theft hasn't gone over well with netizens, many of whom expressed their ire at the fact that he would steal from another fellow deliveryman who was also working to make ends meet.
"An embarrassment to riders everywhere."

"This is why when I used to deliver parcels for Shopee, I would never leave my motorcycle unattended to climb up flights of stairs to make a delivery. I would always request the recipient to collect it from me instead. Thank God most customers are understanding. If the parcels are small, they usually tell me to just leave it in their mailboxes." 
"Everyone is just trying to survive, and yet there are those who behave so badly. We all have jobs to do, so just do your job. I'm so angry."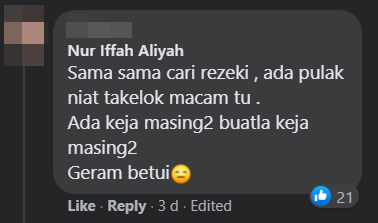 For more stories like this, follow us on Facebook! 
Also read: Kind food rider buys customer another meal with own money after their food spills from torn paper bag