Over the past two years of the COVID-19 pandemic, the topic of vaccinations has been brought to the forefront of mainstream discussion and continues to remain a highly contentious point of discourse for some. Where Malaysia is concerned, vaccinations have not been expressly mandated by the Ministry of Health. However, a number of restrictions, most notably the barring of individuals who have yet to complete their vaccination schedules or are completely unvaccinated from public premises, was enforced to curb the spread of infections locally.
Ampang café falls victim to review-bombing by anti-vaxxers
As of today however, those restrictions have been lifted completely, with the Ministry of Health announcing that all individuals, regardless of their vaccination statuses, are allowed to enter public premises. However, some businesses continue to remain wary over the spread of COVID, which still remains ever present, and have elected to maintain certain policies for the sake of minimizing the risk of transmission on their premises.
Among these businesses includes local Ampang neighbourhood cafe, Rather Good Beans (RGB), who have recently announced that they will continue to maintain their store policy of allowing only fully-vaccinated customers to dine-in at their premises.
However, that decision has since led to a malicious act of review-bombing from anti-vaccination proponents, many of whom have left a series of 1-star reviews on the cafe's Google listing page. Inevitably, this has knocked their rating down from 4.2 stars to 3.2 stars in a matter of days.

One has described the cafe as practicing 'medical apartheid', in reference to the apartheid policy previously enforced in South Africa. Other anti-vaxxers have urged customers to dine at more 'friendly' businesses instead.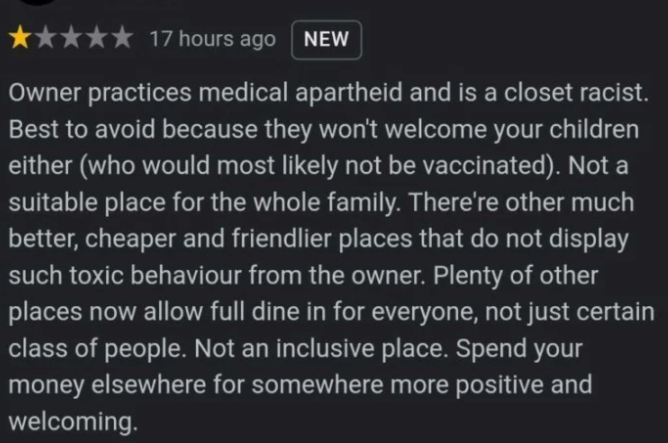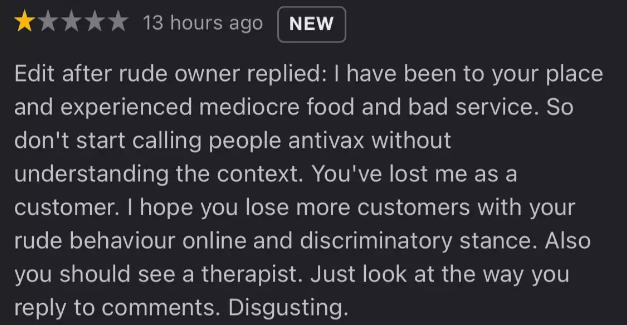 Cafe owner releases statement
In a statement released by the cafe's owner, Li, she has explained that the cafe's decision to allow only fully-vaccinated and low-risk customers to dine-in was twofold.
"…one is that we don't want to risk unvaccinated guests from catching covid at our place. Secondly, we want to minimize the risk to our other guests and team members from catching COVID at our place."
Adding that the decision was made after discussions with the team over concerns for an elderly employee's wellbeing as opposed to a top-down directive from management, Li points to the fact that their policy is not unique as some shopping malls are still following the same procedure.
"It is just that we have created a post to avoid disappointment to people who may come here and then we have to have some sort of argument at the door. And this has opened us up to attack by anonymous keyboard warriors."
Understandably, Li said that the experience has left many members of her team demoralised, as they have worked hard to maintain the cafe's 4-star rating over their 8 years of business.
A more recent check on RGB's Google Reviews page shows that the 1-star reviews left by anti-vaxxers previously have since been deleted, returning the café back to it's 4.2 star rating. In speaking with Wau Post, Li said that the review bombing started on Sunday night at around 7.00pm, while business at the café has remained relatively brisk.
"…but maybe it is too soon to know the affect as F&B has natural high and lows which are not that predictable. Maybe we will only know after a month or so." she adds.
As of now, all reviews submitted to the cafe's Google listing in the past 3 days, both good and bad, have been removed and frozen. Li explains that there isn't much that her café can do over the incident, as the reviews were submitted without real names or photographs.
Tap here to give us a 'Like' on Facebook and stay up-to-date on the latest news!