Come hell or high water, nothing is more certain in the life of an average Malaysian beyond paying taxes and sitting for your Sijil Pelajaran Malaysia aka Malaysian Certificate of Education (SPM) examinations. Often touted by teachers and parents alike as being the 'make-or-break' moment in one's adolescent life, many of us know how even a few extra marks here and there can make a world of difference between an 'A' and a 'B'.
SPM students unhappy after resort's name caused them to lose marks in listening test
But in the case of this year's SPM examinations, some students weren't quite nearly so lucky and found themselves losing out a single mark in their Bahasa Malaysia listening test, after it was understood that many had unknowingly misspelled the name of a local beach resort located in Tioman Island. Salang Sayang Resort had apparently been included as part of the spoken script for this year's listening test, which recounted a woman named Iman, and her time spent at the resort on vacation.
Quoting students who had sat for the examination, mStar reports that the name of the resort was not clearly articulated in the spoken script. Given the fact that the resort isn't a popular one to begin with, many did not in fact know the right way to spell its name. Consequently, the spelling error resulted in the deduction of one mark from their test paper.
Resort gets review-bombed on Google
Dissatisfied with that face, many students have decided to take upon a rather unorthodox (and very 2022) way to express their displeasure. Locating the resort's social media, a wave of SPM students decided to review bomb Salang Sayang Resort's Google Reviews page with 1-star reviews.
While the resort continues to maintain an overall 4.8-star rating on Google Reviews, a quick check in the reviews tab shows a huge influx of new, 1-star reviews that have been added to the business' page in the last 24-hours. An anonymous user had even tried to meddle in the resort's operating hours by suggesting that it was permanently closed.




The resort however, has decided to let bygones be bygones and have even suggested that the SPM candidates come over to the resort after their examinations have wrapped up.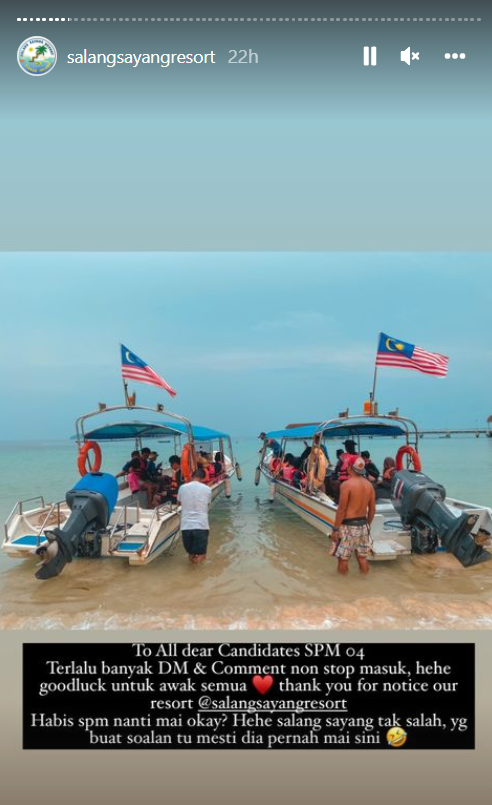 "To all dear candidates SPM 04, we have received too many DMs and comments non-stop. Goodluck to you all! Thank you for noticing our resort. After your SPM examinations wrap up, come on over okay? Salang Sayang isn't at fault, but maybe the one who prepared the questions this year must have been to our resort." they wrote.
Some students have also decided to issue an apology on behalf of their peers over their bad behaviour.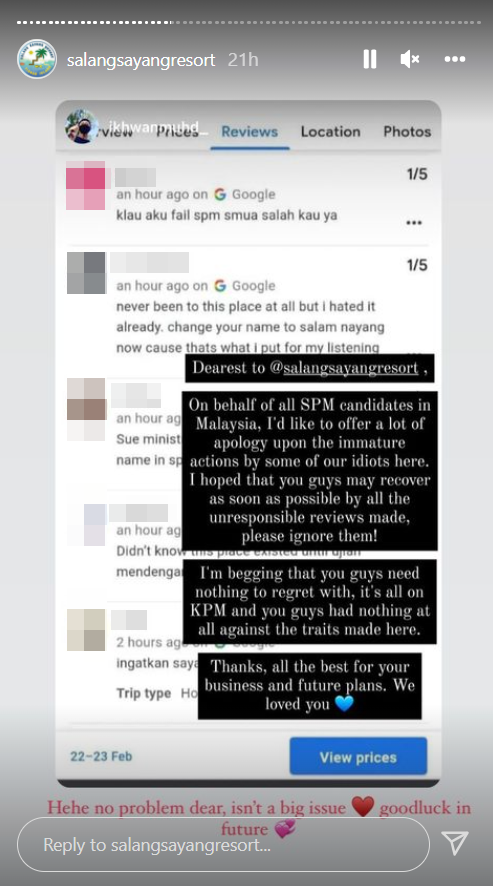 Given the fact that many hotels are heavily reliant on public, community-driven user reviews to promote and maintain their businesses, review-bombing may in fact affect their businesses in the long-run. And given all that the travel industry has been through during the COVID-19 pandemic, it is important to keep in mind that relatively trivial vindictive gestures such as these could have lasting consequences for a business and the livelihoods of its employees.
For more stories like this, follow us on Facebook by tapping here! 
Also read: M'sian students pool money together to buy their beloved teacher a RM70,000 car for his retirement!