Arguably one of the most heated topics of discussion to have recently surfaced among Malaysians is a 1-minute and 45-second long video clip that showed how a lecturer from UiTM Perak berated a student for not having a laptop of his own, before making disparaging remarks about those in the B40 income bracket. Since then, everyone from local netizens to politicians and even the Ministry of Higher Education, have called for an investigation into the matter.
UiTM investigation reveals that student who was belittled actually owned a laptop
In line with that, the university has ordered its Vice-Chancellor of Student Affairs to open an investigation into the matter on 30th March 2022 at its Sri Iskandar campus, which has led to a few interesting revelations. In a press statement that was issued by UiTM, the university said that it had identified and interviewed five students that were said to have been present at the time of the online lecture.
The lecture was held as part of the BCT633 (Construction Economic and Islamic Finance) subject curriculum taught by Professor Dr Ts. Roshana Takim during Week 8 of the October 2021 – February 2022 semester. According to Malay lifestyle paper mStar, the student who had been singled out in the video is pursuing a Bachelor's degree in Construction Technology and does in fact hail from Seremban.
However, contrary to initial speculation, the student in question did actually own a laptop of his own and forgotten to bring it for class that day. Additionally, it is revealed that his mother was in fact still alive and is currently working as a factory operator.
University has decided not to renew the lecturer's contract
Additionally, the student was said to have taken out a PTPTN loan, but did not apply for any zakat (financial aid). The screen recording of the video was said to have been shared online by a separate user without the student's prior knowledge or consent.
As such, UiTM has decided upon the following actions in the wake of their investigation findings:
No further action will be taken upon the lecturer or the students involved, as they have decided to settle the matter amicably in private.
The lecturer's contract with the university, which was previously renewed on 15th March 2022, will be cancelled. This is in view of the university's policy which grants them the right to cancel any appointment within 30 days from the initial date of appointment.
However, the decisions made by the university are still pending advice from the Ministry of Higher Education.
Netizens however have pointed out that the investigation does not take away from the unduly disparaging remarks made by the lecturer about those in the B40 category, regardless of the student's circumstances.
The university's findings can be read in full below: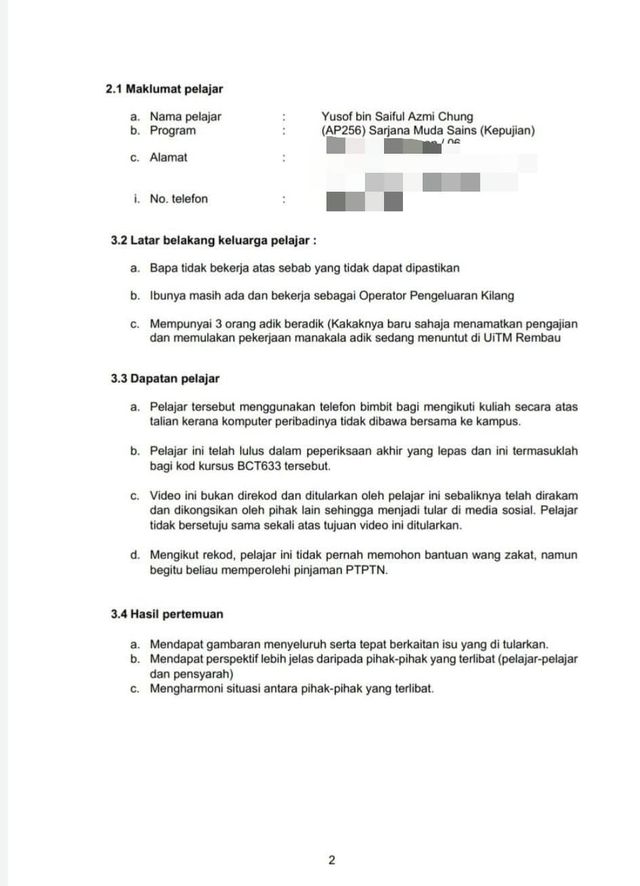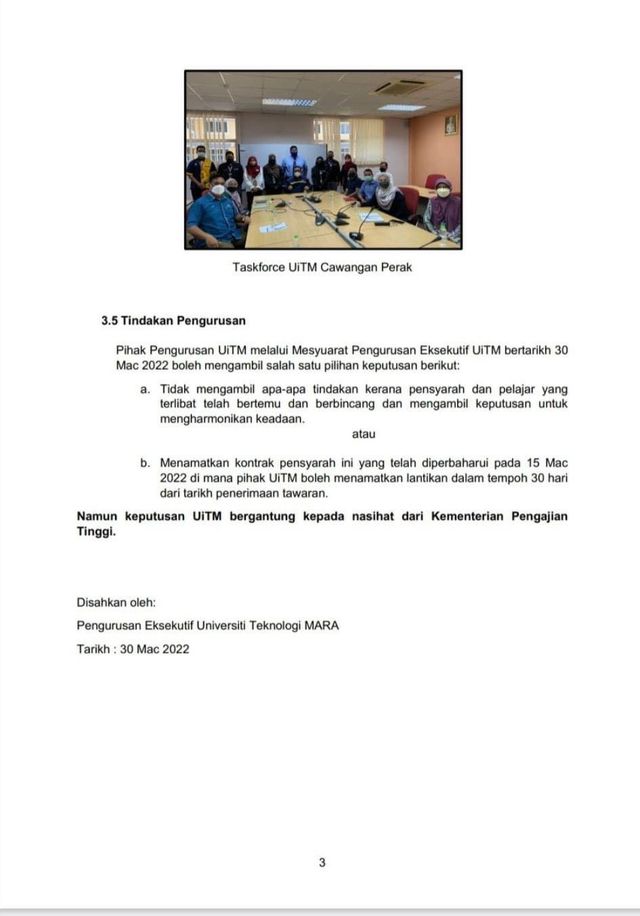 For more news like this, follow us on Facebook by tapping here! 
Also read: "This is why I can't sit with B40 people," UiTM lecturer faces backlash for criticising poor student who didn't own a laptop