'Beauty is pain', as the old adage goes. Historically, humans have been willing to go above and beyond in our pursuit for what we perceive to be beautiful. Whether if its in using lead-laced skin-whitening cosmetics or contorting our waistlines with painfully-fitted corsets, we are willing to endure a great deal for the sake of looking attractive. But the tradeoff can sometimes lead to some detrimental health concerns.
Young woman suffers from a swollen liver due to injectable beauty products
Just recently, 22-year-old TikTok user Umi Hafieza, also known as @umiehafiezaa, shared her experience in suffering from health complications after deciding to consume jamu (a traditional Indonesian medicine made from various herbs), weight-loss beverages and injectable skin-whitening products to improve her appearance.
As a result of using both methods to enhance her looks, Umi had to be admitted into hospital and found out that she had sustained a swollen liver. Warded for four days due to the condition of her health, the young woman had to be put on an intravenous drip while being told to restrict her diet to certain food groups in a bid to prevent further complications.
In speaking with Harian Metro, she explained that she had initially sought out for medical help after experiencing what she had assumed was a stomach ache.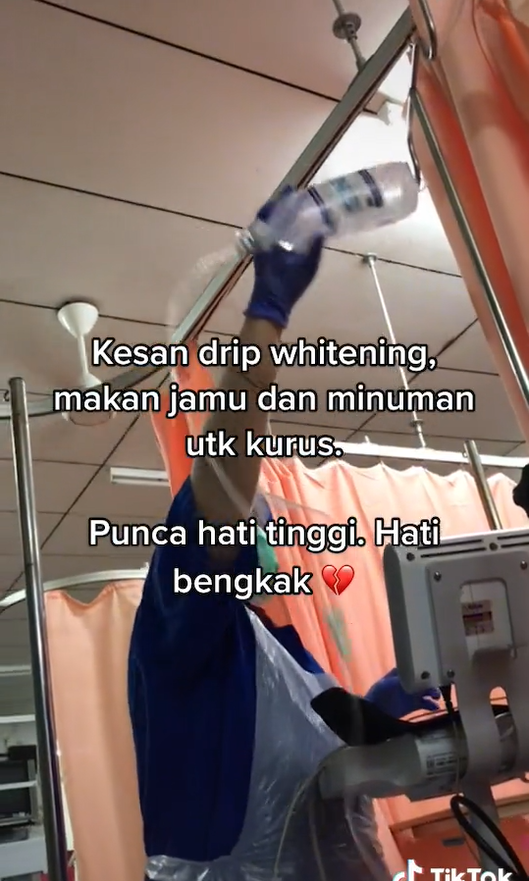 "I was later informed by the doctor that the pain I felt was caused by gastric."
"But the pain persisted for over two weeks, before I wound up in hospital. A detailed examination had found that my liver had become swollen, and doctors asked if I had consumed any jamu or injected any beauty products." she said.
She had received skin-whitening injections at a local spa
Admitting that she had, her doctors explained that using any of those products could very well have led to her liver swelling-up. The 22-year-old adds that she had received the skin-whitening injections at a local spa that had been running a promotion.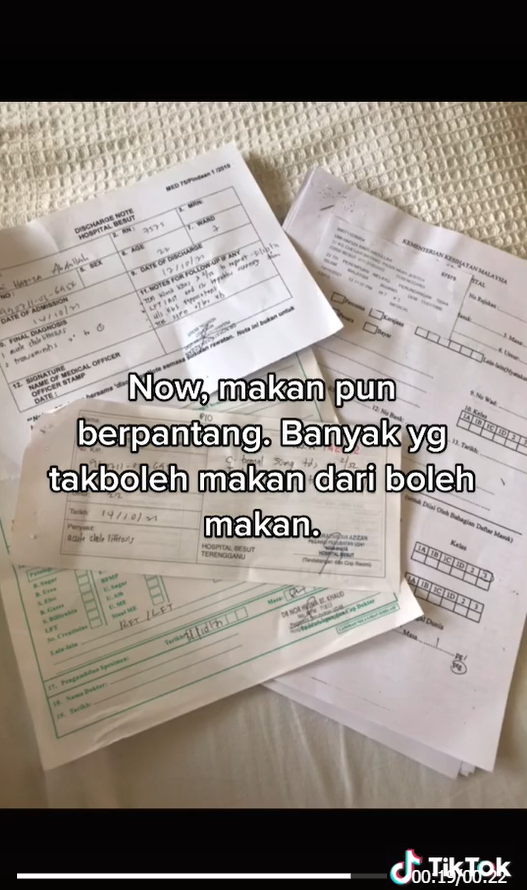 As a seller of beauty products herself, she had hoped that by enhancing her own appearance, she would be able to attract a larger circle of clientele while inspiring confidence in the quality of her own products.
Despite feeling queasy and experiencing vomiting after her first injection, she continued to undergo a second skin-whitening injection when she found that her skin did indeed become fairer-looking. The spa assured that her nausea was simply a result of dehydration.
For the time being, Umi has been told to steer clear of spicy or greasy foods as her body begins its road to recovery. She hopes that her video would raise added awareness surrounding the dangers of using injectable beauty products, and advises that women speak to medical professionals before committing to any new beauty products.
For more stories like this, follow us on Facebook!
Also read: 28yo M'sian man suffers from stroke due to constant computer use & lack of rest