It goes without saying that if we know nothing about an individual's circumstances, we should refrain from casting judgement upon them. After all, we may never know the true reality of their situation, or the challenges that they may have to contend with in their lives.
UiTM lecturer criticises poor student for not having a laptop
Just recently, a lecturer from Universiti Teknologi MARA System (UiTM) has come under intense scruntiny by the public, after a video recording from one of her virtual classes had been shared across social media. The 1 minute and 45 second long video saw the professor abruptly stopping her class midway after receiving responses from her student, which led her to single-out one male student in particular to ask if he was using his smartphone to participate in the conference call.
"What are you using? Are you using a phone?"

"Yes, Prof." he replied.
This led to her questioning the student as to where his computer had went, which he then told her that he never had one to begin with. Unsatisfied with his answer, the professor then proceeded to query about the student's family background, leading him to explain that he was living in Seremban and that his father is unemployed while his mother had already passed away.
"Do you have any siblings?" the professor asked next.

"I do, Prof."
Instead of sympathising with his circumstances, the professor proceeded to tell him that he should have asked his sister to pawn off any gold jewelry that she owned in order to help afford a computer for him.
"I'm telling you, if you have a sister who owns gold jewelry, tell her to pawn her jewelry and buy you a computer.

This is why you can't learn well, because you don't have a computer. After this, I will start teaching you how to use (Microsoft) Excel and you will become a drop-out student. This is the fifth semester and you don't have a computer." she sternly reprimanded.
Drawing comparisons with herself, the professor pointed out that she was willing to live with only five pieces of clothing for the sake of being able to buy a computer of her own, stressing the importance of owning one in this day and age.
"It costs only RM800 to buy a computer. What's your problem?"

"This is why I can't sit with people who are B40 (underprivileged). They prioritise other things beyond their studies." she adds, slamming her fist on her desk.
Seemingly put off by the entire incident, she then instructed her students to switch off their webcams.
Original Tweet deleted, but video has spread across social media
While the original Twitter post which contained the video had already been deleted after the woman's incendiary remarks had sparked widespread backlash from netizens, the clip itself was downloaded and shared widely within local social media circles.
In fact, the video had even caught the attention of local politicians such as Muar MP YB Syed Syddiq, and Bukit Mertajam MP YB Steven Sim, the latter of whom offered to help sponsor a laptop for the student in question.
Kajian kementerian pendidikan menunjukkan 1/3 pelajar di Malaysia tiada Laptop atau tablet.

Kadar keciciran pelajar sangat menakutkan

Mereka tidak pilih untuk terus miskin sampai tidak mampu untuk beli laptop.

Dari menghina, lebih baik bantu mereka dapatkan laptop. https://t.co/eST0S4Qz55

— Syed Saddiq (@SyedSaddiq) March 29, 2022
Minta tolong siapa2 dapat hubungi pelajar tersebut, saya nak berikan sebuah laptop baru kepada beliau.

Saya setuju dengan prof, latarbelakang keluarga tak patut halang pendidikan.

Tapi saya tak setuju cara prof menghina pelajar semata-mata kerana latarbelakang keluarganya. https://t.co/QHCARAcdMC

— Steven Sim 🇲🇾 #Bangsa (@scheekeong) March 30, 2022
Some netizens claim that the original uploader of the video had only dared to upload the clip after his graduation from UiTM, in fear that he may face potential repercussions from the university for calling out the poor behaviour exhibited by the professor had he been a student at the time.
UiTM student council calls for an investigation into the matter
Additionally, a representative from the UiTM student council has also called for the university's faculty to open an investigation and take appropriate action upon the professor over her remarks, while underscoring the fact that their university had been established upon the premise of making education more accessible to those who cannot afford it, chiefly those belonging to Bumiputera communities.
According to The Star, the university's vice-chancellor Prof Datuk Dr Roziah Mohd Janor has said that they will be taking action against the lecturer in question, who is revealed to be hired on contract, for her remarks. She stresses the fact that UiTM continues to prioritise the welfare of all members, especially students, and have always worked to ensure that they are provided with the most conducive environment for studying.
"UiTM was formed to help the underserved continue their studies at the university level,"

"UiTM understands the constraints, difficulties and situations faced by students in the online learning and teaching process," she said.
Her statement can be read in full below: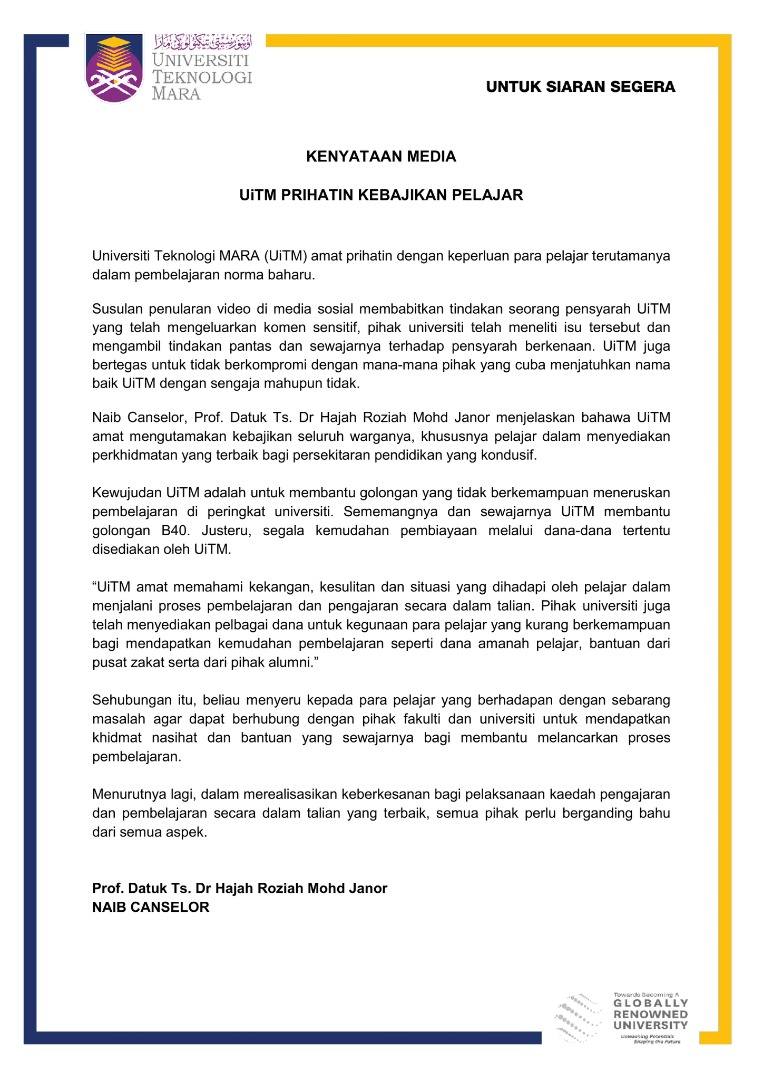 For more news like this, follow us on Facebook by tapping here! 
Also read: "Do your damn half!" M'sian student sends angry email to partner who did nothing for in group project