Recreating the most instantly recognizable silhouette in adidas Originals' extensive roster, The LEGO Group continues its partnership with the sportswear giant to unveil an exclusive brick-inspired Superstar sneaker as well as a DIY LEGO model of the timeless model.
Crafted from premium leather, the wearable sneaker arrives in its classic black and white colorway. Getting as close to the brick pattern as possible, the silhouette's design is elevated with its trademark three stripes, shell toe and heel tab carefully constructed with the iconic protruding jigsaw aesthetic.
Brought into fruition by The LEGO Group's senior designer, Florian Müller this unique collection highlights key elements from both brands' design DNA, fusing adidas' sports heritage with The LEGO Group's signature brickwork. Built from the sole up, the collectible set sits at over 12cm high, 27cm long and 9cm wide, scaled to the size of an actual sneaker. "I tried a couple of different sizes and it turned out that the shapes of an adidas sneaker in size US 7.5 was the best match for our LEGO pieces and plates." Arriving with real shoelaces, an original shoebox as well as a display stand, this unique collaboration is a first for the brick-model brand. "We were looking into existing flexible elements to recreate the shoelace, and at one point just said: 'Why not just use the real ones?'" Müller explains.
Coinciding with the launch of the collaboration, adidas Originals and The LEGO Group have teamed up with six creatives to customize their own brick-built sneaker, celebrating the spirit of the collab. HYPEBEAST caught up with Japanese artist, COFFEE BOY to break down his version of the silhouette, how he translated his coffee aesthetic onto a shoe as well as the significance of the Superstar.
HYPEBEAST: What is your favorite part of this set?
COFFEE BOY: I love the way they perfectly reproduced Superstar's iconic cute toe, and the shoestring is real!
What's the concept of 'Super Steam Star'?
The concept is a happy face looking into coffee through steam. I designed the happiness of everyday life, like putting shoes on or going out to grab a cup of coffee.
1 of 4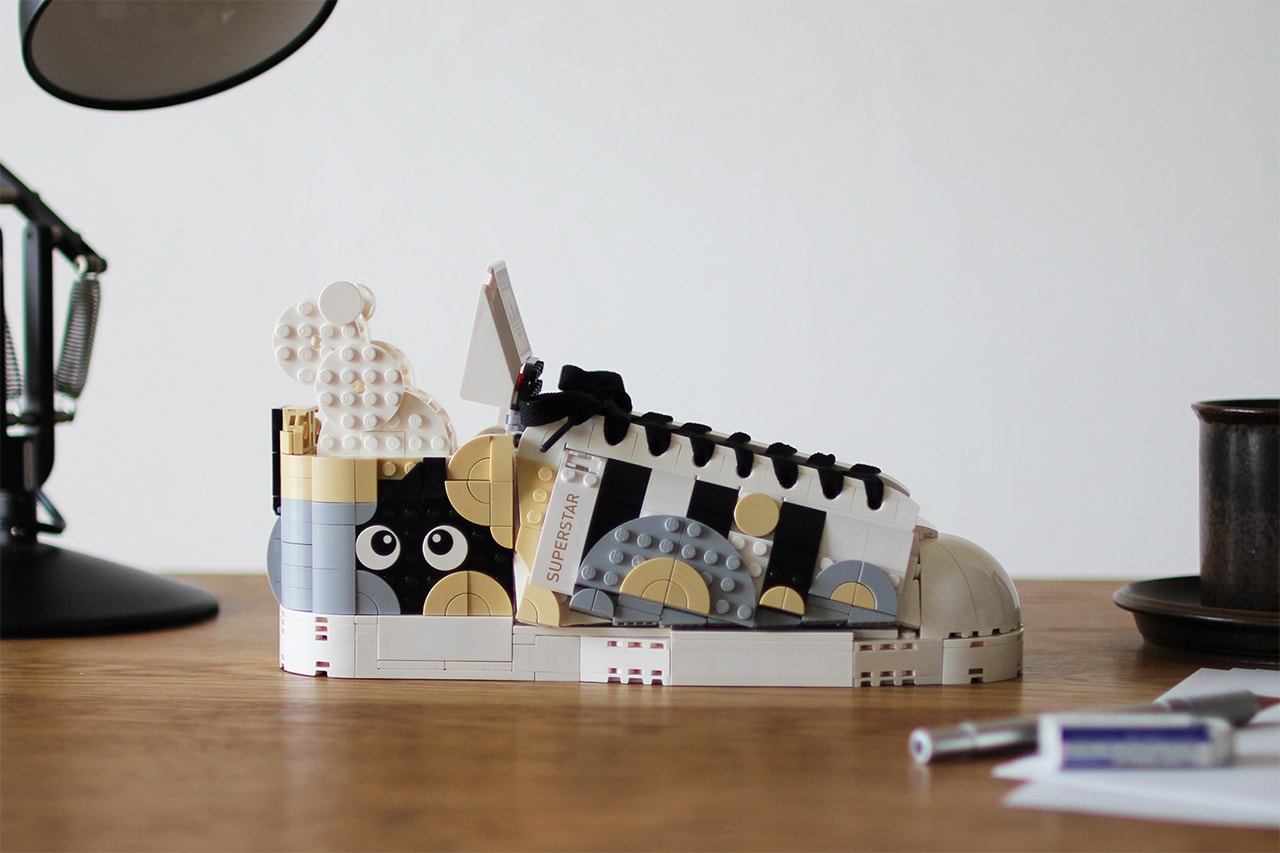 Talk us through the design process of your Super Steam Star model?
I have never designed shoes before, so I was wondering where to start. Since I make coffee-themed work, I wanted to use coffee as a motif. The idea of ​​using the shape of steam and the color of black coffee came to my mind straight away, but the design didn't look exciting. I ended up taking off the shoes I was wearing at that time (adidas Stan Smith) and started looking at them and feeling them from different angles. Then I came up with the idea of ​​putting eyes on the shoes. I cut pieces of paper into circles, drew eyes on them, and put them on my own. The shoes came alive like a cartoon character, and I thought this is it! This is how the Super Steam Star was born.
What LEGO mini-figure would complement this Superstar?
Most likely would be a LEGO Star Wars Stormtrooper. I think the simple black and white colors and silhouettes match the coloring of the LEGO adidas Originals Superstar.
What design detail of Superstar do you like best? And how did you highlight that part in the set?
Definitely the symbolic three stripes. When I was working on it, I was very careful not to ruin the vibe of the stripes.
If you could choose another adidas sneaker to turn into a LEGO set, which pair would you choose?
Stan Smith! I've always loved Stan Smith and I still wear them a lot.
How do LEGO bricks differ from other mediums of creating art?
Since I usually use paper, it was very unique using LEGO bricks — the hard texture, straight lines, the three-dimensional effect and the depth it creates by stacking them.
What was the most challenging part of integrating your art into a 3D brick-built shoe?
Instead of drawing an illustration onto the LEGO bricks with a pen, I had to turn the bricks into what I drew. I had no idea how much curved lines, such as billowing steam and round eyes could be reproduced into LEGO brick form. As a result, the LEGO designer understood the intent of my idea so well and made a wonderful finish beyond my imagination.
What was your first LEGO set?
I think the first set I got was LEGO City. I wanted to create my own world by building houses and towns and moving dolls and vehicles with my own hands.