Traffic fines are typically a way to punish those who have committed offences while behind the wheel, and are meant to act as a deterrent from repeat offences. And yet in Malaysia, we occasionally get to enjoy periods of discounts on our samans, which does raise the question as to whether they really are acting as a deterrent at all when you can wait for a discount period on them.
This time around, to commemorate the current administration's 100 days in office, a special discount on traffic fines is now available for all Malaysians, ranging from 70% to 80%.
Discount on your traffic samans as part of Keluarga Malaysia event
According to the Ministry of Transport's official Facebook page, this new discount on traffic fines will be made available to all Malaysians from 9th December 2021 up to 12th December 2021 as part of Dato' Sri Ismail Sabri's 100 days in office as Prime Minister of Malaysia. In line with his ongoing commitment to an all-inclusive Malaysian Family aka Keluarga Malaysia policy, all Malaysian citizens with a valid driver's license who have incurred any fines issued by PDRM and JPJ will be eligible to the discounts.
Payment of your traffic fines can be made at designated counters that will be set up on location at the Kuala Lumpur Convention Centre, where the Prime Minister is slated to organise a weekend-long event on to celebrate his government's landmark achievements since assuming office.
You may also chose to make your payments at your nearest Regional Police Headquarters, Contingent Police Headquarters, or through the official JPJ and PDRM portals as well. The discounts will still apply.
Predictably, terms and conditions apply
Those living in Kuala Lumpur and Putrajaya will be able to enjoy an 80% discount on their traffic fines, while those who live in other states may enjoy a 70% discount. However, do bear in mind that this discount may not apply to certain fines and compounds, as Sin Chew Daily notes. The discounts do not apply for:
Traffic accident fines issued in 2021
Non-compoundable fines
Traffic fines that require being present in court
Traffic fines issued to lorries
Traffic fines issued for dangerous overtaking in 2021
Traffic fines issued for the illegal use of emergency lanes in 2021
Traffic fines issued for running a red light in 2021
Traffic fines issued for overtaking in a double-line road in 2021
Traffic fines issued for the illegal modification of exhausts issued in 2021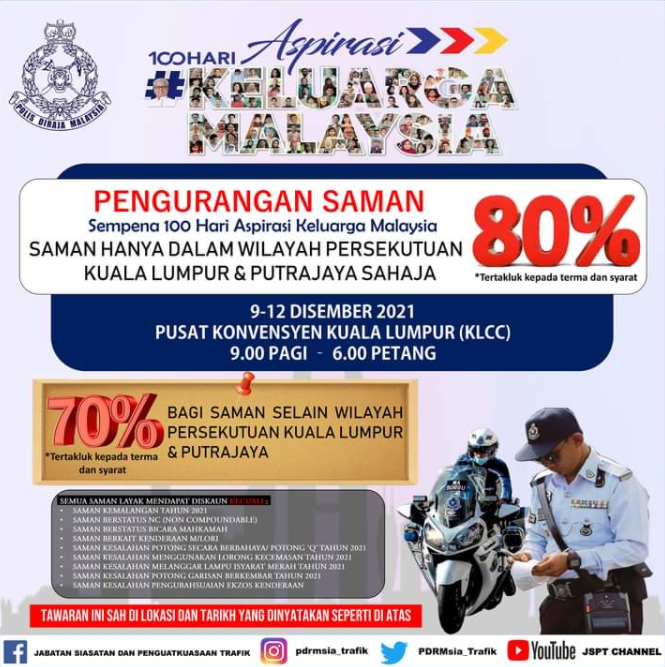 You may choose to check if you have any outstanding traffic fines by using JPJ's traffic summons portal here, or by accessing the Royal Malaysian Police's traffic summons portal here. The JPJ and PDRM traffic summonses counters at the Keluarga Malaysia event will be open from 9:00am to 6:00pm from 9th December 2021 to 12th December 2021.
But concerns are abound as to the safety of having so many people congregating in one single location, especially in light of the ongoing COVID-19 pandemic in the country, when online payment methods are available. Bear in mind that lines at JPJ and PDRM counters to pay off traffic fines during these 'discount seasons' can be very lengthy.
For more stories like this, follow us on Facebook!
Also read: Langkawi restaurant that went viral for selling RM1,196.80 siakap may now face a RM100,000 fine