On 1st April 2022, the national borders between both Malaysia and Singapore were officially reopened for public use. This meant that fully-vaccinated citizens from both countries could finally resume travel via both the Woodlands Checkpoint and Tuas Second Link using their private vehicles, without the need for quarantine. And while the move has been welcomed by both sides, instances of Singaporeans pumping subsidized RON95 petrol while in Malaysia have once again resurfaced.
SG electric vehicle driver allegedly steals electricity from Johor charging station
But this time instead of petrol, a Singaporean electric vehicle owner was allegedly found to have been stealing electricity at a charging station. According to local automotive portal PaulTan.org, the vehicle in question was identified as a white BYD M3 electric van, bearing Singaporean plates.
Instead of paying to use the facility, the driver simply parked his vehicle around physical barriers that were still upright, before hooking his car up to charge. The Shell Recharge service is in fact a service offered by the company using a pay-per-use model, which first requires electric vehicle owners to log on and complete a payment transaction using the ParkEasy app before the physical barriers in the charging bay would lower to allow vehicles to enter and charge.
Unfortunately, the automotive site highlights the fact that the charger itself does not require any authentication prior to use, which has allowed unscrupulous individuals to charge their vehicles without first paying.
What are the rates for charging an EV using this service?
As of writing, the DC Shell Recharge service requires an up-front RM4 confirmation fee for the charging bays to first be unlocked, before electric vehicle owners can charge their cars at a rate of RM20 for every five minutes of charge, up to 25-minutes.
The rate will then increase to RM20 for every five minutes. For a single-hour of charge, drivers can look to pay RM240 (or RM244, with the inclusion of the confirmation fee). This would mean that drivers are only charged for the charging duration itself, and not the amount of electricity drawn by their vehicles.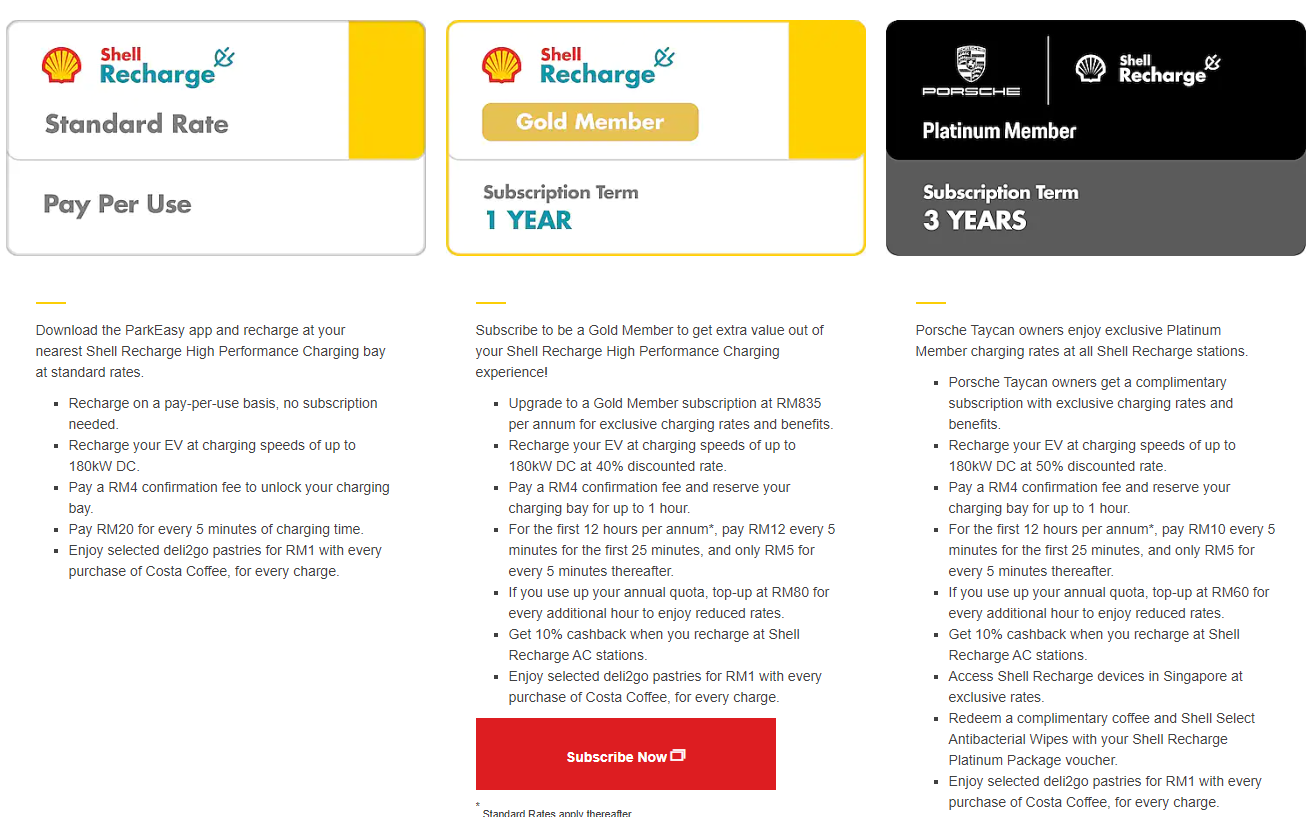 Frequent users can also consider signing up for a membership, which costs RM835.00 per-annum, and brings the cost down to RM12 for every five minutes up to 25 minutes, and RM5 for every five minutes thereafter.
Located throughout Malaysia and Singapore, the DC Shell Recharge network of electric vehicle charging stations is among one of the few service providers to provide High Performance Charging (HPC) at 180kW, and was introduced in collaboration with the launch of Porsche's high-performance electric sedan, the Taycan. Depending on the model and specification, these HPC stations claim to be able to charge your car from 0% to 80% in 30 minutes time.
However, some netizens have pointed to the apparent design flaw which exists in the DC Shell Recharge HPC system itself, whereby only the parking barriers require authentication as opposed to the chargers themselves, which can simply be lifted and used to charge any electric vehicle if they are parked close enough within reach of the cable.
Tap here to give us a 'Like' on Facebook and stay up-to-date on the latest news!
Also read: Foreign vehicles including those from Singapore cannot pump RON95 petrol in Malaysia