As the Malaysian and Singaporean border reopens once more to fully-vaccinated citizens from both countries, those living in the Western Peninsula will no doubt have spotted the resurgence of vehicles bearing Singaporean numberplates on local roads once more. Which inevitably means that they will also be winding up refilling their vehicles at Malaysian petrol stations as well.
SG vehicles found pumping RON95 in M'sia
However, the latter has led to the resurgence of Singaporean drivers being found yet again refilling their cars secretly with RON97 petrol at prices that are heavily subsidised by the Malaysian government, unbeknownst to pump attendants. In fact, a photo showing a man refilling a Toyota Estima luxury MPV bearing Singaporean plates with RON95 has attracted such widespread attention that even embattled former premier Datuk Seri Najib Razak has chimed in over the matter.
In a recent Facebook post that was uploaded to his official Facebook page, he points out that Malaysia makes a loss of approximately RM1.70 per liter of RON95 petrol that goes into foreign vehicles as the price of fuel is in fact subsidised by the Federal Government. Malaysia's RON95 is currently selling at a subsidised price of RM2.07 per litre, which makes it the 11th lowest in the world. The subsidised price however, applies to Malaysian drivers and vehicles registered in Malaysia only.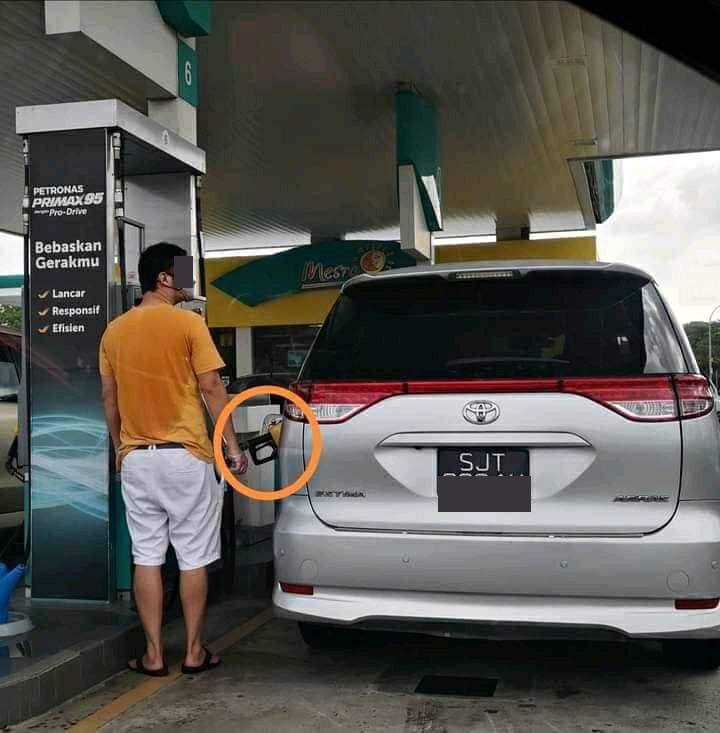 For foreign vehicles including Singaporeans, they are allowed only to purchase the higher-octane RON97 petrol at RM3.91 per litre, which is still comparatively cheaper to the SGD $3.51 (RM10.90) price per litre in the island-state.
Drawing an example, Najib explains that if a Singaporean decides to fill their vehicle up with 40-litres of RON95 petrol at locally subsidised prices, Malaysia will be losing out approximately RM68 for that one tank.
This is especially relevant given the current increase of crude oil prices around the world in light of ongoing sanctions by the United States against Russia after tensions escalated in the Russo-Ukranian conflict. As of 28th March 2022, the price of gasoline in the United States stands at RM4.72 (USD $1.12) per litre.
KPDNHEP vows to step up monitoring & enforcement
In response to this, BERNAMA has reported that the Domestic Trade and Consumer Affairs Minister Datuk Seri Alexander Nanta Linggi vows to clamp down on these occurrences by increasing monitoring and enforcement activities at all petrol stations located close to the country's land borders.
"The ministry has also ordered all state ministry offices bordering Singapore and Thailand to intensify monitoring and inspections as well as to take stern action against any party that violates the Control of Supplies Act 1961 (Act 122) and (Control of Supplies Regulations 1974)," he said in a statement released on Sunday (3rd April 2022).
Individuals found violating the law are liable of a fine not exceeding RM1 million and/or a jail sentence not exceeding three years. Companies or entities found violating the law are liable of a fine not exceeding RM2 million.
Malaysian petrol stations have been legally forbidden to sell RON95 petrol to foreign vehicles since 2010, a policy which was introduced by then domestic trade and consumer affairs minister and current Prime Minister, Datuk Seri Ismail Sabri Yaakob.
For more stories like this, follow us on Facebook by tapping here! 
Also read: Malaysia ranks 8 out of the top 10 most stressful countries to drive in, and we can totally relate