In the advent of modern automotive technology, one brand has consistently stood out as being on the cutting-edge of innovation: Tesla. Founded by South African billionaire entrepreneur Elon Musk, the brand has since expanded its initial offering of a two-seated Roadster based off on the Lotus Elise into a family of electric vehicles that most notably includes the Model S luxury sedan, Model X luxury SUV, Model Y compact SUV, and Model 3 compact sedan.
SG couple relaxes while their Tesla 3 SR+'s Autopilot drives them from Johor to Penang!
Performance numbers aside, the brand is also best known for their Autopilot feature, which grants their vehicles up to Level 2 autonomous driving capabilities. In layman terms, it is actually possible to let your Tesla do your driving for you, without you even lifting a finger. And while the feature has been widely adopted in both North America and Europe, many of us have yet to encounter a Tesla doing the very same thing in Southeast Asia.
Until now, that is! In a video that has since gone viral across the region, Singaporean Tesla Model 3 SR+ owner @sgpikarchu took to documenting his recent trip across the West Malaysian peninsula from Singapore, solely by means of using his Tesla's Autopilot function!
Heading up North along the spine of the Peninsula from Tuas, the Tesla Model 3 SR+ owner shows how relatively relaxed the entire journey wound up becoming, with his car being able to effectively keep them safe while navigating local roads with ease. Of course, being an electric vehicle (EV), it is crucial to keep the charging locations along the journey in mind, lest the Tesla's batteries run flat. However, this owner didn't seem to run into any such concerns with his car's 54 kWh battery, which is capable of about 380 km in real-world range.
Journey was mapped out with charging stations in mind as well
Throughout his journey, the Tesla owner had made a stop at JomCharge's fast charging station in Ayer Keroh when traveling from Tuas, which costs RM1.20 per minute. He paid RM42 to charge his car there for 35-minutes.
He then stopped again at ABB Subang's fast charging station, located about 100km away from Ayer Keroh, which offered free charging to EVs. The process took about an hour and six minutes at 40.56 kilowatts per hour.
This was followed by a stop at Bukit Gantang's Caltex station, which offered a charging bay for electric vehicles. From Bukit Ganting, the driver then travelled to another charging station located at Abadi Motors in Butterworth.
But most impressively, he was able to simply kick-back and relax as his car did most of the heavy lifting. In fact, the driver was even able to enjoy a Netflix session on the large infotainment screen set in the middle of the Model 3's interior! But of course, he did make sure to keep an eye on the system and would keep his hands on the wheel when instructed by the vehicle's computer.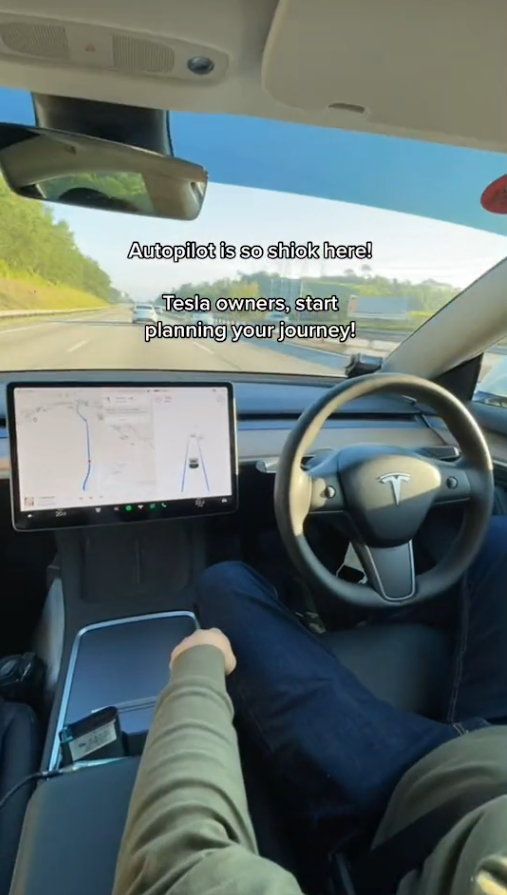 He has also encouraged other EV owners to download the PlugShare app (Android version here), which shows the number of available charging stations around the country for added convenience. The Tesla Model 3 owner has since travelled from Penang into Langkawi, where he continues to document and showcase life on the road with an electric vehicle.
For more stories like this, follow us on Facebook by tapping here! 
Also read: Netizens impressed with new high-tech crowd control solution used by MBPJ at Ramadan bazaars