The 3rd of April marks the first day of the Ramadan season, which means that all of our Muslim friends will be participating in daily fasts that begin from dawn and end at dusk. And in line with that, all of us Malaysians can look forward to visiting our favourite bazaar Ramadans once again, as the country enters its endemic transition phase with relaxed restrictions.
MBPJ deploys high-tech new crowd control solution 
With that being said however, it is important to keep in mind that we are nowhere near beyond the pandemic, and that certain measures such as keeping a mask on while in crowded spaces and maintaining social distancing still remain very relevant. And if there's one thing that can be difficult to manage during a Ramadan bazaar, it's social distancing and the flow of foot traffic.
MBPJ guna Crowd Controlled System (CCS) utk kawal kemasukan pengunjung di Bazar Ramadan KJ dan Kota Damansara.

Canggih! Kalau dh cukup limit pengunjung, sistem ni akan bunyi siren. So pengunjung dihentikan seketika dari masuk.

Good job @pjcitycouncil 👏🏻👏🏻 pic.twitter.com/ROohExYijX

— Fareez Azman (@FareezAzmann) April 3, 2022
However, it would seem that the Petaling Jaya City Council (MBPJ) has come up with quite an advanced crowd control solution to mitigate the issue of congestion at two Ramadan bazaars located in Kelana Jaya and Kota Damansara.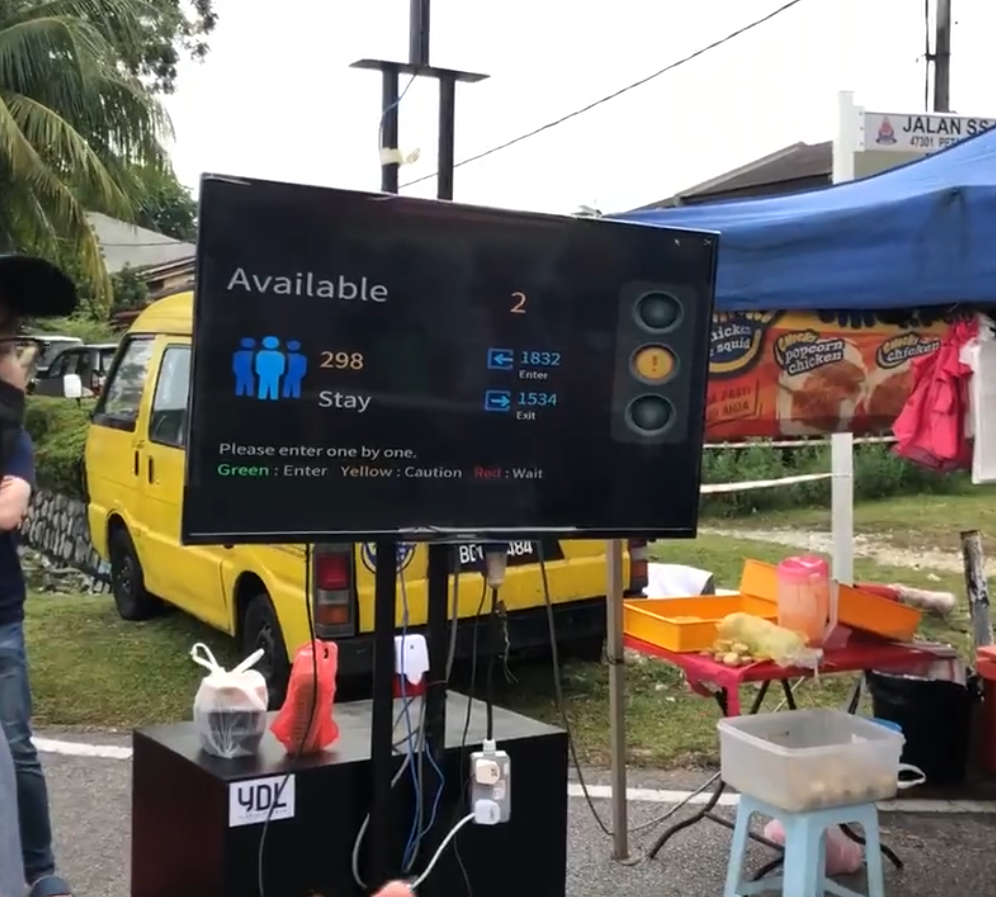 As reported by Astro Awani journalist Fareez Azman on his personal Twitter account, the system works by taking note of the number of individuals that have entered and left the bazaar in real time using cameras, before displaying the information on a screen propped up at the entry point leading in.
But that's not all! The system will also indicate to patrons that they will need to wait once the bazaar's premises have reached a certain capacity.
"If it has reached maximum capacity, the system will sound a siren. Patrons will then be momentarily prevented from entering." he explained.
Device apparently works by detecting heat signatures
In addition to the system, enforcement officers also appeared to be stationed by the entrance and exit points in order to help control foot traffic. What makes this all the more incredible is that the system apparently works by detecting heat signatures off our bodies, according to one Twitter netizen who was responding to another about whether the system could work in the rain.
Another netizen has explained that the set-up was created using a combination of a video camera with on an Arduino platform with an object detection model.
Netizens have rallied behind this new device and urged their own City Councils to set one up
Meanwhile, netizens from other parts of the Klang Valley have urged their own city councils to deploy similar a crowd control solution at their own respective Ramadan bazaars.
"@Minister of Parliament for Pontian, when are you going to do this? It's 2022."

"Bazaar Taman Tun Dr Ismail, please do the same."

"Hello Minister of Parliament for Sepang and Putrajaya Corp, I know this admin on Twitter doesn't open their account, but I want to show you this incredible device. Come on la, Cyberjaya/Dengkil and Putrajaya still doesn't have this? Not POWER la. Weak!"

"Shah Alam City Council, have you done this yet?"

For more stories like this, follow us on Facebook by tapping here!
Also read: KFC has created a stock image library full of high-res photos of their fried chicken that you can use for free!