Linger online for long enough, and chances are you would probably have stumbled upon the wild world of cryptocurrency. And from that world of cryptocurrency, you may have also caught wind of a new buzzword: NFTs. Also known as non-fungible tokens, CNN Business explains NFTs as one-of-a-kind virtual assets that can be traded via blockchain.
In a gist, it attaches a completely unique digital token to any form of virtual media, whether if its in the form of a GIF, a video, an image, a song, or even a Tweet, which is then encrypted with the artist's signature to validate its authenticity.
Indonesian man turns 933 of his selfies into NFTs
And over the span of the past few years, the popularity of NFTs has since risen considerably, leading to massive sales for digital artworks trading hands for millions of dollars. Most recently among them include a peculiar collection of 933 selfies made by an Indonesian man who goes by the username @Ghozali_Ghozalu on Twitter. The collection, aptly named 'Ghozali Everyday', has already recorded a trade volume of over $1 million USD (RM4.1 million) as of writing!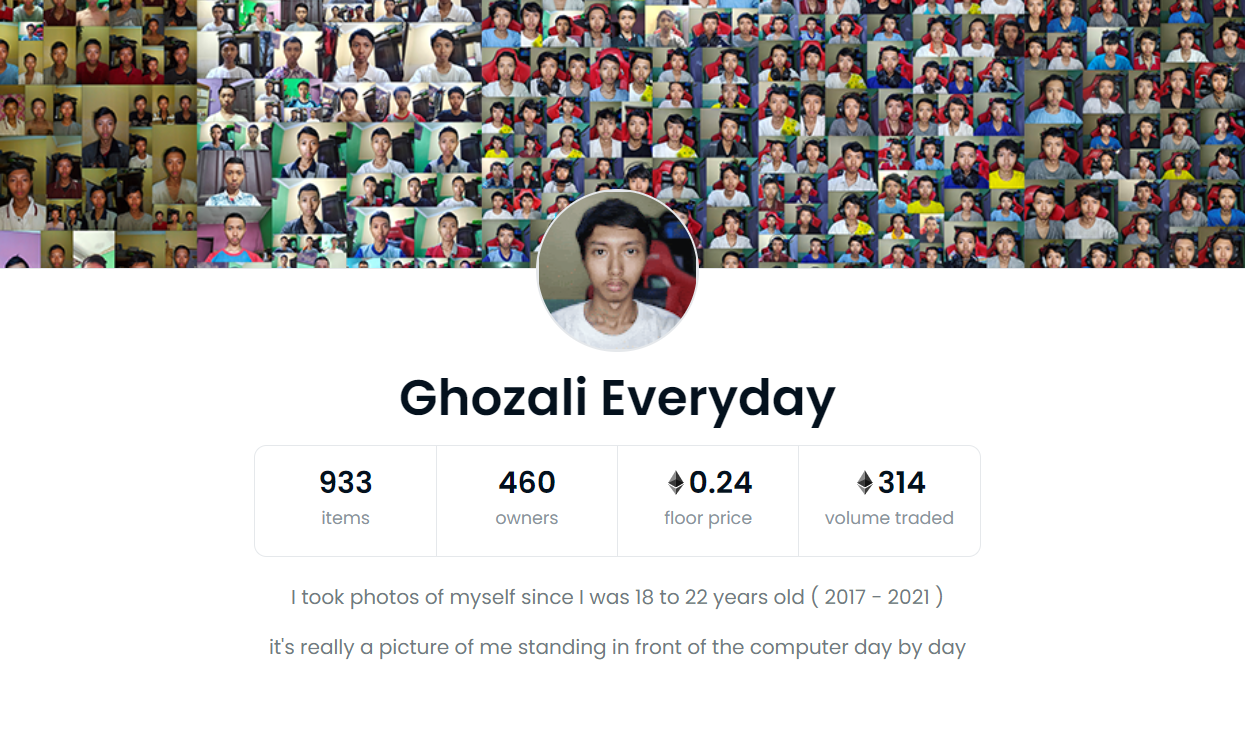 According to Chinese paper Sin Chew Daily, 22-year-old college student Ghozali, who hails from Semarang, Central Java, had initially minted his collection of selfies taken between the years of 2015 to 2021 on 9th January 2022 through the popular NFT trading platform OpenSea. But in just a few days since then, his entire collection has since been sold out completely.
Recorded a trade volume of over RM4.1 million
Initially, each selfie was priced at USD $3 (RM12.54), but the floor price for each NFT has since jumped considerably to 0.4 ETH (Etherium), which is worth USD $1,350 (RM5,640.97)! The floor price of an NFT refers to the lowest price at which it can be bought. What's more, according to HYPEBEAST magazine, Ghozali's entire collection has since recorded a trade volume, which refers to the total amount of trading activity of an asset, of over USD $1 million (RM4.1 million)!
What makes this all the more surprising is that Ghozali had never intended for the selfies to reach such a critical level of popularity within the cryptocurrency space to begin with. According to a Tweet from his profile, the selfies had initially been part of a video edit that he had wanted to make in commemoration of his graduation from college.
my goal of taking pictures of myself for 5 years is just for this video

and in the future for this year hopefully I will graduate from college and be able to take my graduation photo, it will be a cool triphttps://t.co/sBdKmtzvXe

— Ghozali_Ghozalu (@Ghozali_Ghozalu) January 12, 2022
But of course like many other novelty NFT, it's difficult to say if the selfies from Ghozali Everyday will continue to hold their value in the future. For what it's worth, this definitely does go to show how incredible the NFT market can be!
For more stories like this, follow us on Facebook!
Also read: M'sian man proposes to GF with highway billboard & NFT gallery worth RM200K!