It would appear that support for 27-year-old sales clerk Sam Ke Ting among the public has only grown stronger in the wake of her conviction at the Johor Bahru High Court yesterday. Since yesterday evening, two major petitions have been created on Change.org, both of which have recorded well over 400,000 signatures each.
Petitions now looking at 800,000 signatures combined
Hosted on Change.org, the #FreeSamKeTing petition has taken social media by storm, standing at 439,848 as of writing, with a new signature being added every two seconds on average. Created yesterday (13th April 2022), the petition is accompanied with a succinct retelling of Sam's circumstances from the very beginning of the furor back in 2017.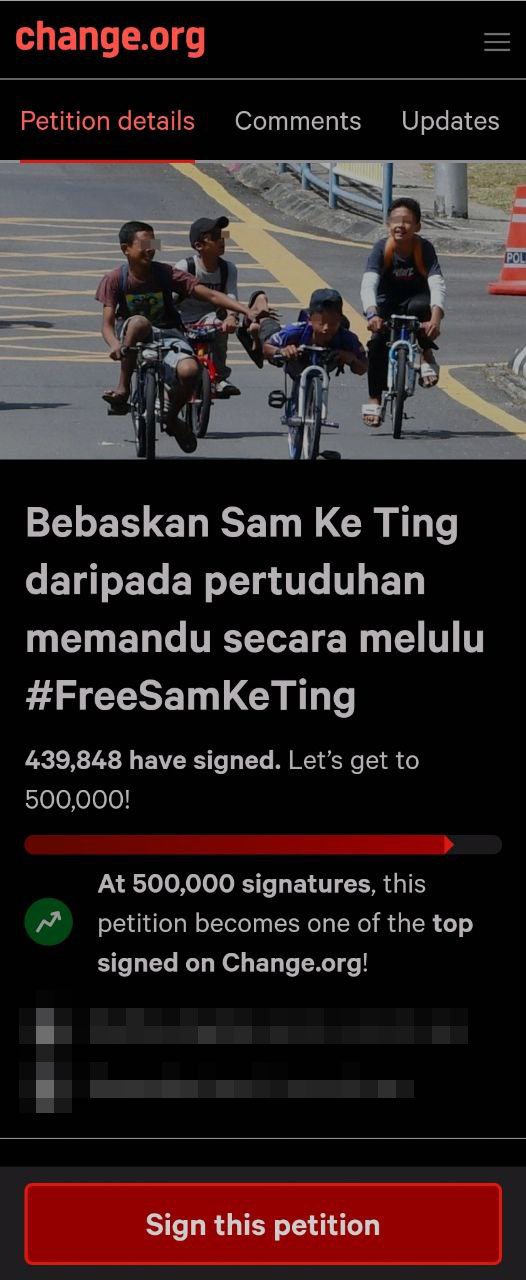 On 28th February, 2017, a 22-year-old Sam was found to have been driving along Jalan Lingkaran Dalam in Johor Bahru at around 3am in the morning, when her vehicle collided with a group of 30 teenagers riding illegally modified bicycles, popularly known as basikal lajak. The accident killed 8 boys.
Reiterating Sam's innocence, the petition recalls how she was acquitted by the Johor Bahru Magistrate's Court in 2019 from a charge of reckless driving, pointing to the fact that Magistrate Siti Hajar Ali noted Sam was not driving under the influence nor was she using her phone at the time of the accident. Moreover, she was found to have been wearing her seatbelt, which indicated that she was driving 'responsibly and carefully'.
Describing the 27-year-old sales clerk as being the true victim amid the legal proceedings and subsequent sentencing, the petition seeks to have the sentence overturned. The petition also points to negligent parenting as being the true culprit behind the accident.
Similarly, 'Justice For Sam Ke Ting' petition created by user Muhammad Affin has racked up 439,590 signatures as of writing. This makes for a total number of 879,438 signatures combined between both petitions.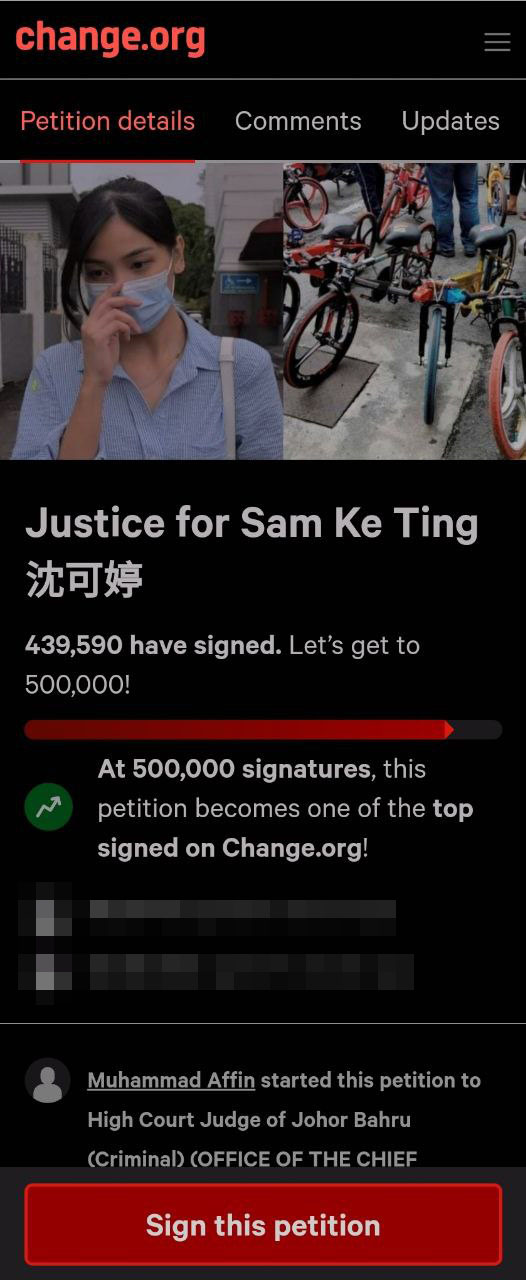 Ke Ting has applied for leave with the Court of Appeal
These petitions follow after opposition political parties MCA and DAP have both vowed to provide legal assistance to Sam and her legal team after her sentencing yesterday. In an update from Free Malaysia Today, it is said that Sam has applied to the Court of Appeal for leave to appeal the High Court's decision to sentence her with 6 years in prison with a RM6,000 fine.
This was communicated by her lawyer, Faizal Mokhtar, who told the news outlet that the motion for leave to appeal and to stay the execution have both been filed through the court's e-filing system, in addition to a certificate of urgency.
Tap here to give us a 'Like' on Facebook and stay up-to-date on the latest news!
Also read: Parents of victims from fatal 2017 'basikal lajak' accident feel relief after court verdict