For many of us Malaysians who get to enjoy a cool evening after a wet drizzle, nothing can quite compare to the kind of relaxing catharsis that a warm, bubbling steamboat dinner can provide. However this couldn't be any further from the case for a family of four in Kota Kinabalu, Sabah, when their meal inadvertently ended in disaster.
Steamboat dinner ends in disaster after portable gas stove explodes
As reported by Sinar Harian, a couple and their two children sustained injuries after the portable gas stove that was used at a hotpot restaurant in the neighbourhood of Alam Mesra had suddenly exploded on Sunday evening (19th June 2022). The incident, which was believed to have occurred at around 9pm, left 28-year-old Roberto Antoni, his wife Wujon Maria Mae, and both their kids injured after being scalded by hot water.
Lintas Fire and Rescue Department chief Agustavia Joe Guasi said they had received an emergency call over the matter at 9.06pm. According to BERNAMA, total of 16 emergency responders were dispatched to the scene, which was located about 11km away from the Lintas Fire and Rescue Department.
"Four victims were reportedly injured after being scalded by hot water as well as open flames," he said.
Victims were sent to hospital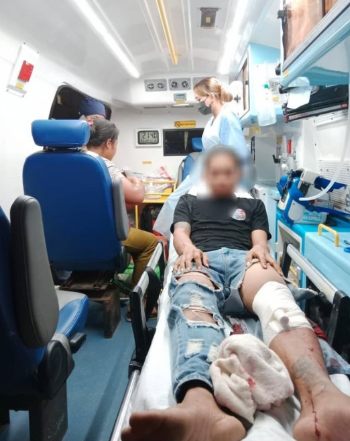 Upon their arrival at the scene, the couple's two children had already been rushed to hospital by members of the public who were on location at the time.
"Whereas the two adult victims received early treatment from a medical team, before being sent off to the nearest hospital via ambulance." he adds.
Members of the fire department proceeded to then conduct an inspection throughout the entire restaurant to ensure that no other elements of danger were present, before the operation concluded at 9.41pm.
For more stories like this, follow us on Facebook by tapping here! 
Also read: Woman in China spends 3 days eating unlimited hotpot for free after getting accidentally quarantined in a restaurant