tuThe job of an educator is one that can carry quite a heavy burden of responsibility, especially in regards to ensuring that one's students are academically prepared to take on the world beyond the classroom. As such, many teachers have come to assume a parental role in their line of work, playing the part of a surrogate guardian in a school environment to help nurture young minds for the future.
Students allegedly refer to online tutor as 'daddy'
However, the notion of educators taking up parental figures may have gone a little overboard after a video recorded during a virtual class conducted by popular Malaysian tuition centre MC Plus was shared across social media that raised many eyebrows. In the video, the online tutor was seen responding to a student's question about the difference between the phrase 'daddy' and the more traditional 'abah'.
While innocuous, the term 'daddy' has come to assume a more salacious meaning online, typically used by younger women in referring to older men that they would want to be intimate with.
He then goes on to explain the difference between using the term 'daddy' in referring to him, as well as the Malay term 'abah', which is also used to refer to one's father.
"Daddy and abah are different. I am your 'daddy', but your 'abah' is the father who has been with you since you were born," he could be heard saying.
Netizens express concern over possible sexual grooming
Promptly after this, a firestorm of criticism was lambasted at both the tuition centre and the online tutor, many of whom expressed concern over the casual use of a popularly sexualised term, as well as possible implications of sexual grooming.
"Back in my time, teachers are teachers. There's no reason to call a teacher 'daddy', or anything similar. That's creepy and disgusting. If my children call their teachers 'daddy', they are going to get knocked on the head."

"McPlus should release an explanation and rectify this issue. For me, it just isn't the right way we should refer to our teachers as 'father' or 'mother', let alone anything else unsavoury. Stop elevating individuals beyond where they should be. This is enough." 
"Oh, do not DM me to tell me that he was the one who told you to call him 'father', because I do not care about that. I'm sure I can differentiate between non-sexual and sexual terms when I saw it. Daddy is a father-children label, but the way some students is using it is not father-child like at all."
But his students come to his defense
Despite this, fans of the tutor have come out in defense against the allegations, many who claim that he was misunderstood and was only trying to foster a warmer learning environment.
"Maybe you feel comfortable with them (his students). That's why you accidentally made 'jokes' like that. I know that you are trying to make the class feel fun. It's okay sir. You have done a great job before. We're all human. Nobody is perfect."

"Sir, I'm supposed to have class with you next year. Literally I don't know which video that gone viral, to the point where it became like this but it's okay, I hope you get some rest from all their negative words and come back stronger for us (your students who actually want to learn from you). Have a good rest sir." 

Online tutor has since resigned from his position and is under investigation
The online tutor himself has since decided to resign from his position at MC Plus, and has since issued an unreserved apology, admitting that he was negligent and had not realised the severity of what had supposedly been a casual joke.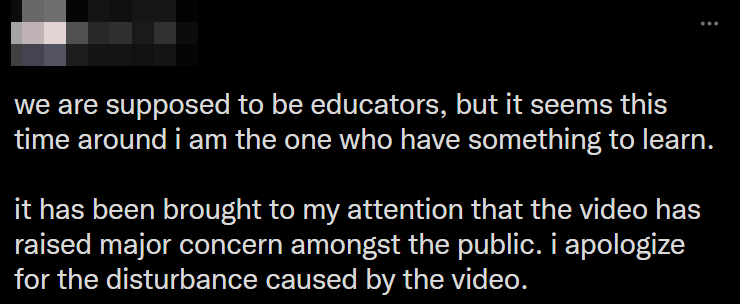 As for MC Plus, they have released a statement over their official Twitter page regarding the situation and have vowed to launch an investigation into the matter. They have also stressed that the well-being of their students remains their number 1 priority.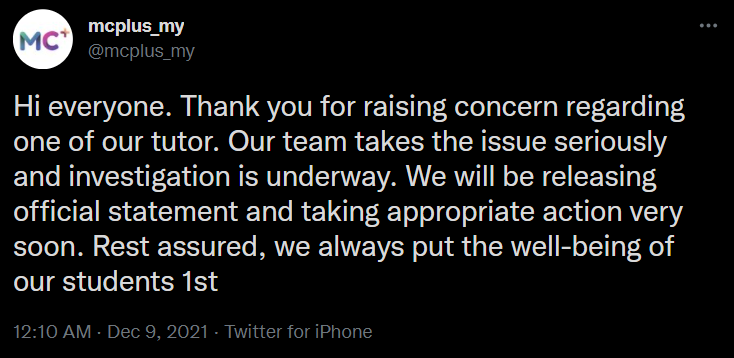 For more news like this, follow us on Facebook!
Also read: Woman refuses to divorce husband despite three years of abuse as he is simply 'too handsome'