Remember the KLCC Karen who had now gone down in Malaysian internet infamy for her altercation with boutique staff over her refusal to wear a mask? The woman, who was also allegedly seen arguing with a security guard outside Bangsar Shopping Centre later on over her refusal to wear a mask? Well, she has a few words she would like to share.
It's 'Kerry', not 'KLCC Karen'
In a recent video uploaded by Twitter user @117wethepeople, the now all-too-well-known 'KLCC Karen', or 'Karen Dior' as she refers to herself as being, has uploaded a roughly 2-minute long clip explaining her position in all that has transpired over the course of the past month.
🚨Our patriots from Malaysia
harassed by the government(see pinned Tweet)
terrorised at the her home
newspapers demonising her
facebook bots hate speech
has a message for the Malaysia, for the world
and of course to Brandon
LETS GIVE HER A GREAT VOICE#freedom #LetsGoBrandon pic.twitter.com/KNXWckIdgC

— 117%WeThePeople (@117WeThePeople) November 6, 2021
The video starts off with the woman in question, who introduces herself as Kerry aka 'Karen Dior'. Hailing from Manchester, UK, she has been an expat in Malaysia for over 20 years, and has since called the country her home. But she then goes on further to assert that her family's song is 'freedom'.
Freedom on what terms, you wonder? Kerry explains that they believe in the freedom to choose 'what we eat, where we go, who we go with, and what we do to our bodies, medically or otherwise,'. She then emphasises this by stating that it is 'your choice, my choice'.
Imagine rumah terbuka, it's easy if you try
And on the subject of the mask mandate, which still remains enforced here in Malaysia, she points out that 'many countries are giving up the [mask] mandates,' and ask that viewers click on the applicable links provided in the Twitter thread to form their own opinions. She goes on to ask that Malaysians imagine a rumah terbuka that exists for the rest of our lives, united together.
She then signs off with 'Let's go Brandon', which is a phrase recently used by anti-mask advocates in the United States alluding to the pejorative 'F*ck Joe Biden' that originated from misheard chants during an American sporting event.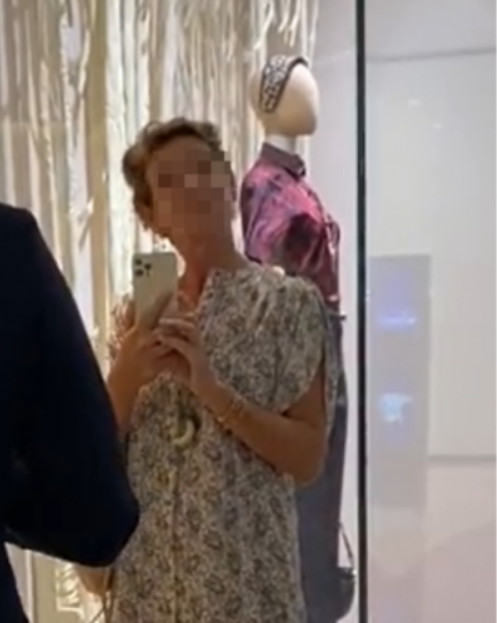 The video hasn't gone over too well with Malaysian netizens, many of whom have expressed derision at her flippant comments to disregard the law of the land despite being a foreigner.
She has since been fined RM3,000 over her altercation in KLCC. The offense was split into two RM1,500 compounds; one for not wearing a mask, and another for not scanning MySejahtera.
For more stories like this, follow us on Facebook!
Also read: The saga ends: 'KLCC Karen' is fined RM3,000 for breaking SOPs