Caretaker Transport Minister Dr Wee Ka Siong has issued an unreserved apology to all Malaysians, amid public furor concerning the one-week long closure of a whopping 16 stations along the Kelana Jaya LRT line. A press conference that was held yesterday (November 9th, 2022) by Prasarana Malaysia Bhd, the company which owns RapidKL, has attributed the closures to repair works that were bein carried out on the line's Automatic Train Control (ATC) system.
Caretaker Transport Minister Dr Wee Ka Siong apologises 
As reported by local news agency BERNAMA, Wee said that he had to step up to the plate and take accountability for the incident as he was part of the government, despite the fact that Prasarana is a company parked under Ministry of Finance Incorporated.
"Nevertheless, I feel sorry for the problems caused and I, too, share the grievances of the LRT users.

"But I can assure all the users of the LRT and other Prasarana services that I have been checking closely with its management and officers under my ministry to get to the bottom of this,"
With that said, Wee has instructed the company to provide periodic updates at least once every three hours to keep the public apprised of the situation with regards to the status of the Kelana Jaya line. Experts from Canada and Turkey, in addition to staff from original equipment manufacturer (OEM) Thales Groupe, will be flown in to further diagnose the problem plaguing the Automated Train Control (ATC) system regulating the LRT's operation. They are slated to arrive today.
"In a day or two, they need to identify the cause because it involves technical problems. They may also look into other aspects." he adds.
Transport Ministry secretary-general Datuk Isham Ishak, the Land Public Transport Agency (APAD) and Prasarana have been instructed to work jointly together in determining the best solution in dealing with the matter at hand.
"It's time for Prasarana to look into the schedule for periodic maintenance work, and they need to change to a system which is more dynamic and places greater priority on safety,"
His speech was delivered during a press conference that was held after a gathering involving caretaker Prime Minister Ismail Sabri in the Ayer Hitam parliamentary constituency, reports The Star.
Timeline of events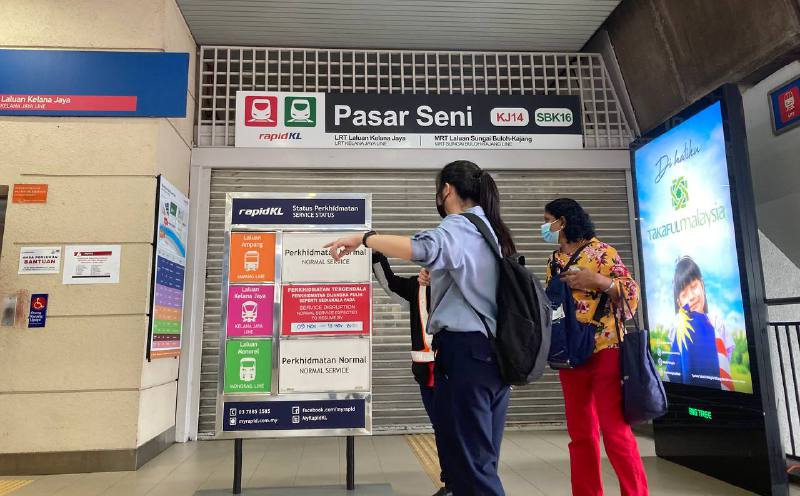 Problems with the Automatic Train Control (ATC) system along the Kelana Jaya line were first sighted on Monday (November 7th, 2022), before persisting on Tuesday that led to a service interruption, reports The Edge Markets.
Concerned for the safety of passengers if the trains had to be operated manually, a decision was made by Prasarana to suspend services on 16 stations along the line on Wednesday, which will last until November 15th, 2022.
Prasarana president and group chief executive officer Mohd Azharuddin Mat Sah has also acknowledged that the current LRT system has reached its end of life stage, and that an allocation amounting to RM150 million has been approved for the first phase of upgrading works. The LRT initially debuted in 1998 as STAR LRT, and serviced a total of 36 stations along two routes.
Tap here to give us a 'Like' on Facebook and stay up-to-date on the latest news and stories!
Also read: LRT commuters forced to walk to Glenmarie LRT station at 9pm after free shuttle bus drops them along highway