Klang Valley commuters, especially those who work within parts of Kuala Lumpur's dreaded city-centre, are probably most familiar with the rush-hour congestion that often results in bumper-to-bumper traffic. And that is only further exacerbated by unforeseen circumstances such as vehicular breakdowns or accidents that occur without warning.
A military tank stalled in the middle of the road in Kuala Lumpur
And while many were likely expectant when traffic came to a grind close to the Carcosa Seri Negara area, what they likely didn't count on was to see a military tank that was left stalled in the middle of a three-lane road. As reported by the Kuala Lumpur Command & Control Centre's (KLCCC) official Twitter account, the incident was said to have occurred along Jalan Damansara heading towards KL Sentral at around 10.49am.
Jalan Damansara : Kereta Kebal rosak di susur Carcosa ke KL Sentral. Lorong tengah terhalang. #kltu pic.twitter.com/XADkxAGVeC

— KLCCC DBKL (@KLCCC_DBKL) August 26, 2022
Photographs that were obtained from closed-circuit television (CCTV) footage in the area show vehicles driving around the broken down tank as what appeared to be a member of military personnel helped to divert the flow of traffic.
Two other individuals were also seen on the tank, clad in camouflage uniform; one near the tank's turret, and another near the hatch.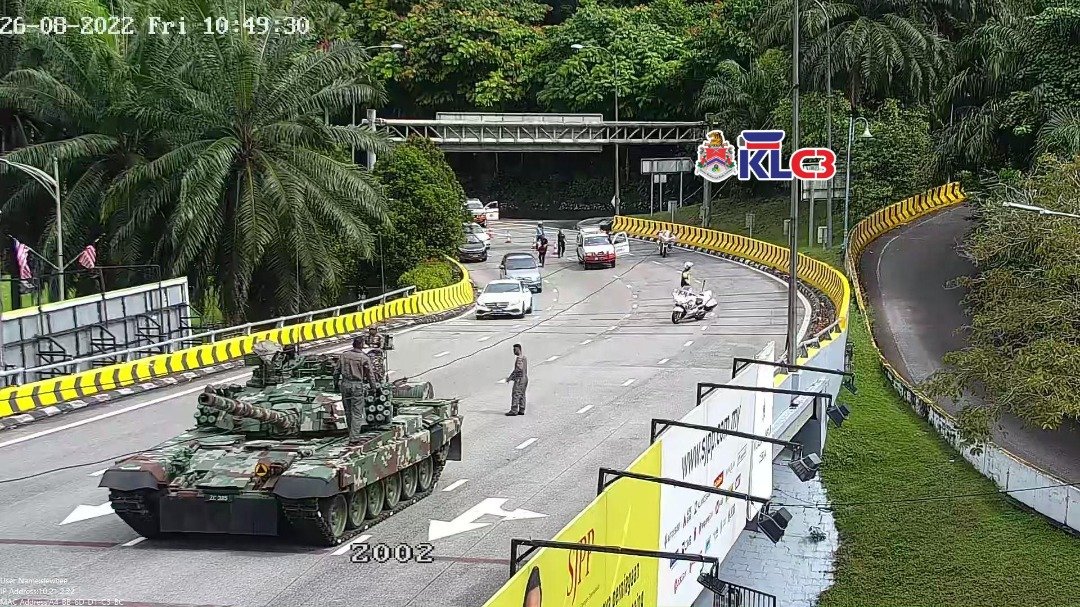 Was on the way to Merdeka parade rehearsals
Traffic police officers were promptly dispatched to the scene to help ease the congestion, before the tank was towed off public roadways at 11.21am. According to Free Malaysia Today, another tank was brought in by the army to tow the stalled one from the scene.
In quoting a spokesperson from the Kuala Lumpur City Hall, local newspaper The Star has since confirmed that the stalled tank was meant to have been part of a rehearsal for the upcoming Merdeka Day rehearsal that was taking place earlier this morning.
The series of images have since led to a number of reactions from local netizens, some of whom have alluded to the recent Littoral Combat Ship (LCS) scandal involving Boustead Naval Shipyard Sdn Bhd.
"How is this supposed to go into war… nothing has happened, and it already broke down." 

"Being parked for a long time isn't an excuse. Assets such as these should have a maintenance schedule so that it remains ever ready, and is included in the budget. The question is, is it being done? This isn't a regular asset like a bus making the rounds. This is for national defense." 

"Aishhh, they were just about to bring it for the Merdeka Day rehearsal and it already created problems. Don't they perform maintenance? As long as they don't turn it into an issue. Laa, this is an army asset, and it looks like it's turning into the LCS saga all over again. Haha."

"Our ships aren't ready, and now our tanks are in disrepair. This is worrying."

For more stories like this, follow us on Facebook by tapping here!
Also read: WATCH: Kind food delivery rider helps elderly uncle move his stalled motorbike along busy road