As part of a generation that has had to live through multiple lockdowns, many of us can come to the unanimous agreement that the humble food delivery rider is truly an unsung hero. Whether night or day, rain or shine, they work tirelessly to help bring the convenience of hot meals right to our doors.
Food delivery rider helps out elderly uncle with his motorbike
And in some instances, they even go above and beyond their jobs to lend a helping hand where it is needed most, such as this one FoodPanda food delivery rider, who was spotted going out on a limb to help an elderly uncle to move his broken-down motorbike along a busy stretch of road. The heartwarming incident was caught on video by Facebook netizen Ms Jully Yap.
According to Ms Yap, who could be heard narrating the video, she explains that the elderly man's motorbike had broken down along a stretch of road in Kepong Baru.
Realising that the old man was caught in a potentially dangerous situation, she had drove up alongside him and offered to drive him home, but the elderly man was said to have refused and insisted on pushing his motorbike along the road until it could be moved safely out of the way of traffic.
But thankfully, a FoodPanda delivery rider who had been there at the time noticed that the elderly man was in a spot of trouble and did not hesitate to take a moment from his day to lend him a literal hand.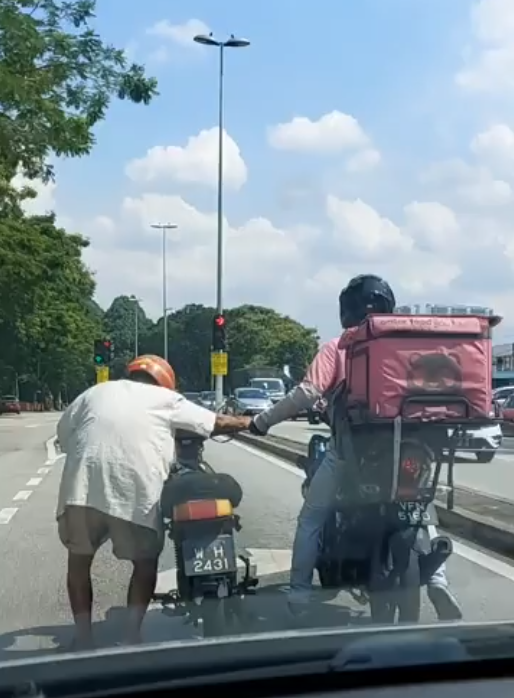 Holding on to the old man and helping to keep his broken-down motorbike steady, the duo trudged slowly along the road, with the young food delivery rider balancing the weight of both the uncle's motorbike and his own. Which is a good thing, given how it appears that the elderly uncle may also be suffering from a bad back.
Netizens heap on the praise
Ms Yap, who was trailing behind them, decided to use her own vehicle to help keep other cars from running into the duo as they travelled to a safer distance up the road. "Other road users who saw what happened didn't honk us." she adds. The video ends as both men managed to successfully cross the busy stretch of road as they approached a road shoulder.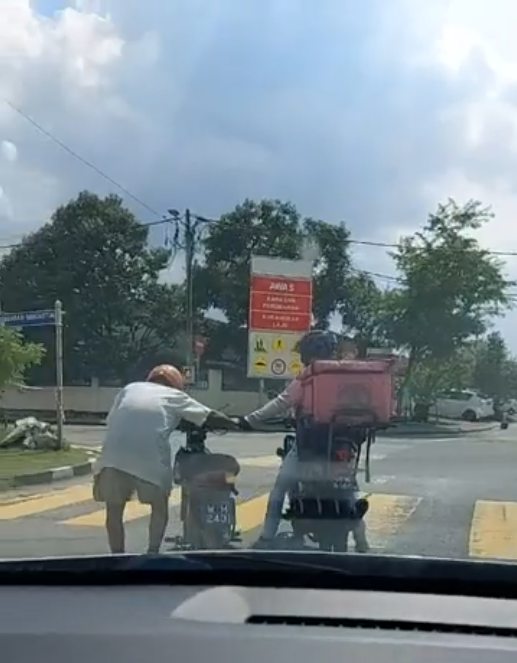 The clip, which has since gone viral across social media, has garnered plenty of praise for the food delivery rider's unreserved kindness. This is especially in light of the remarks made by a local livestream host, who had flippantly claimed that those working as food delivery riders 'had no future', and were considered to be 'parasites'.
For more stories like this, follow us on Facebook!
Also read: M'sian livestreamers allegedly shame food delivery riders, says their jobs have 'no future'