Nicknames are often a great way to help establish a sense of closeness and camaraderie among friends or family. With that said, it would appear that Prime Minister Anwar Ibrahim isn't exactly too keen on them, as proven by a brief interaction that he had shared with a social media user on Twitter recently that has since gone viral.
PM Anwar Ibrahim does not want to be called 'Papa'
This comes after Anwar had recently shared a Tweet vowing that his administration would not allow political leaders to monopolise the country's wealth, to which netizen @mirulwrld responded by wishing the senior statesman good morning in a rather colloquial manner.
"Selamat pagi, papa," (Good morning, papa) he wrote.
However, Anwar was quick to make his feelings known about the paternal moniker, and replied succinctly in kind.
pls- dont do that

— Anwar Ibrahim (@anwaribrahim) December 6, 2022
The brief interaction has since gone viral across social media, with user @MakeItAQuote quickly turning Anwar's retort into a meme that has been widely shared online.
— Make it a quote (@MakeItAQuote) December 6, 2022
One netizen even jokingly pointed out how Anwar once said that he was the 'father' to all races in the country.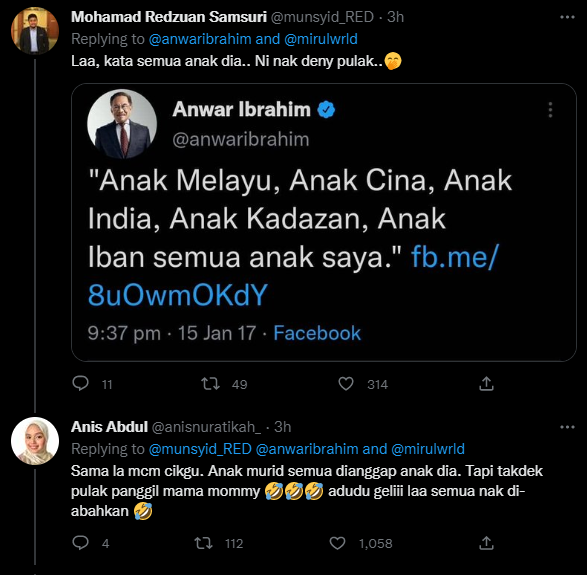 Another social media user hilariously claimed that Anwar must have had a deadpan reaction to the Tweet.
Buckling trends from 'Abah' and 'Pak Long'
Of course, such nicknames are not unheard, as both Muhyiddin Yassin and Ismail Sabri have previously been known to associate themselves with similar monikers during their respective tenures as Prime Minister. In Muhyiddin's case, he was often referred to as 'Abah', or 'father'. As for Ismail Sabri, he was often called 'Pak Long', which is typically used to address the oldest uncle in a Malay family.
In most school textbooks, many of Malaysia's former Prime Ministers have also been known to be associated as being the 'Father' of a specific period in local history, with the country's first Prime Minister Tunku Abdul Rahman typically referred to as the 'Father of Independence'.
Tap here to give us a 'Like' on Facebook and stay up-to-date on the latest news!