By Saturday, Malaysians will no doubt be turning out in droves to carry out their civic duties as citizens at the ballot box for the 15th General Elections. But the run-up to polling day has seen many political hopefuls resorting to all manner of different approaches in hopes of accruing support from within their constituents.
Among some of the more notable ones this time around include incumbent Ampang MP Datuk Zuraida's 'flash mob' attempt, as well as prospective MCA candidate Daniel Ling Sia Chi's much-discussed walkabout livestream. 
BN candidate for Indera Mahkota cries, begs for voter support
And in the case of Dato Quek Tai Seong, who is currently on the Barisan Nasional (BN) ticket for the Indera Mahkota constituency, he was recently committing himself to an impassioned plea to those attending a dinner event to cast their ballots in his favour. According to local newspaper Sin Chew Daily, the sudden outpouring of emotion took place last night (November 16th, 2022) at a Parliamentary Voter Exchange dinner that was jointly held by the Malaysian Chinese Association (MCA) outpost in Kuantan, alongside other units.
With about 70 tables brimming with guests, Quek was seen wiping away tears as he choked up and beseeched those present to vote for him at the polls, stressing how important a divisive win would mean for his party in the upcoming election.
"If we lose because of insufficient votes like in the 14th General Elections, this constituency will not be contested by the MCA or the Chinese during the next election!

So I beg everyone here to please elect me into Parliament." he said.
Wants to be given a chance to serve voters
Moreover, he adds that if the bulk of his voters are not Chinese, it would be difficult for him to explain the turnout to his party, saying how it would mark another humiliating defeat for the MCA as even 'Chinese won't support their kin'.
Vowing to do good by constituents in Indera Mahkota, he said that voters may vote him out of office in the next term if they were unsatisfied with his performance, but implores to be given the chance to serve.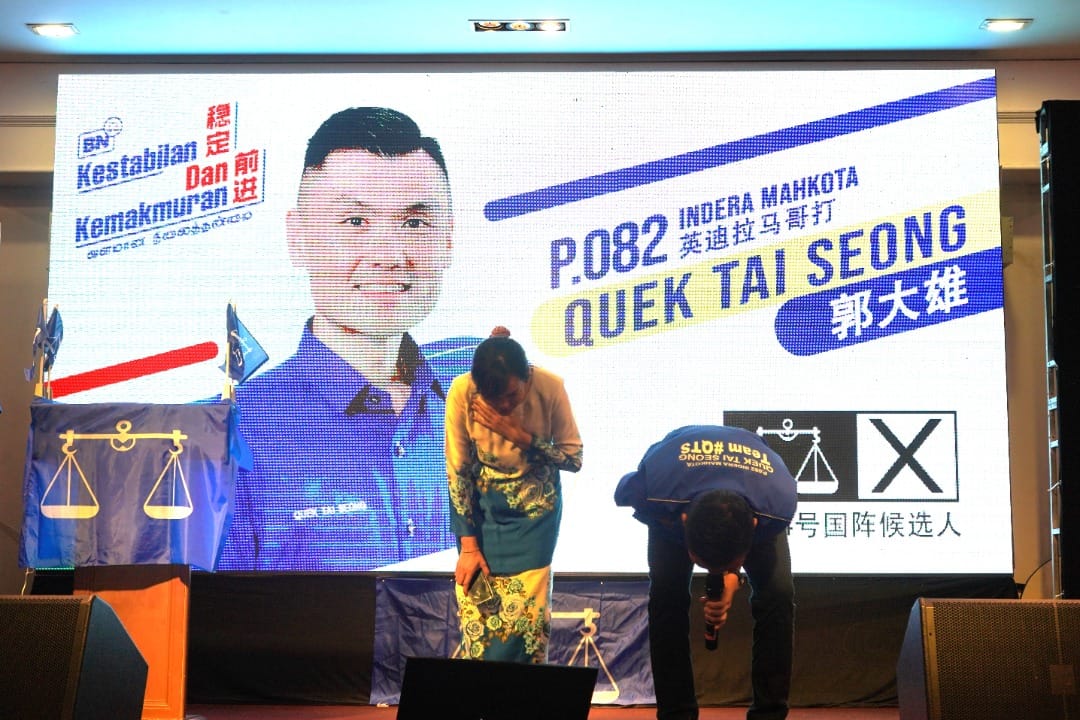 Upon completing his speech, he was greeted by chants of 'BN can do it!' among those present. MCA Kuantan District Chairman Dato' Sri Ti Lian Ker and BN advisor to the Indera Mahkota constituency Dato Pang also attended the campaign event.
Tap here to give us a 'Like' on Facebook and stay up-to-date on the latest news and stories!
Also read: Ampang MP Zuraida ridiculed after fishing for voter support by dancing in 'flash mob' on road divider