During campaign season, it isn't surprising to see many of the nation's prospecting political hopefuls out-and-about conducting various campaign activities in hopes of shoring up approval for them and their parties ahead of the polls. And in most cases, one can come to expect rousing clarion-cry speeches or walkabouts by candidates their constituencies, where they can be seen shaking hands and engaging with members of the public.
Incumbent Ampang MP Zuraida seen dancing on road divider for voter support
However, incumbent Ampang Member of Parliament (MP) and Parti Bangsa Malaysia (PBM) president-designate Datuk Zuraida Kamaruddin has recently raised more than just a few eyebrows when she decided to take a vastly different approach where campaigning is concerned.
Embarking upon a road much less travelled (quite literally), she was witnessed decked out in a full ensemble of purple, reflective of her party's official colours, before performing a dance on a road divider along a busy street to canvass for potential voter support. Clips of her enthusiastically waving, dancing and gesturing to passing motorists while holding up a large card of herself have been widely shared across social media channels, including on her party's official TikTok account.
According to Parti Bangsa Malaysia (PBM), the gesture was described as being a 'flash mob', in spite of the fact that Zuraida was seen dancing on her own while other volunteers from her party only cheered her on from across the street.
Moves met with mockery and derision online
Instead of positive reactions, her efforts appear to have been in vain, with many social media users mocking the stunt.
"I feel so sad for this purple auntie. I repent. I vote PH. Bye bye bye."
"A final wave for Auntie Zuraida. Bye! Bye! PH will still be our choice."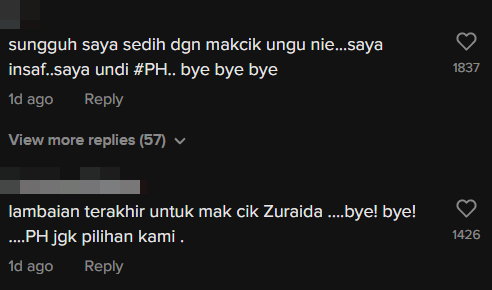 "It's so sad to see her just waving like that. At least make some mango preserves. Then maybe she could get 5 to 60 a day."

"I feel pity for this old woman. Hopefully she doesn't lose without any votes. Give her one or two votes at least."

Twitter user @KulupFans sarcastically took to asking, "Where are this old lady's children? How are they willing to leave their mother beg on the streets, just for the sake of earning a living?" 
Mana anak2 orang tua ni.Sanggup mereka biarkan mak mereka main tengah jalan,mengemis demi sesuap nasi pic.twitter.com/y2Uyb9WEqD

— Abdul Rani Kulup Fans (@KulupFans) November 15, 2022
She will be contesting to retain her seat in Ampang where she has served since 2008, and is currently facing a nine-cornered fight between representative of established coalitions, alongside four other independent candidates.
Tap here to give us a 'Like' on Facebook and stay up-to-date on the latest news and stories!
Also read: Najib denies that he will be freed from jail if BN wins GE15, tells rivals not to use his name in 'propaganda'