In the wake of one of the largest corruption scandals to have ever been reported in history, many Malaysian citizens are now understandably growing more wary of government expenditure. And in the case of a recent wooden jetty that was unveiled in a small village in East Malaysia, many have been left baffled by how such a small piece of construction had apparently costed RM50,000 to complete.
Wooden jetty in Sarawak cost RM50,000 to construct
According to Astro Awani, the wooden jetty which measures approximately 15-metres in length was built in the pastoral hamlet of Kampung Mutap, in Bekenu, Miri, and had apparently been erected to replace the previous jetty structure which had broken. The Sarawak state Public Works Department Communications Unit explained that the jetty had taken a month's time to build, and was just completed in April. In fact, the team had managed to deliver the completion of the jetty a month ahead of schedule.
"The RPT (Rural Transformation Program) project in DUN No.71, Bekenu, Bina Baru Jeti Kampung Mutap, is one of the projects under the supervision of JKR Miri, with a cost of RM50,000."

"The scope of the project encompassed the construction of a jetty which measures 1m x 15m long.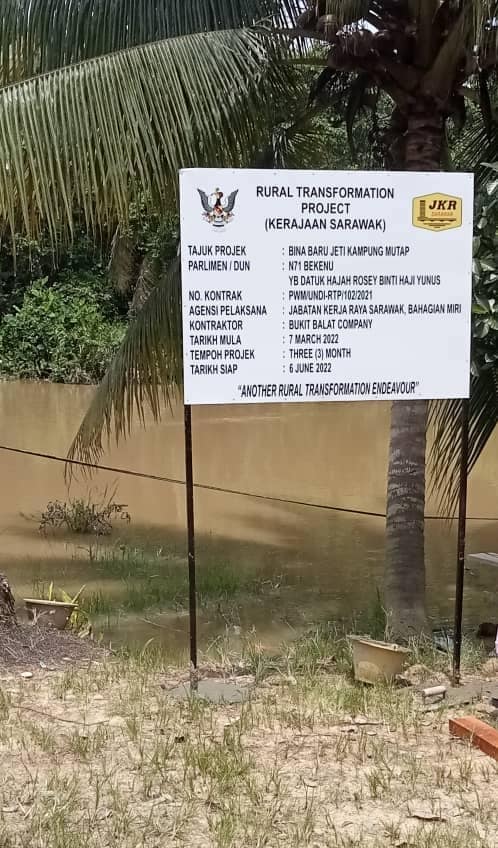 With the completion of this jetty, this will help make carrying out daily activities for the villages in Kampung Mutap much easier, especially during periods of high tides or floods as the villagers would use often use the river as an alternative route to Bekenu market." JKR Sarawak said in their Facebook.
Netizens left in a state of disbelief 
However, netizens have since flooded the comments section of the post with questions concerning the reason behind the project's high cost, given the relatively simple-looking structure that was completed by the end.
"Is this supposed to be a building?"

"How many subcontractors were involved in this project?"

"This shows how little you all know. The price of wood is incredibly expensive, produced from trees that are of such high quality, they can withstand the heat and the rain for hundreds of years."

"After seeing photos of the newly completed jetty, in comparison with the price of the contract, it is now very apparent that the value of the Ringgit has fallen drastically as a result of non-transparent management and administration, as well as corruption from every angle." 

In response, JKR has released yet another statement over the matter, claiming that the costs were justified as their projected cost had been calculated based upon JKR Sarawak Schedule of Rates for Year 2020, at a rate of RM9,000 per meter cube for the purchasing of timber. They also point out that the cost of their timber was apparently below market rate as well.
It was also said that a steel jetty had initially been proposed, but was later scrapped due to the higher than expected cost of expenditure, which would have resulted in a shorter jetty structure. The village chief had also initially requested for a 30-metre long jetty structure complete with a small shed (pondok), but was informed that it would be impossible due to budgetary constraints. As such, they agreed on a 15-metre jetty made of belian timber wood.
You may read the statement released by JKR in its entirety below: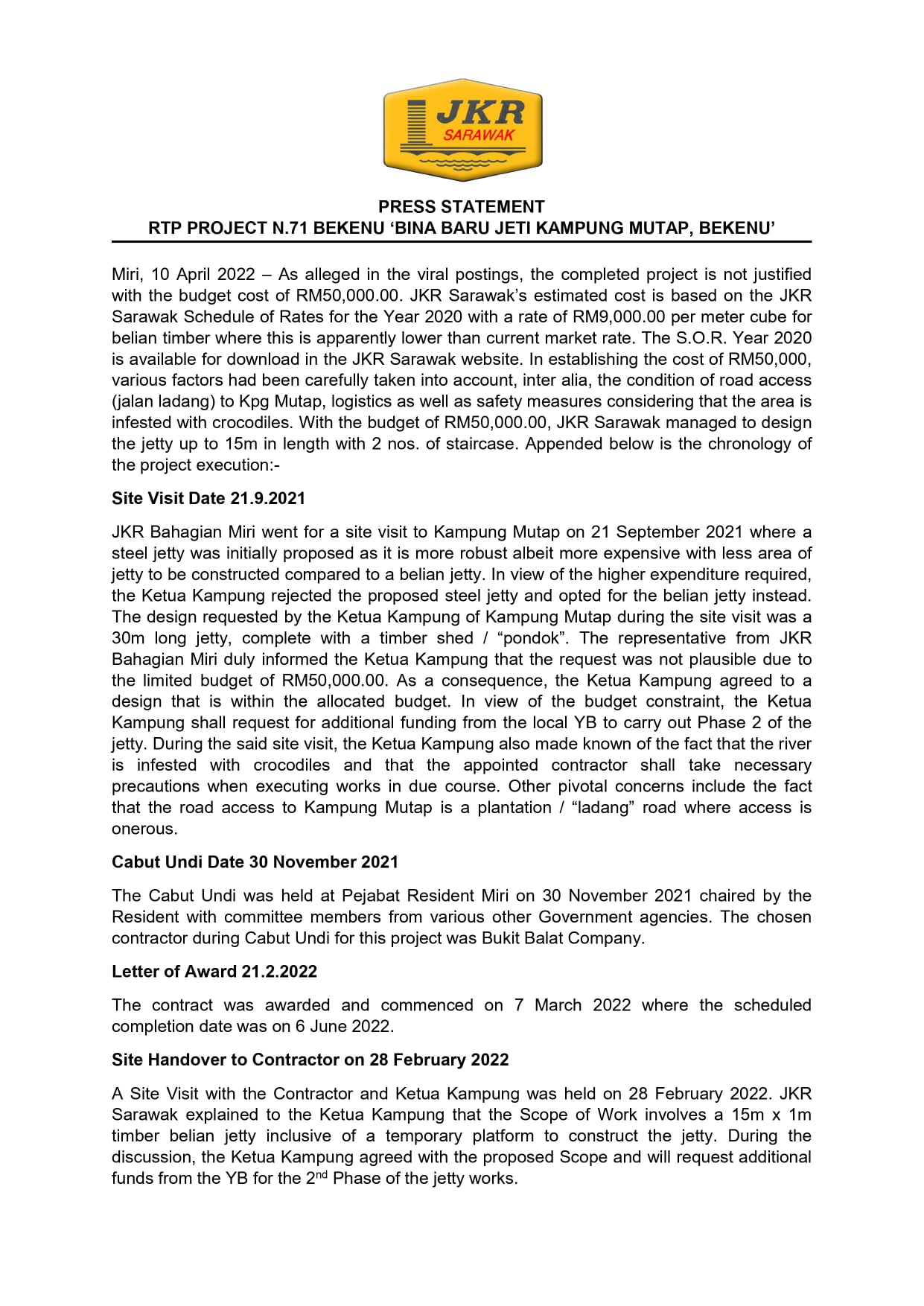 Tap here to give us a 'Like' on Facebook and stay up-to-date on the latest news!
Also read: Najib says he is 'disappointed' after being called a 'national embarrassment' by Court of Appeal