Never make assumptions or jump to conclusions; that is perhaps one of the most important tenants that anybody can live by. This is especially true of situations that we may find ourselves in, when we do not have all the facts readily in hand. And this was a lesson that a local woman had to learn the hard way, after claiming that a trailer driver had been drunk behind the wheel after crashing his vehicle into a row of parked cars.
Woman claims trailer driver who caused accident was drunk
Not too long ago, a video clip of a man seen in the driver's cab of what appears to be a trailer after a crash was uploaded over Malaysian social media. In the video, which was filmed by a local woman, the driver's side door of the trailer was left open and a middle-aged man could be seen reeling from behind the wheel after an accident that involved a number of parked cars along a stretch of roadway.
While it is unclear as to what led to the accident, the woman filming immediately claims that the man behind the wheel was apparently drunk, due to his slurred speech and inability to respond to her questions in a coherent manner. All the man could do in response was mutter and moan quietly from his seat. No injuries were reported as a result of the accident, asides from the 3 cars that were wrecked.
"Are you drunk? Do you know what you have done?" she asks.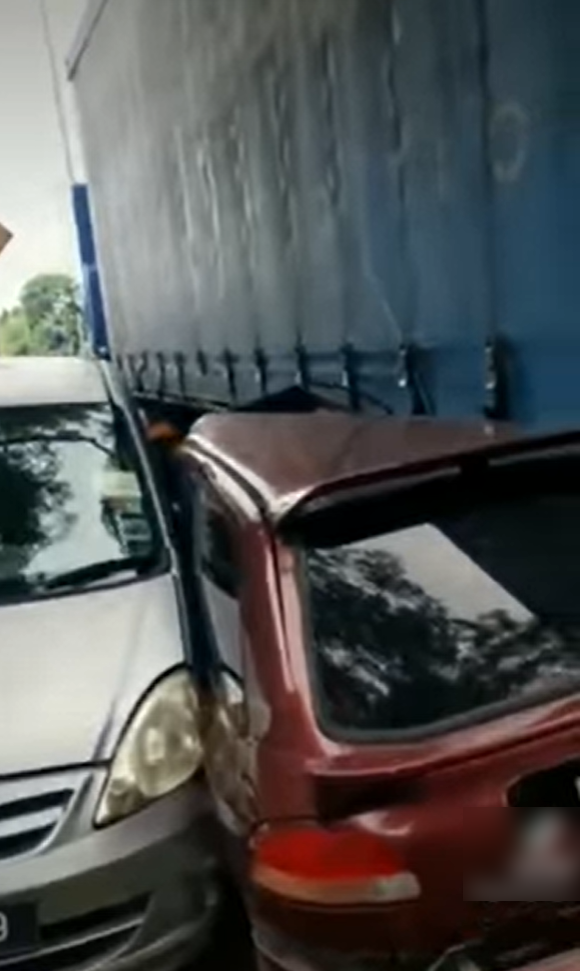 Driver was in fact suffering from a heart attack & later died in hospital
The video, which initially caught plenty of attention from social media users over claims that the trailer driver had been drunk at the time of the incident, eventually caught the attention of another TikTok user who claims to know the truck driver, according to Malay daily Kosmo. In a separate video, he explains that the man was not in fact drunk, but had suffered from a heart attack during the time of the accident. It was said that the lorry driver eventually passed away from the heart attack after being admitted into hospital.
This was further corroborated by a statement released by Sungai Buloh Police, explaining that the driver of the lorry had indeed suffered from a myocardial infarction, also known as a heart attack at the time of the accident and lost control of his vehicle resulting in the accident. He reportedly passed away at Hospital Sungai Buloh later on.
Netizens have since called out the woman for making false allegations despite not knowing the reality of the situation at the time, and have urged her to make an apology to the family of the deceased trailer driver.
"Brothers, he is a driver with my company and he isn't a drunk. He suffered from a heart attack and passed away this morning."
"I hope this woman makes a public apology to avoid dragging this out further and causing slander."
"I know this uncle. He isn't a drunk, he is a good man and he works very hard in Sungai Buloh. Al-fatihah, uncle."

For more news like this, follow us on Facebook. 
Also read: M'sian netizens angered after another VIP convoy was allegedly seen blocking an ambulance with emergency sirens on