The word Tupperware turns the heads of Malaysians of all ages; whether it's aunties who go on a lifetime quest of hoarding the latest Tupperware releases, or a child who shudders at the thought of returning home to their angry moms after losing her favorite child – her Tupperware.
The Tupperware Brand, an American multinational company founded in the post-WWII era, has made its mark in Malaysia as a trademark brand for plastic containers. Really, when was the last time you heard someone say "Where's your container?" instead of "Where's your Tupperware?".
Tupperware containers survive the flood, kept food unharmed and edible
The brand does an incredibly well-done job at keeping food airtight and keeping food fresh, making it one of the most durable containers out there. Little did we know, Tupperware proved itself indestructible amidst the chaos of the megaflood that had hit Malaysia two weeks ago.
On 27 December, Twitter user @Azfar_Az shared a compilation of photos from netizens who claimed that the flood had nothing on their Tupperware containers that managed to keep dry foods stored inside such as kurma, flour, and fish crackers safe from the mud and dirt of the flood, and most importantly fresh and edible!
After this, Tupperware's sales will increase exponentially. (It received) good reviews from flood victims. Walaweyh!! Most importantly, it's airtight and water-tight! Hihi…" she wrote.
Her Tweet also included photos of the namesake containers, which were covered in dirt and mud from the flood on the outside. Despite that, their contents were completely clean and unharmed! Not only are the containers airtight, but they are also 'air' (water) tight!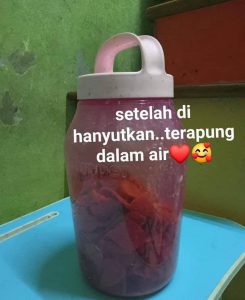 In one of the Tweet's photos, an anonymous user shared the influence that Tupperware has on the aunties and mak ciks that he had encountered while volunteering to clean the houses of flood victims. According to the volunteer, all the ladies cared about was that every Tupperware owned was kept aside and not thrown with other stuff that can no longer be used.
Netizens applaud the brand for its durability, and finally, understand why one shouldn't lose their mum's containers
Legend has it that if a tweet was funny, its comment section could be the next funniest thing. Malaysians hop in to commend Tupperware for its production of trusted quality goods, while others finally understand the pain behind a mother losing her favorite purple corak-corak Tupperware. Someone even suggested for Tupperware to make airtight wardrobes to keep important documents and clothing articles safe from potential future floods.
"Tupperware can start selling wardrobes or drawers so that clothes and important documents don't spoil."
"We'll have to open our wardrobes like how we open Tupperwaress then."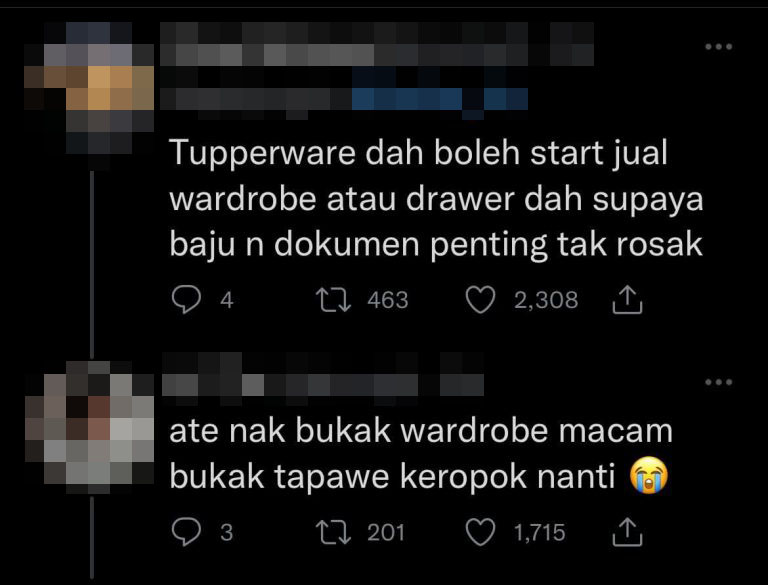 "During the flood, the Tupperware containers floated our from the rack, and then when tidying up everything inside the containers were safe. No wonder mom buys Tupperware containers every month."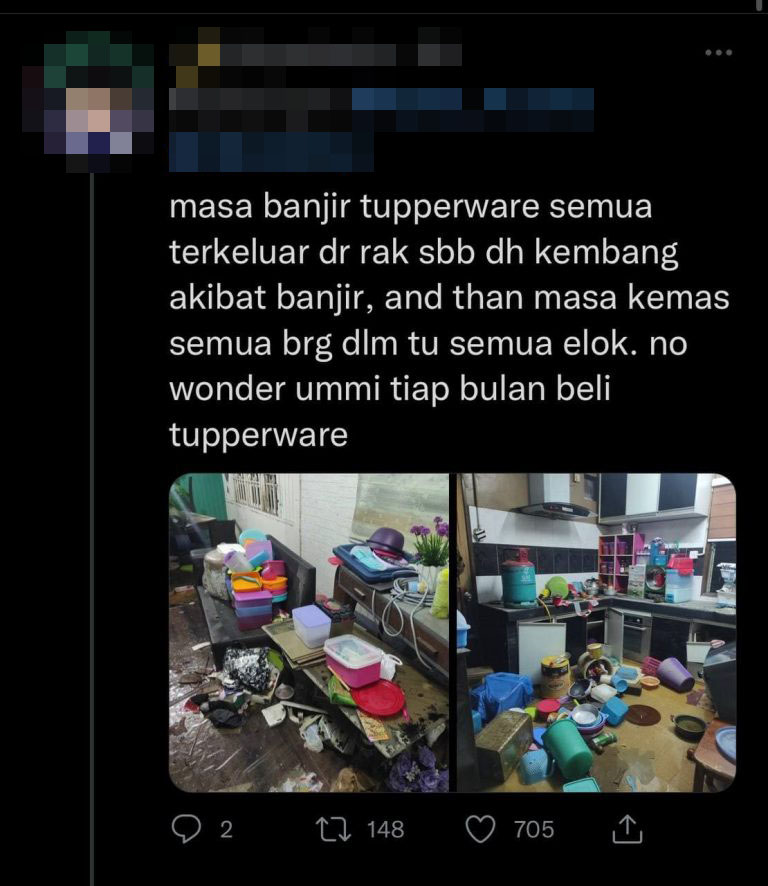 "Tupperware's stocks now."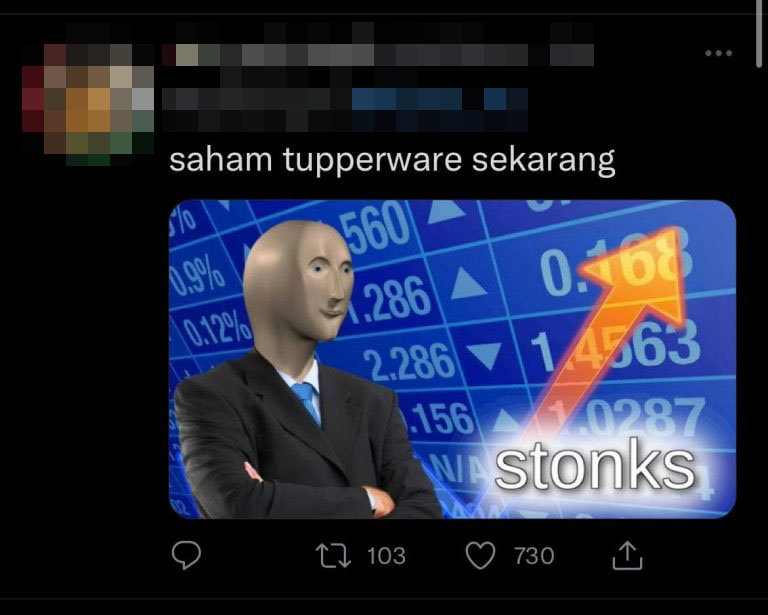 "I suddenly remember what happened to my cousin the other day. She panicked when she left her mom's Tupperware and her dad's G-Shock in the desk drawer in school. She begged her elder sister to fetch her to school so she could retrieve the Tupperware. She couldn't be bothered about the watch belonging to her dad."
"Oh, no wonder our mothers scold us when we lose their Tupperwares."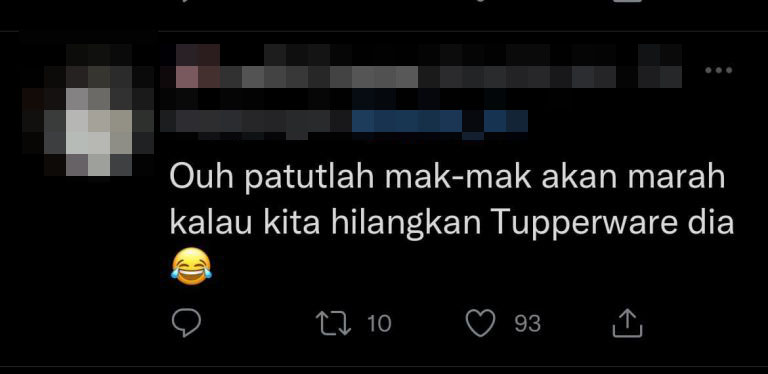 Now that Tupperware's containers have shown themselves to be worthy of our mother's love and attachment, we shall put in the extra effort to never forget to bring them home from work and school.
For more stories like this, follow us on Facebook! 
Also read: Congratulations! Heroic Abang Viva receives award from M'sian Civil Defence Force for his work in saving flood victims