Over the past week, we don't doubt for a moment that you've heard your fair share of inspiring stories coming out of the recent floods that have swept across the West Malaysian peninsula. As we've mentioned before, when the going gets tough, you can always depend on your fellow countrymen. #rakyatjagarakyat, as the saying goes! But out of all the faces to have emerged from the flood aid reliefs ffrom the past week, none have skyrocketed to such immense media attention as Abang Viva has.
Selfless volunteer to unsung Malaysian hero
Abang Azwan ni datang dari Melaka bawak bot dia turun bagi bantuan dekat Shah Alam pagi tadi lepastu dia turun backup Puchong, and sekarang dia nak ke Sri Muda pulak untuk bantu mangsa disana.#unsunghero #rakyatjagarakyat pic.twitter.com/S2G54WA6CH

— Cheng 🏴 (@KulupKudin) December 19, 2021
Also known as 29-year-old Mr Azwan Omar, his story first came into prominence after a volunteer flood relief worker shared his story about strapping a boat to his Perodua Viva compact car, and driving all the way from Melaka to flood-hit Selangor in order to provide immediate assistance to stranded flood victims. With only RM50 in his pocket, from which he used RM20 to purchase petrol for his boat, Mr Azwan has since gone on to selflessly help save the lives of many affected by the disaster.
Abang Viva awarded for his efforts by M'sian Civil Defence Force
Despite the new-found media attention, he continues to remain relatively low-key, and has repeatedly refused rewards offered to him by various businesses and personalities, insisting that he would simply want to be given the space to help out with the flood relief efforts on his own. However, there can be no denying the sheer influence that this unsung hero has upon Malaysians nationwide in recent memory, to a point where even the Malaysian Civil Defence Force has taken note of Abang Viva's heroic achievements!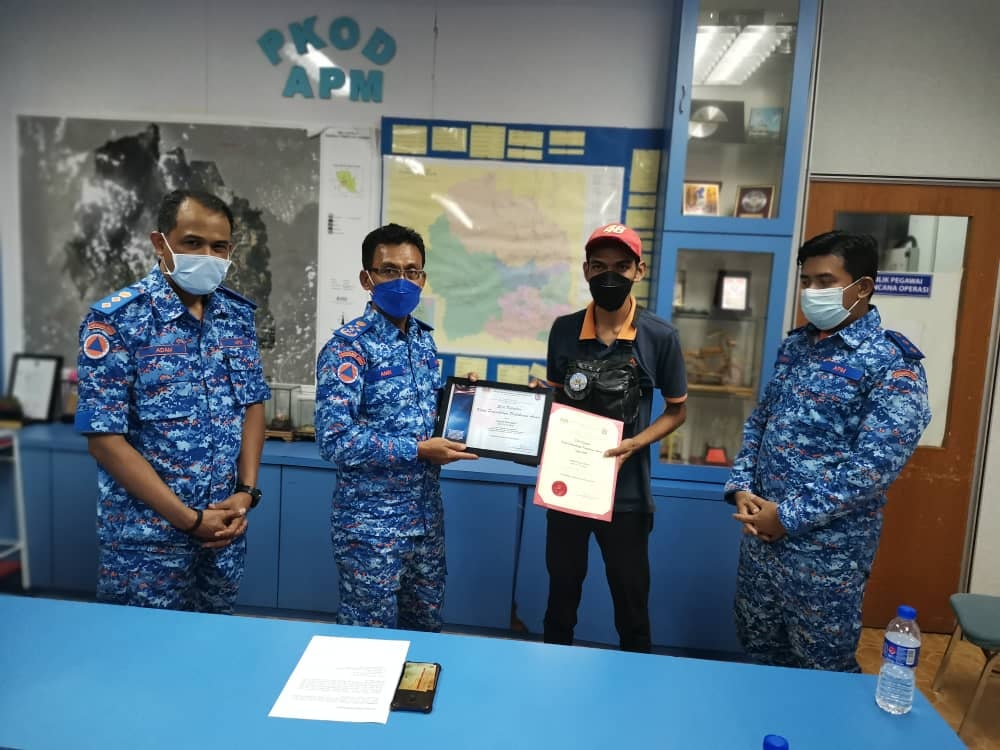 And in recognition of a fellow Malaysian who has gone above and beyond in the name of saving lives during the floods, the Malaysian Civil Defence Force has officially awarded Mr Azwan with an 'Adiwira Prihatin Mushibah' Certificate of Appreciation as a token of their gratitude for his contributions.
The award was presented to Mr Azwan by Chief Commissioner of the Malaysian Civil Defence Force, YAS KPj. (PA) Aminurrahim bin Mohamed, in a small ceremony held at the organisation's offices. Upon receiving the award, Mr Azwan took to thanking his parents and the public over his TikTok for their prayers, and expressed gratitude for having his volunteer work recognised. 
For more stories like this, follow us on Facebook! 
Also read: Abang Viva turns down free car from local entrepreneur, says he saves flood victims out of the kindness of his own heart