For many individuals who live with housemates, a lot of the arrangements come with the understanding of compromise and mutual respect between one another. This is especially the case when making use of communal spaces such as the living room or kitchen. And for the most part, that rarely ever comes as a problem.
M'sian woman gets slapped across the face by housemate for cooking at 5am
However that wasn't the case with Facebook netizen Vestene Wong's recent encounter with a housemate that she had been living with, after she fell victim to an instance of physical assault. Penning a lengthy Facebook post to explain her ordeal, Wong said that she is currently living in a rental room in a house shared with three other individuals; another woman on the ground floor who lives near the kitchen area, and two other men who live in the floor above them.
On 5th March 2022 (Sunday), Vestene had decided to wake up early to prepare some food for herself at 5am, as she had intended to go out on a hiking excursion with her other friends. Unfortunately, something truly unexpected and uncalled for happened as she was cooking: the female housemate living in the room close to the kitchen emerged and in a fit of rage, slapped Vestene across the face before yelling obscenities at her for waking her up. She was slapped with such force that it left a mark on her cheek after.
And despite the fact that the kitchen was a communal area meant to be shared between tenants, the irate woman asked why Vestene didn't bring her stove into her room to cook. Surprised that she would even think to make such a suggestion as the kitchen was a communal area, Vestene proceeded to check with her landlord as to whether there was any curfew imposed for the common areas around the home, to which her landlord denied.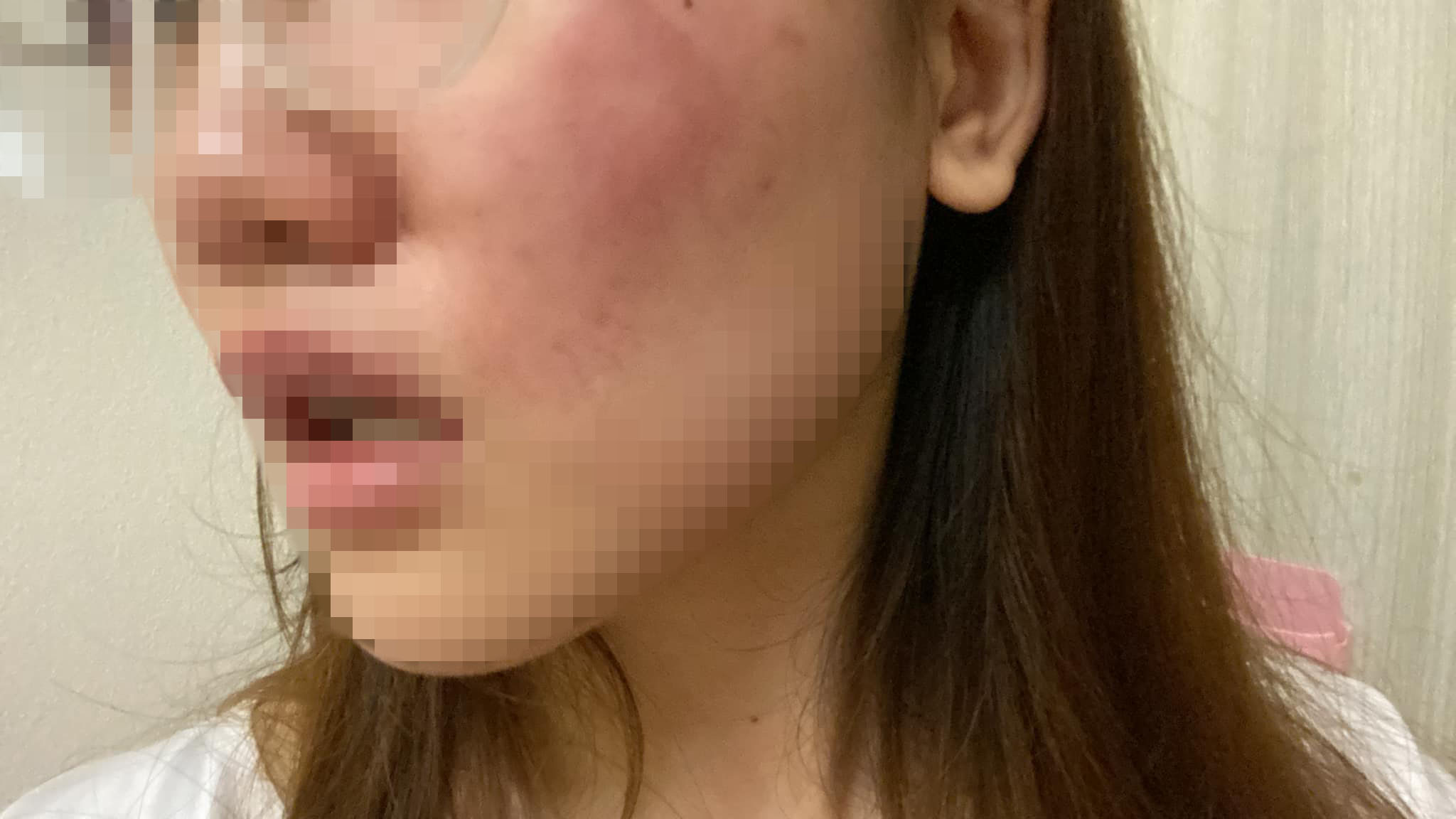 Thankfully, the landlord has installed a CCTV camera in the kitchen since the very beginning of renting the property, allowing the incident to be captured on camera.
Housemate claims to suffer from anxiety & threatens legal action
What made the situation all the worse is when Vestene confronted her housemate and told her that she would be filing a police report over the matter, her housemate simply told her to go right ahead as she would simply hire a lawyer and sue Vestene in return as she suffered from anxiety.
"So if one of the tenant is hungry in the middle of the night and decided to make supper, does he/she has to get slapped in the face by tenants living in ground floor?" Vestene asked.
At the police station, Vestene did wind up filing a report with the authorities. And true to her word, her housemate showed up and brought along an unassuming pill with her as 'proof' that she had anxiety. When asked by the sergeant if she had a medical card to prove her condition, her housemate said 'no', as her condition was mild and did not require a medical card as proof.
Regardless of which, Vestene's housemate was instructed to apologise over the incident. Only, the apology amounted to a non-apology.
"i am willing to apologise but for you to acknowledge my apologies is another story..Yes I'm wrong but she's also not considerate at all [sic]" she said.
As of right now, Vestene is still living in the very same rental home as her tenancy agreement was about to come to an end. She points out that she had also informed her housemate a day prior that she would be using the kitchen early in the morning.
"I'm still living in fear hoping that she won't hurt me."
Netizen opinions are divided on the matter
Understandably, the incident has left many netizens angered over the fact that Vestene fell victim to such an unprovoked attack, with some pointing out that her housemate's anxiety does not justify or excuse her poor behaviour towards other people.

However, some have also pointed out that Vestene should have been more considerate instead of trying to cook at 5am in the morning.



Wau Post has reached out to Vestene for a common on the matter, and are still awaiting a response as of writing.
For more stories like this, follow us on Facebook by tapping here! 
Also read: Netizen gets M'sians to share their worst experiences with housemates on Twitter & the responses are… pretty gross