For those of us who have had to at any point in time, move away from our family homes to live on our own, you will no doubt be familiar with the experience of living with housemates under a single-roof. After all, rent can be pretty expensive, so it makes sense to split it out between a few people while also enjoying the perks of communal living, right?
Netizen asks Malaysians to share their worst experiences with filthy housemates and the responses are… pretty gross
Well…. not always. And as proof of that fact, Malaysian netizen @brgsjks recently took to Twitter to find out what are some of the worst experiences that Malaysians have had in dealing with filthy housemates.
Ceritakan pengalaman anda duduk satu rumah dengan manusia pengotor. Luahkan kemarahan di tweet ini. Go!

— brgsjks (@brgsjks) February 26, 2022
"Recount your past experiences in living with people who are habitually dirty. Express your frustrations in this Tweet. Go!" they wrote.
And without fail, local Twitter users from all walks of life chimed in with stories of their own, describing at length as to the horrifying encounters that they have had living with people that harbour some rather… questionable hygiene preferences. We've picked out some of the more memorable ones below, but you've been warned, we won't recommend reading this list on a full stomach!
1. Used sanitary pads left to hang on a towel rack by housemates 
"My housemate, she's gorgeous and smells incredible when she's out and about. But when she's at home, she is absolutely filthy. She's too lazy to shower and when she washes her sanitary pads, she would leave them on the towel rack. 8 days of periods, and each day that would be the state she leaves them in. She would also leave her undergarments to soak for months. Her room is a mess. I'm not even going to talk about the bathroom. Its mouldy!"

2. Pubic hair trimmings in the kitchen
"She trimmed her pubic hair and left it in the kitchen. Who leaves their pubes in the kitchen?! Nevermind the fact that she couldn't even aim for the rubbish bin!"
3. Leftovers growing on their own
"Leftover dishes would be left in the refridgerator for so long, even the onions on it would start growing sprouts. I don't know how to explain how it can grow, just believe in the impossible." 
4. An unwashed rice cooker with leftovers left to ferment
"Once upon a time… Let the pictures do the talking." 
5. Housemates turning a bathroom into a horror movie set
"And when she was having her period, motherf*cker didn't wash the floor so basically I saw blood droplets on the toilet floor. And if you are the kind of person who washes your sanitary pads, wash them properly! The smell of the toilet turns fishy because of the blood! Do you think you're a pontianak?"

6. Kitchen, or microbiology experiment?
"Let the pictures do the talking."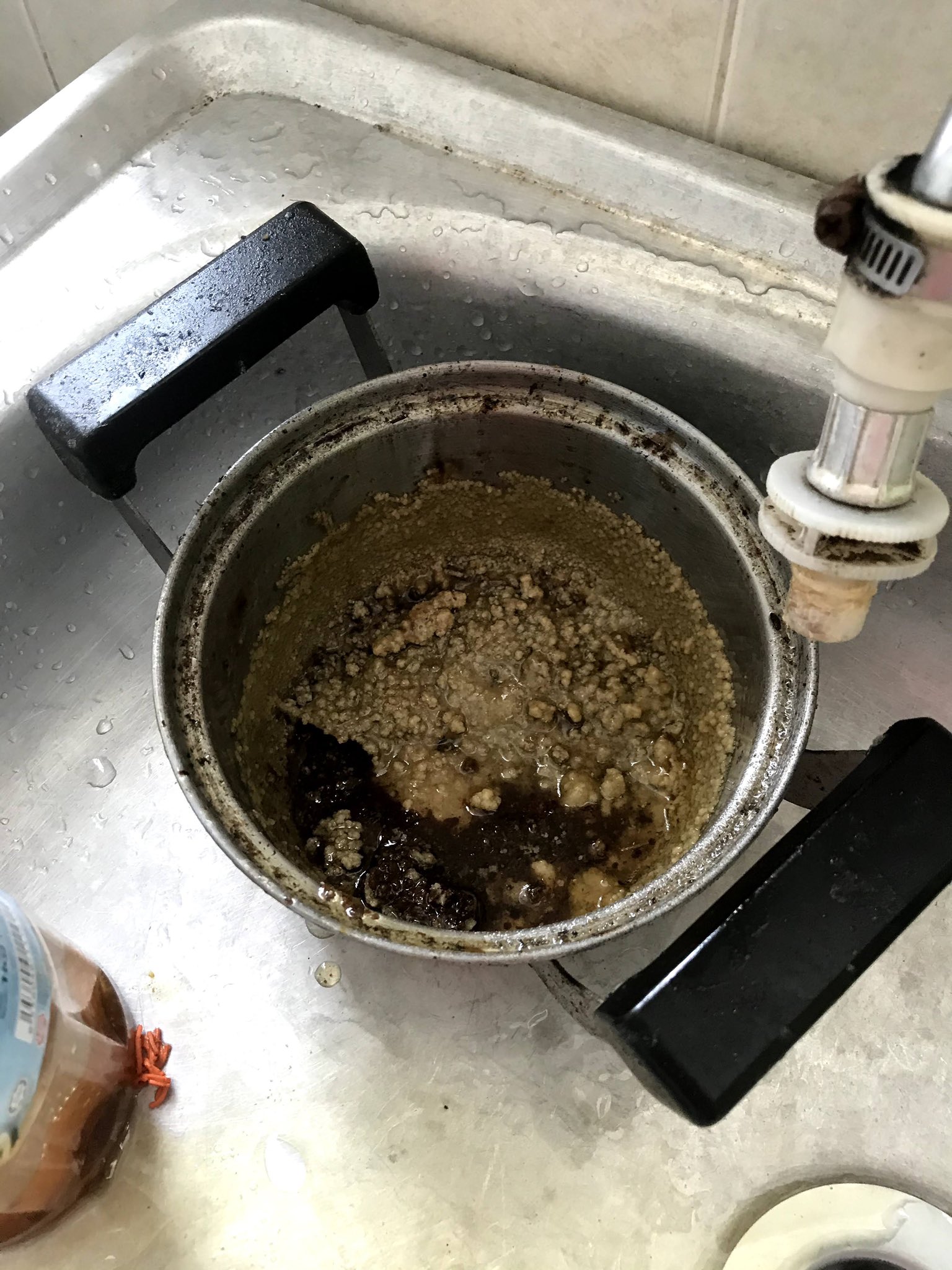 7. Chicken in a toilet bowl. No, really
"Literally a whole chicken in a toilet. A WHOLE RAW CHICKEN IN A TOILET? Disgusting. The bathroom floor would be so slimy, and then they would wipe their feet that they haven't washed in over 10 years. Food would be left in the open, literally no cover at all. Leftover food would be left to sit for days, to the point where maggots can throw their own party."
8. Housemates washes dishes only when they need to use… the bathroom?
"Not a whole house, but a single room. 
Maggi bowls would be left to soak in the bathroom. They'll only wash the bowls when they had to use the bathroom. 
They would roll up their underwear and leave them under their bed.
When popping pimples, they would leave their blood-stained tissues all over. 
When they bathe, they wouldn't wipe themselves dry. They'll get dressed while still dripping wet."

9. Feces. Feces everywhere.
"I'm not gonna say much, so here! HAHAHAHA
WARNING: PHOTOS OF FECES 
My housemate…. she would defecate and make a mess, she can't pee in a straight line and would make a mess everywhere. Watery feces would splash outside the toilet. She doesn't shower often. And they're not from Kelantan, and they're not pious! And she's a girl!"
10. Of urine and period stains
"We don't live in the same house, but when I visited her, I noticed that she had simply left urine stains that her children made on the couch. She took no initiative to clean it. She also didn't care to clean period stains that she had left on her own bed, to a point where the blood had turned black. Let's not even bring up the kitchen or bathroom floors." 
Do you have any experiences with dirty housemates? Share with us in the comments section!
For more stories like this, follow us on Facebook by tapping here! 
Also read: Penang garbagemen dig through rubbish to find & return woman's pouch of jewellery after she mistakenly threw it out