A Malaysian netizen has taken to warning other motorists to be alert when on the road, after his father had almost suffered from a grave injury through no fault of his own. As shared by local netizen Edmund Seow on a Facebook post dated December 3rd, he recounted how he had just returned home, when he met his father who had just emerged out of their bathroom from a shower.
Netizen's father suffers injuries from kite string
Pointing at his neck, he told both Edmund and his wife to look. At the time, it took them both a moment's pause to notice what had gone awry, as Edmund suffers from myopia while his mother's eyesight was poor due to age, and neither of them had on glasses. But eventually, they realised that Edmund's father has sustained what appears to be a thin gash around the right-side of his neck.
"What happened to you?!" Edmund asked in shock.
Explaining the circumstances leading up to his injury, his father said he had been riding his motorcycle earlier during the day from Rivercity Business Park in Batu Pahat, Johor back home. To his surprise, he suddenly felt something invisible catch around his neck, tugging against him. In fact, the force of it almost caused him to topple off completely from his motorcycle!
Could have made a more grave fate
As it turned out, Edmund's father had been ensnared by a thin piece of kite string that came froma  group of children who were playing with kites near along the side of the road. He adds that if he had been riding at a faster speed, he could have met a far more grisly end.
He then proceeded to reprimand the children for playing so close to the roadway, telling them not to do so as it could endanger the lives of others. Thankfully, WauPost was informed that Edmund's father is well, and he was prescribed a round of medication to protect the wound against infection.
Apparently this isn't the first time kite-flying has led to concerns and hazards to others, as many netizens took to chiming in with similar experiences around the area.
"This happened outside my house. People who play kites here really create a lot of problems. Even some of the birds around my house have been killed because of these kite strings. And houses around the area, including mine, all have kite string hanging from them because of these people. 
One time, I thought something was wrong with my Internet connection, turns out a piece of string had interfered with my home's network antenna. These people playing kites really bring a lot of problems and danger."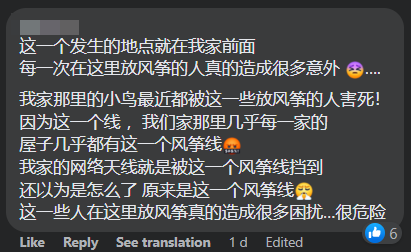 "Make a report to the local police and district council. Because I can't do anything either, as every time they fly kites outside the River City area, and many times I have chided them, but they don't listen."

Tap here to give us a 'Like' on Facebook and stay up-to-date on the latest news!
Also read: Metal highway guardrail pierces through Proton Saga in freak accident along Federal Highway