If you've been driving for a while, you've probably encountered handicapped parking spots that are usually clearly marked in shopping malls and many other public venues. More often than not, the designated parking bays will require a vehicle to clearly show a handicapped driver's pass (OKU pass) on the windshield when occupying OKU parking as proof of a disability, or they may be liable of facing a fine.
Netizen found a conveniently empty parking spot
But while that may all come to be pretty common sense, one local KL mall has come under fire after a local shopper shared how they wound up having their car clamped after unknowingly parking in a OKU parking bay that was not clearly marked. According to the netizen, they were running late at the time when they arrived at the mall, and was fortunate enough to have found an empty parking bay on time.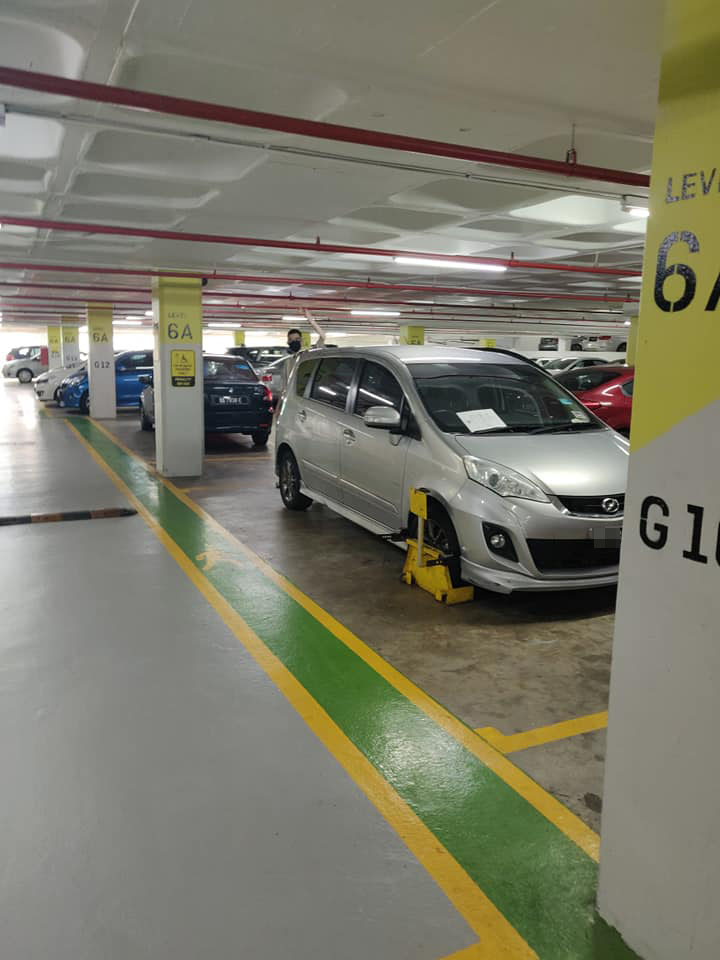 To their dismay upon returning to their car later, they found one of the tires clamped. The reason? Apparently, the netizen had unknowingly parked his car in an OKU parking bay. And while many may be quick to say that it was the fault of the driver for ignoring clearly marked signage and choosing to park in a handicapped parking bay regardless, the netizen goes on to point out that the there almost little to no indication that his parking spot was designated as a handicapped/OKU parking bay.
OKU parking was not clearly indicated
While it is often typical practice for most parking basements to paint the floor of handicapped/OKU parking bays with the universal wheelchair logo as well as include large signage to help drivers differentiate between regular parking spots, the one photographed by the netizen appeared to be a completely normal, vacant parking spot. The only indication came in the form of a small signage that was attached to a pillar facing away from the main driveway.
According to Sin Chew Daily, the netizen wound up being slapped with a RM100 fine as a result. However, he argued that the fine did not make sense, as the parking lot was not clearly marked as a disabled-friendly bay to begin with. While the management never offered an explanation for the discreetly marked handicapped sign, they did offer the netizen a 50% discount on their fine.
The post, which has since gone viral, saw netizens agreeing with the fact that the parking lot was not clearly marked as an OKU parking bay.

For more stories like this, follow us on Facebook! 
Also read: Woman splashes bubble tea on security guard & delivery rider for not bringing it up to her doorstep