When the going gets tough, we Malaysians can come to rely on one another to help make it through some of the most challenging adversities. Such is the case of the recent string of flash floods that have left many states in West Malaysia completely inundated by overflowing rivers, with many locals coming out in full-force to render aid to those affected by the natural disaster.
M'sian entrepreneur uses his RM3.2 million Brabus G700 6X6 pickup truck to send aid to flood victims
In these instances, you may come to expect to see a myriad of larger vehicles such as Toyota Hiluxes fording through heavy floodwaters and rapids to reach those still trapped in their homes or to deliver aid to otherwise inaccessible locations. After all, it is by merit of their raised chassis and rugged off-road capabilities that make them perfect for the task.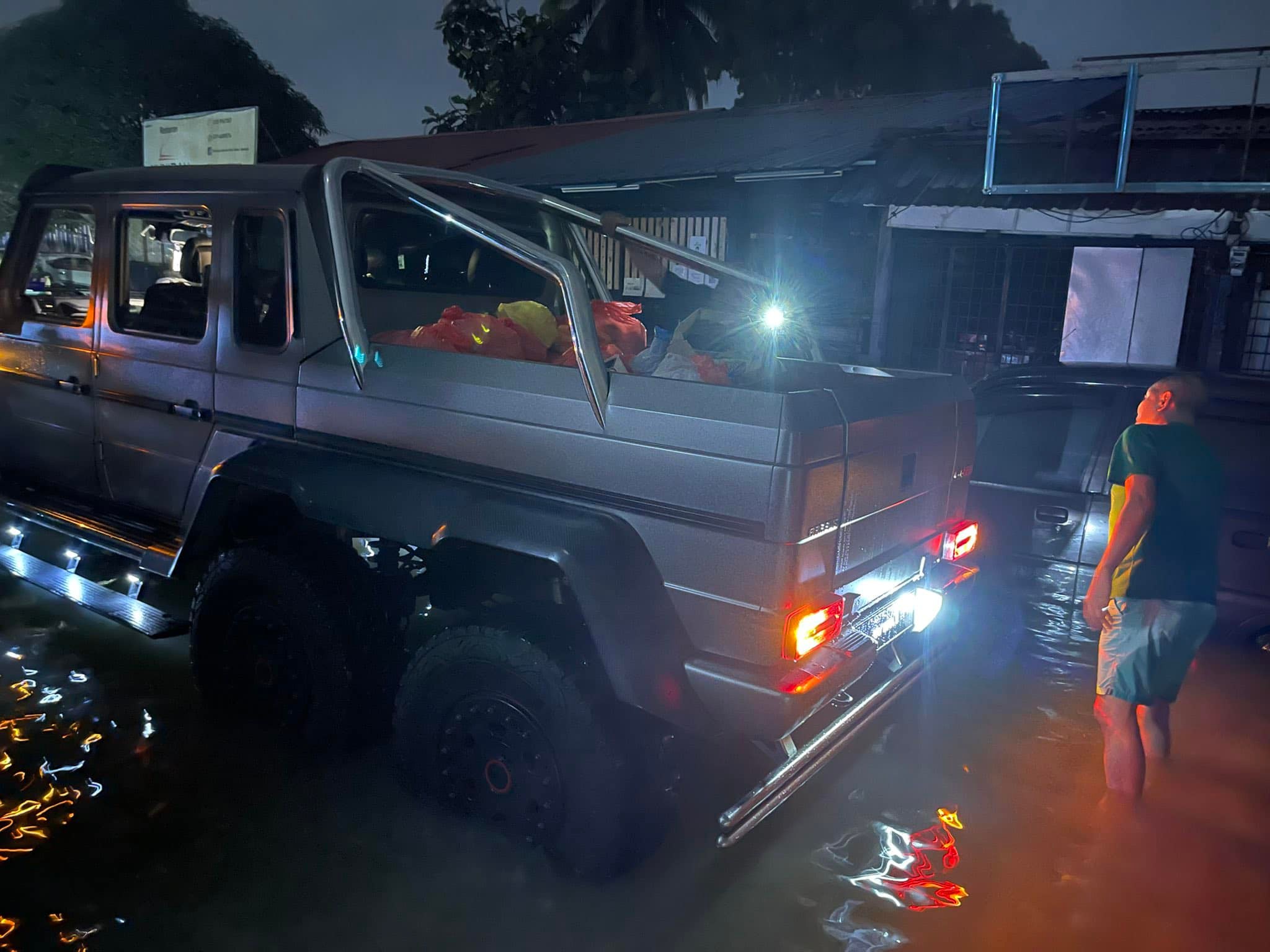 But what many Malaysians didn't come to expect was to find someone delivering flood aid to those in need on-board a truly incredible feat of German engineering: a Mercedes-Benz G63 AMG 6×6 pickup truck! For those not in the know, the 6×6 is an upgraded version of Mercedes' popular G-Class SUV, with jacked-up suspension, hard-core off-roading capabilities, and comes with a monstrous 5.5-litre V8 engine that produces 563 horsepower.
Initially only sold in Left-Hand Drive (LHD) markets only, Malaysian automotive conglomerate Naza proceeded to commission German tuner Brabus to create 15 units for the local market in Right-Hand Drive (RHD). According to PaulTan.org, each unit costs a cool RM3.2 million, before taxes.
The capable off-roader made easy work of transporting aid and rescuing stranded flood victims
And while most collectors would rather keep this expensive off-roader housed in a garage to keep it spick-and-span, one of the lucky owners of a Brabus G700 6×6, local entrepreneur DSS Sunny, decided to use his to help save stranded flood victims from their homes while also delivering necessary aid.
Predictably, the truck's massive size and raised ride-height made easy work out of crossing relatively high bodies of water that would have made other drivers think twice. Additionally, the wide truck bed accommodated a large amount of first-aid resources and emergency resources too, while serving double-duty to help move stranded victims away from flood-hit areas.
According to his social media, DSS Sunny had been actively distributing aid and transporting flood victims around the Section 26 area in Shah Alam, and has called upon other Malaysians to join him in supplying necessities such as food and baby essentials.
For more stories like this, follow us on Facebook!
Also read: M'sian students pool money together to buy their beloved teacher a RM70,000 car for his retirement!