One of the best pieces of advice to keep in mind when on the road is to always keep a level head and stay cool, regardless of the circumstances. And should anything untoward occur, never resort to rage or violence. While one would think that is common sense by now, given the number of road rage incidents that have led to prosecution by the law, there are still drivers who are willing to risk it all by turning to anger.
Road bully tries to intimidate driver when he failed to cut into lane illegally 
This had most certainly proven to be true in a recent road bully incident which was shared widely across social media, showing how an aggravated driver who refused to wait for his turn at a traffic intersection decided to cut the line by forcing his car in the way. In the now viral dash-cam video, the victim could be seen making a turn at a traffic intersection when a black Proton Perdana sedan approached his vehicle from behind.
Bodoo bajet² gengster kan dah viral. Buang la kopiah tu!! Buat malu je!!!@PDRMsia @JPJ_Malaysia

Video dekat bawah. pic.twitter.com/md81k8zX5l

— VICENZO LORENZO MEOOOW (@vicenzolorenzo) January 24, 2022
Unwilling to wait his turn, he tries to force his way into the victim's lane. However, as the victim was unaware that the black Proton Perdana was behind them at the time, they drove on ahead without making room for the road bully's car. As a result, the road bully wound up falling behind in traffic as there weren't any empty lanes left to drive on.
Dah la potong que dekat trafic light, lepas tu block kereta sesuka hati ajak bergaduh.

Lokasi : Setia Alam pic.twitter.com/391mP0RQKh

— VICENZO LORENZO MEOOOW (@vicenzolorenzo) January 24, 2022
Upset over the fact that he wasn't able to cut into the queue as he had wanted to do, the driver of the black Proton Perdana proceeded to tail the victim's car, intending to stop and confront them. The victim eventually pulled up to a road shoulder to let their friends alight from their vehicle, only for the Perdana to swoop up front and block the way.
Tries to intimidate victim, but chickens out after being threatened with police station
Stepping out of his car, the road bully proceeded to walk over to the victim, only for the victim to point out that they have a dash cam in their vehicle and had been recording his antics the entire time!
"He stopped in front of me, wanted to confront me. The moment I said 'Let's go to the police station. I have a dashcam,' he immediately fled." the victim said.
Understandably, the road rage incident has left many netizens angered. But as it turns out, there might just be a pretty good reason why the road bully had chickened out after being invited to pay the local police station a visit.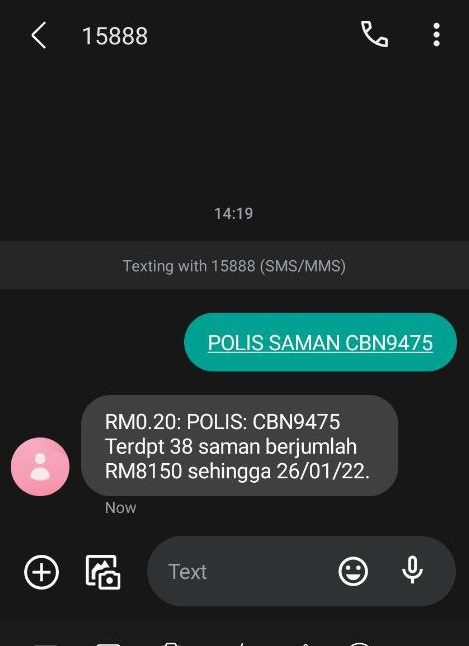 According to the automated Royal Malaysian Police traffic summons system, the numberplate registered to the road bully's car still has over RM8150 in unpaid samans. Oops. However, the local police have yet to respond over the incident.
For more stories like this, follow us on Facebook! 
Also read: M'sian accidentally plunges car into apartment swimming pool after rainstorm caused poor road visibility