In cases of inclement weather, driving on the road can be a pretty dangerous affair, especially with low visibility, increased instances of road hazards, and slippery road surfaces. Unfortunately for one local driver, it was with this precise mix of factors that had led them to commit a very expensive accident, after they had mistakenly driven their vehicle right into a swimming pool during a rainstorm.
Driver accidentally plunges car into swimming pool due to poor road visibility
According to Chinese paper Sin Chew Daily, the incident had reportedly taken place at an apartment complex along Jalan Ipoh yesterday (19th January 2022), which saw heavy rainfall throughout the evening. Sometime around 8.00pm, the owner of a vehicle wound up accidentally driving their car from the parking complex into the apartment's swimming pool, submerging it past the windows.
This was said to have happened as a result of poor visibility around the area at the time, compounded by the close proximity of the parking lot with the apartment's swimming pool. A resident from the apartment points out that it is likely that the driver had confused the open area around the swimming pool for an exit leading out from the parking basement, and had driven into it by mistake.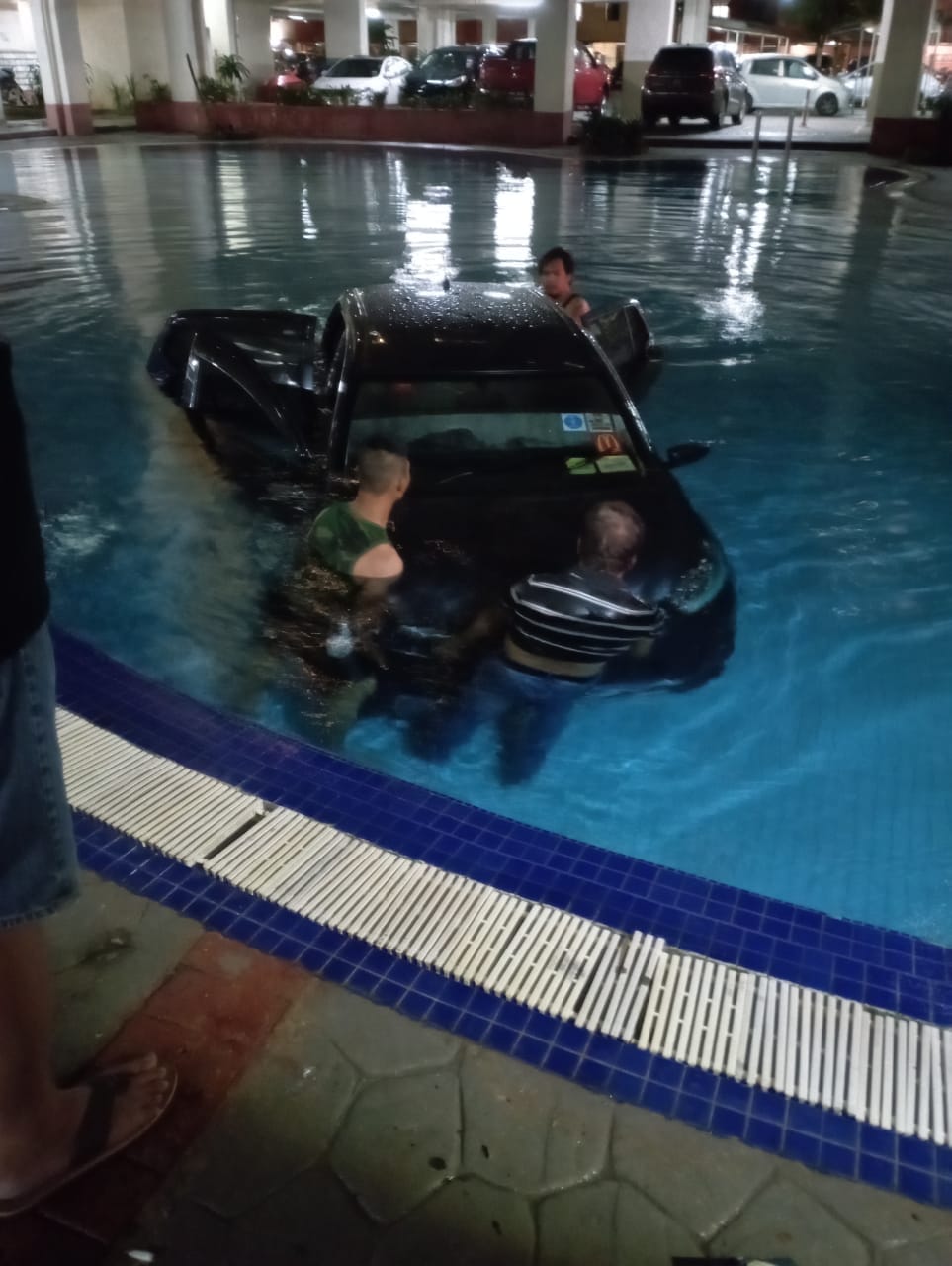 The driver thankfully did not sustain any injuries and was quickly rescued from his waterlogged vehicle by apartment residents and security guards who were present at the scene. They had also worked together to help remove the car from the swimming pool.
Netizens point out how dangerous it is to have a swimming pool located next to a parking lot
While some netizens have expressed amusement over the situation. others have raised concerns over the dangers in how older apartment complexes were designed, especially with parking lots level with facilities such as swimming pools.
"Old apartment buildings aren't like newer ones, where they are built on top of parking complexes. Asides from being a danger to drivers, this old design can also endanger the lives of children. Never mind how those who are swimming in the pool will wind up breathing in fumes from the cars parked nearby, while people walking past the parking lot would wind up catching glimpses of you swimming. What a pity for the residents."

"I have never seen swimming pools located next to parking lots! How dangerous!"

"I can't believe it, they don't even have fences around the swimming pool?"

For more stories like this, follow us on Facebook! 
Also read: M'sian students pool money together to buy their beloved teacher a RM70,000 car for his retirement!