From upholding the law to keeping criminals at bay, our fellow policemen and policewomen make it their sworn duty to both serve and protect the community around the clock. But in some instances, these admirable men and women are willing to truly go above and beyond to lend their fellow countrymen a hand, as this story goes to show!
Policeman crawls into clogged drain & clears out rubbish with his bare hands
Not too long ago, a video of a policeman descending down a drainage system along a busy stretch of highway was widely shared across social media. The clip, which had been posted by the Penampang District Police Facebook page, explains that Corporal Shah Erman from the Traffic Investigations and Enforcement Department, had suspected that the drainage system that was intended to help divert excess volumes of water away from the road may have been clogged. This led to a massive water puddle to form along the road shoulder, which could potentially turn into a hazard for road users, especially motorcyclists.
Deciding that he would do something about it instead of waiting around for the problem to be rectified, Corporal Shah simply rolled up his literal (and proverbial) sleeves before climbing down into the drain to remove the rubbish and filth that had been obstructing it with his bare hands.
Netizens praise him for his selflessness
Working tediously, he braved the filth and pooling drain water, using a sturdy stick to clear out the blockage.
"Corporal Shah Erman had been conducting 'point duty' at the time with Sargent Fadzil and Constable Syazwan, who had helped him control the flow of traffic along the road as he was clearing out the drain." the post mentions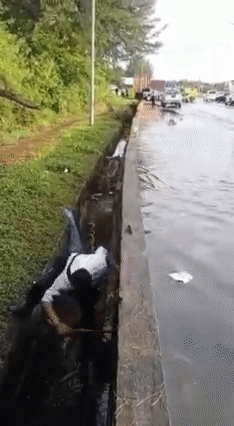 Eventually, Corporal Shah managed to remove enough dirt and rubbish from the drainage system for the water to pass through freely, leaving the puddle to properly flow from the roadway as intended.
"While their white uniforms may have been stained with 'dirt', their 'integrity' remains unscathed."
The video, which has since been viewed over 21,000 times on Facebook, has earned the policeman plenty of praise for his selflessness.
"Salute to you."
"There are so many road users out there, and yet none are willing to stop and do as this policeman had done. I am very impressed with the members of the IPD Traffic Police Penampang, especially for this policeman. I believe that YDH Tuan Mohd Haris Bin Haji Ibrahim, Penampang Chief of Police, will be very happy to witness the noble nature he has exhibited."
"Very good sir. I hope you may continue to be in good health and be rewarded with blessings."
For more news like this, follow us on Facebook! 
Also read: Kind Abang Polis stops to help OKU amputee uncle refill his car after it runs out of petrol on the street