Since its initial introduction all the way back in 2005 (17 years ago!), the Perodua Myvi has easily gone on to take the place as the car of choice for Malaysians across the country.
Offering unprecedented value at a considerably more palatable price-point than many major competitors, it's easy to see why it was crowned the best selling car in Malaysia for 13 non-consecutive years, between 2006 to 2014, and then again from 2018 to 2021.
Perodua Myvi seen driving in reverse on Johor road
With that said, the car's popularity has led it to also come with a reputation for being involved in some truly fantastical if not puzzling feats and circumstances, from being able to ford through floodwaters that have left even some SUV drivers hesitant, to towing considerably heavier vehicles with ease.
And now most recently, the unofficial 'King of Malaysian roads' has once again raised eyebrows across social media after one was caught performing a rather dangerous maneuver.
While we may have seen or heard of intoxicated or oblivious drivers driving against the flow of traffic, this time an early model Perodua Myvi was witnessed driving along the flow of traffic, but in reverse.
The incident was caught on dashcam, and was said to have taken place in Pasir Gudang, Johor.
With the clip going viral, many netizens have jokingly offered up a number of far-fetched theories as to why the car would be seen driving in gostan.
"Maybe he already used all the five gears in his car, so he decided to use the very last gear, I'm sure it was the reverse gear." 
"Maybe he wanted to break a record with the Guinness Book of Records! Driving The King in the middle lane, with such efficiency, he could get a gold medal!"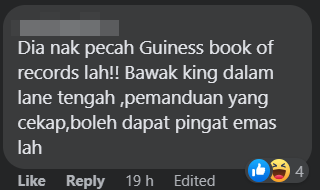 "This guy must have seen Fast and Furious Part 1 last night."
Tap here to give us a 'Like' on Facebook and stay up-to-date on the latest news!
Also read: M'sian spends thousands to install motorised chair in his Myvi so he can take his elderly father on road-trips