Otherwise known as typhoon Rai, typhoon Odette had hit the Philippines in mid-December and is still an active typhoon at the time of writing. The Philippine typhoon's trail of devastation extended to Malaysia over the weekend as areas of the country were hit by heavy downpours that lasted for over 36 hours, causing massive floods and leaving more than 30 000 displaced.
Now that water levels are beginning to subside, both countries are left devastated with physical destructions that require huge sums of financial, time and labor resources to repair. Thankfully, besides the force of help that comes from the Malaysian spirit of #kitajagakita, countries and organizations worldwide such as Singapore, United Nations, and the European Union have joined in on the mission of post-Odette.
Tim Cook announces on Twitter that Apple will be contributing to flood relief efforts in Malaysia
Tech-giant Apple Inc. has just joined in on the post-Odette mission for both the Philippines and Malaysia. On 21st December 2021, Apple CEO Tim Cook took to his official Twitter account to announce that the company will be contributing to relief, recovery, and longer-term rebuilding efforts in both Malaysia and the Philippines, as typhoon Rai had caused much devastation and losses.
Source: @tim_cook (Twitter)
Apple is no stranger when it comes to extending contributions for disaster relief efforts worldwide. Back in October, Apple pledged donations of an undisclosed sum to help with flood relief efforts in the Northern province of Shanxi, China. In July this year, contributions were made to flood-struck Western Europe, after heavy rainfall ravaged Germany, Belgium, and its neighboring land.
M'sians warn not to send in donations through the government, donate directly to NGOs instead
As one would expect, Malaysians were beyond grateful for the kind help that Apple has extended to the country. Surprisingly, along with tweets of thanks were disclaimers from the netizens to Apple. Many had advised against sending in donations and contributions to the people through the Malaysian government. Instead, Malaysians were firm about direct contributions towards Flood Aid NGOs.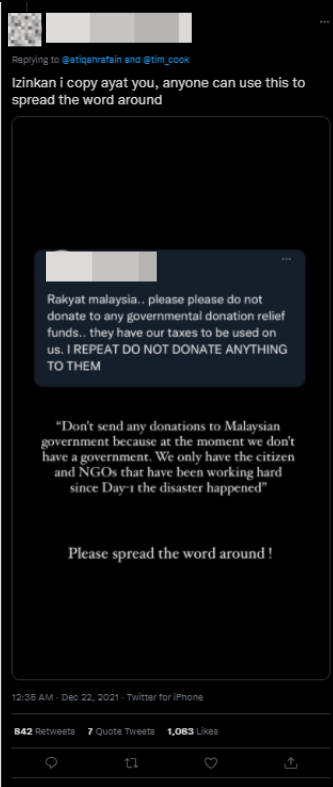 A list of NGOs in both Malaysia and the Philippines was shared by a kind user, so as to ensure the funds go to the right channels.
Asides from Apple, other international organizations such as the Singapore Red Cross and Malaysia corporations such as Mydin and Sunway are stepping in to help with Flood Aid for fellow Malaysians. If you wish to donate or sign up as a volunteer to help the flood relief victims of Malaysia, here's a list of where you can do so.
MUDA: Register to help, here!
Pink Flag: Donate, here!
Selangor Library: Donate, here!
Great Heart Charity: Donate, here!
Yayasan Ikhlas: Register to help, here! Donate, here!
For more news like this, follow us on Facebook! 
Read Also: Decathlon wins M'sian's hearts by donating floatation devices & kayak equipment to save flood victims