Anything and everything can be turned into a potential gold mine for social media content these days, what with the ease of access to the Internet that we all have through our smartphones. However, where content creation is concerned, how far is too far?
2 social media personalities pose in lewd photos outside Johor royal palace dressed as women in lingerie
Just yesterday (17th February 2022), two popular male Malaysian social media personalities were reportedly investigated by Johor state police after it was discovered that they had uploaded a series of obscene images that were taken in view of the Johor royal palace. Both social media personalities are well known for their brand of highly obscene and provocative humour while dressed as scantily clad women.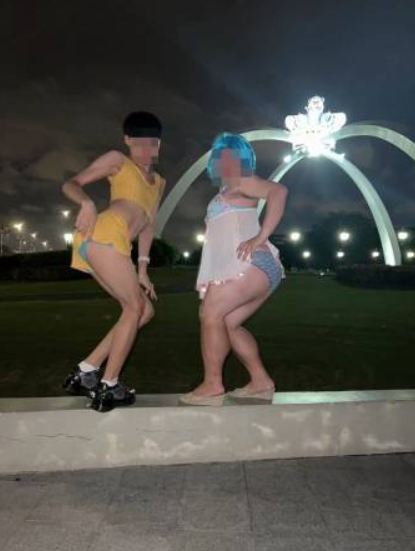 This time around, the images that were uploaded to their social media accounts appeared to show both men once again wearing female lingerie while dolled up in makeup, posing in a number of photos. One who was seen wearing a bright-blue synthetic wig was dressed in an almost translucent negligee, while another had chosen to wear a yellow matching halter top and shorts combo.
The photos quickly caused an uproar online, leading to both men being detained by police
Only this time, the photos had been taken outside outside Istana Bukit Serene, which is the official residence of the Sultan of Johor and the Royal family. Pretending to kiss one another before lifting up their clothes to expose bright-coloured lingerie underneath, the duo's promiscuous series of photographs spread like wildfire across many local community Facebook groups.
While they may have initially intended it to be nothing more than another vulgar stunt on social media, the photos eventually wound up landing them into hot water with the authorities after netizens lambasted them for the act, before tagging Johor state police and the Johor Royal Family to look into the incident.
According to China Press Johor, local police have since confirmed that both men have been detained over their content and a statement has been released by Police Chief Dato' Kamarul Zaman bin Mamat that they are currently being investigated under Section 505(b) of the Penal Code, which can carry a maximum jail term of up to 2 years, a fine, or both upon conviction, as well as Section 233 of the Communications and Multimedia Act of 1998, which upon conviction can carry a maximum jail term of up to a year, a fine of up to RM50,000, or both.
As of writing, both men have already removed all traces of the photos from their social media accounts.
For more news like this, follow us on Facebook by tapping here! 
Also read: Johor woman shares frightening moment security guard breaks into her home, removes his clothes & searches for her