When it comes to natural disasters, every little bit of help counts. Whether if it's in donating whatever you can spare by ways of money to charity drives, or packing old clothes (that are still in usable condition) for flood victims, there has never been a better time to embody the spirit of #rakyatjagarakyat than right now.
Decathlon donates kayaking equipment & flotation devices to flood relief
And it would seem that Malaysian citizens aren't the only ones who are going out in full-force to ensure the safety of those affected by the floods, as many popular businesses have also decided to play a part in doing what they can to help out. Among them include French sporting goods store Decathlon, which is to date, the largest sporting goods store chain across the globe.
Popular among Malaysians for offering great value on a wide variety of sporting attire and gear, the store is also famously known for offering a wide-range of sporting equipment for sale, some of which are not commonly available in other stores. This includes equipment typically used for kayaking, such as kayak boats, paddles, and even life-jackets. All of which can be put to great use to help save stranded flood victims.
Which is why in an announcement made on 19th December 2021 via their official Facebook page, Decathlon Malaysia decided that they would temporarily halt the sale of all kayaking equipment and floating devices from their stores, in order to ensure that they will still have enough stocks left for non-governmental organisations and Malaysian authorities who may reach out to them for auxiliary equipment.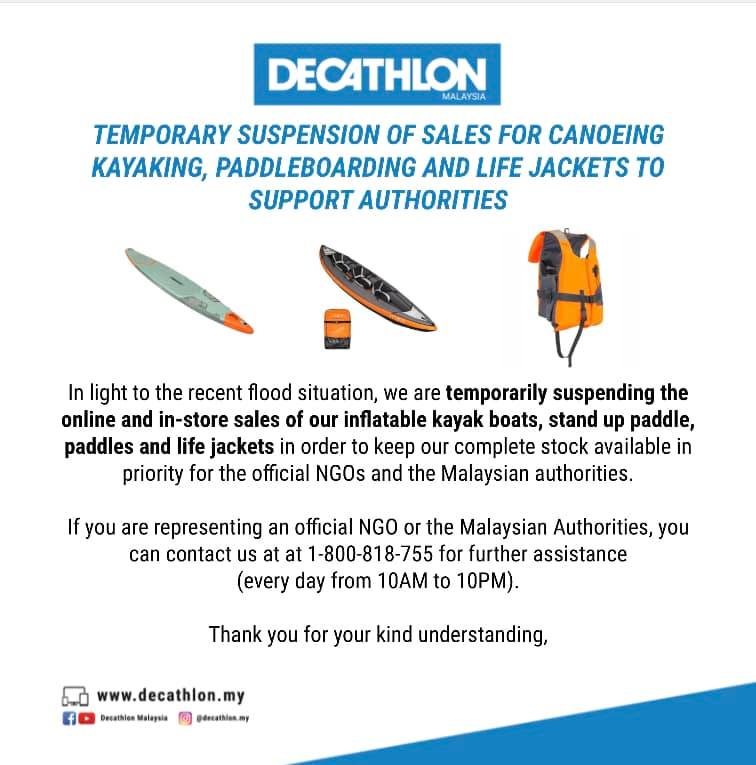 In fact, they have even set up a dedicated helpline to ease communications, ensuring that those who need the equipment will be able to access them as soon as possible! In fact, according to a netizen over Twitter, he was informed that all stocks for flotation devices and kayaking equipment have already been removed from stores and channeled into the current flood relief efforts!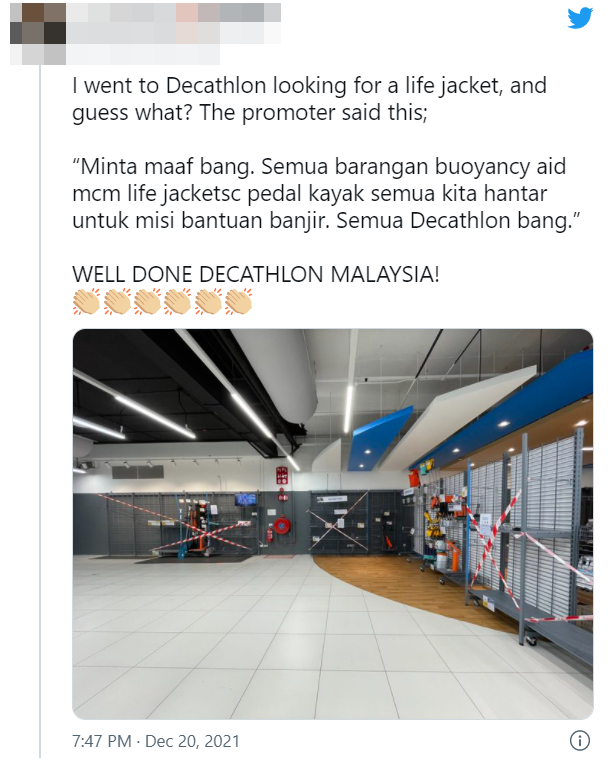 Netizens cheer the company on for their good will
The move, which was warmly received by all, has been praised by netizens, many who commended the business' willingness to contribute to the current flood relief efforts without hesitance.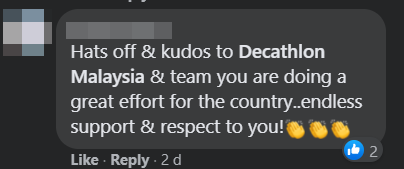 As of yesterday (21st December 2021), Decathlon Malaysia has announced that they have resumed all sales of their kayaking equipment after stocks were replenished. However, the donation drive is still ongoing for NGOs who are in need of equipment to help with the ongoing flood relief efforts.
For more news like this, follow us on Facebook! 
Also read: M'sian uses RM3.2 million Brabus G700 6-wheeler pickup truck to send aid & rescue flood victims